Retires 'Somethin' Else,' 'Lionel's Vinyls' continues Saturday nights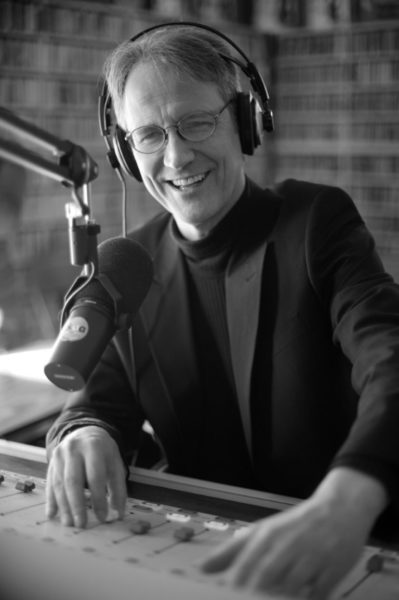 After 26 years at CKUA, our beloved announcer Lionel Rault is slowing things down.
As he mentioned on the air today, this Friday February 14, 2020 marks the final (and extra special!) episode of his daily afternoon show, 'Somethin' Else.' He will continue to host his popular weekend show, 'Lionel's Vinyls.'
Since joining CKUA in 1994, Rault has hosted a few different shows, including 'Nine to Noon,' 'The Afternoon Edition,' and 'The R&B Revue.' But now he'd like more time to write and record his own songs and do some touring too, perhaps in collaboration with his children, Emily and Michael. But his CKUA experience will continue to inform how he walks through this world for years to come.
"What has happened—and it's very heart-warming to me—so many of my listeners and donors and I have just become friends," Rault says now, in conversation with our own Grant Stovel. "This was just a vehicle to become introduced to each other.
"I really attempt, very quickly, to dispose of any concept like, "Hi. I'm on the air. And you are a listener." It's like, 'Yo! That's weird. I was talking into the same microphone you were listening to! That's neat!' You know?
"I don't want any falseness. It's hard sluggin' to keep that up, to try to foist off some aggrandized caricature of your own self-importance; that's totally exhausting! My advice to myself has been to be what you are, as you move through the world."
CKUA's interim Director of Content, David Ward, knows that filling Rault's afternoon slot will be no easy feat but is also ecstatic that he isn't leaving for good.
"We're fortunate that Lionel loves working at CKUA. Not only will we still be able to enjoy new episodes of 'Lionel's Vinyls' every Saturday night but Lionel has expressed interest in taking a role as an occasional guest host when his colleagues are ill or on vacation."
READ MORE HERE.