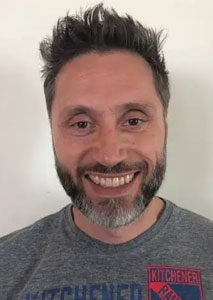 Beginning today, listeners to Rogers Media's JACK branded stations across Canada (except for Vancouver) will hear a new voice hosting its popular noon-hour show, JACK Up the '80s.
Carlos Benevides (pictured, above) is no stranger to entertaining audiences over the air. He spent nearly ten years hosting the morning show on Kitchener's 91.5 The Beat and prior to that held on-air positions at Dave 107.5 and 102.1. The Edge in Toronto.
This past September, Carlos stepped away to teach at Kitchener's Conestoga College in the radio broadcast program.  But starting today, he's back behind the mic.
JACK Up the '80s can be heard each weekday at Noon on JACK stations in Victoria (JACK 103.1) and Calgary (JACK 96.9), as well as Halifax (JACK 92.9), London (JACK 102.3), and Smith Falls (JACK 92.3).
The program has been hosted until now by Kenny Jones, who has become part of the STAR 98.3 Chilliwack morning show, in addition to hosting the JACK network show Saturday House Party.
Veteran radio personality Larry Hennessey will continue to host JACK Up the 80's in Vancouver.