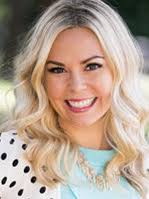 Thanks to Lance Venta at Radio Insight for the word that CRISTA Media has promoted Channah Hanberg (above) to General Manager of Christian AC "Spirit 105.3" KCMS and 630 KCIS Seattle.  Hanberg joined CRISTA in 2008 as Digital Sales Manager and has since served as Digital Media Manager, Local Sales Manager and since last May as General Sales Manager. The General Manager position has been vacant since Ann Marie Mulholland left for Hubbard Seattle in October 2018.
Former Program Director at CFUN Vancouver Pat St. John has announced his retirement as President of RB Communications, Niagara as of next month. He was PD at CFUN in 1980 before moving back to Toronto.
She posted the news on her Facebook page so it must be true. Jordan Wilkerson is moving from weekends into the weekday morning traffic anchor position at KING5 Seattle, replacing longtime fixture Cam Johnson, who is leaving the station after 20 years. Cam is going to Seattle Boat Company, saying she needs a break from the early morning hours.
Ryan Simpson is leaving Golden West Radio's cluster in Portage La Prairie, MB after three decades. Simpson has been with the station since he was 18, starting on the evening shift and helping out with Portage Terriers games. He eventually worked his way up to program director for CFRY, Mix 96 (CJPG-FM) and Country 93 (CHPO-FM).