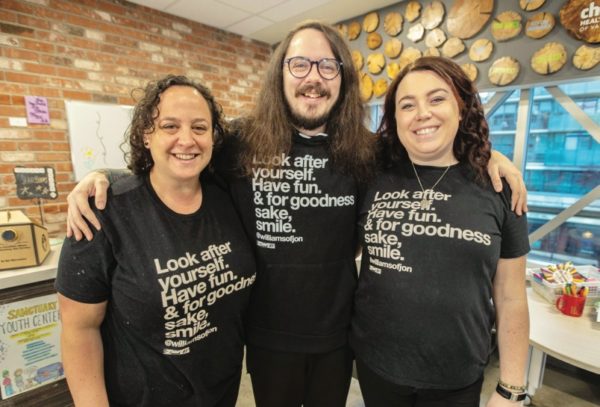 Shortly after he was hired by The Zone @ 91-3, radio personality Jon Williams went looking for a sign-off to close out his on-air shifts.
Flippant or ironic wouldn't do. Williams, 32, wanted his sign-off to mean something, if only to himself. "No one knew of the mental-health struggles I'd had growing up, so I selfishly thought of something that would remind me of a few steps to look after myself," he said.
Nine years later, the saying has made it onto a limited run of T-shirts and hoodies being sold to benefit Foundry Victoria, an integrated wellness hub for those between the ages of 12 and 24. On Tuesday, Williams presented Foundry Victoria with a cheque for $10,000.
"We all follow Jon on social media, so we knew it was happening, but I don't think anybody anticipated T-shirt sales would amount to $10,000," said Melanie Winter, operations manager for Foundry Victoria. "But there's obviously enough people out there who care and support mental health. It was a very humbling feeling."
Williams announced eight months ago he would be printing a run of charity T-shirts and hoodies bearing his sign-off, with the profits to benefit Foundry Victoria. In order to gauge interest in his idea, Williams took pre-orders. The response was immediate.
He has now sold 700 $25 T-shirts and $100 hoodies, and plans to order another run next year. He has already taken orders from listeners in India, France, Germany, Hong Kong and Japan.
Read more  HERE.