was born in Velva North Dakota.  He was one of a group of elite war correspondents dubbed "Murrow's boys" because they were hired by pioneering broadcast newsman Edward R. Murrow. Sevareid was with CBS for 38 years.  He died of stomach cancer July 9, 1992 at age 79.
On this day in 1913, actor/announcer Bill Baldwin was born in Pueblo Colorado. He became the radio and television voice of hundreds of products, and was a war correspondent for the NBC Blue network in WWII.   He served as national president of the American Federation of Radio & TV Artists (AFTRA) in the early 70's. As an actor he appeared in a number of TV series, including 'Hawaii Five-O,' 'Ironside,' 'The Beverly Hillbillies,' and 'Marcus Welby, M.D.'  He succumbed to cancer Nov. 17 1982, nine days short of his 69th birthday.
On this day in 1920, TV & stage director/actor Daniel Petrie was born at Glace Bay, Nova Scotia. His career spanned 50 years, during which time he won 8 Emmys.  He directed the TV series Joe & Mabel, the Hidden Room, Stud's Place, Eleanor & Franklin, The Dollmaker and a number of productions in Studio 1. Petrie succumbed to cancer Aug. 22 2004 at age 83.
On this day in 1922, 
 cartoonist Charles Schulz was born in Minneapolis. His Peanuts specials have become TV classics, including A Charlie Brown Thanksgiving [1973] for which he won a writing Emmy.  He died Feb 12, 2000 at age 77 after a heart attack.
On this day in 1927, Ernie Coombs (CBC's "Mr. Dressup") was born in Lewiston, Maine.  He passed away Sept. 18, 2001 at age 73.  His children's program ran from 1967 to 1996.
On this day in 1933, singer Robert Goulet was born Stanley Applebaum 
 in Lawrence, Mass,  but within months his family moved to Northern Alberta. He worked as disk jockey on Edmonton's CKUA for two years and was a semi-finalist on CBC TV's "Pick the Stars" in 1952.  He spent a summer at Vancouver's Theatre Under the Stars.  In 1955 he became a regular on CBC TV's Cross Canada Hit Parade. He was awarded a Grammy as the best new artist of 1962.  His best-selling album was the million-selling 1964 release "My Love Forgive Me," which reached No. 5.  Goulet died awaiting a lung transplant Oct. 30 2007 at age 73.
On this day in 1940, Xavier Cugat and his orchestra recorded Orchids in the Moonlight on the Columbia label.                                                                                                                                                                                                                              
On this day in 1945, the daily radio program, "Bride and Groom", debuted on the NBC Blue network. It is estimated that 1,000 newly-wed couples were interviewed on the program before it left the airwaves in 1950.
Also in 1945, jazz trumpeter Miles Davis made his first recordings, as a member of a group led by alto saxophonist Charlie (Bird) Parker. Also in the group that recorded for the Savoy label in New York were trumpeter Dizzy Gillespie, pianist Argonne Thornton, bassist Curly Russell and drummer Max Roach. Davis would stay with Parker's band until 1948.
On this day in 1950, the No. 1 Billboard Pop Hit   was the novelty "The Thing" by Phil Harris.
On this day in 1952, the 40th Grey Cup game became Canada's first televised football game as CBLT-TV showed hometown Toronto Argonauts beating Edmonton Eskimos 21-11.
On this day in 1956, bandleader Tommy Dorsey choked to death in his sleep, after a big meal, at age 51. His records allegedly sold more than 110,000,000 copies.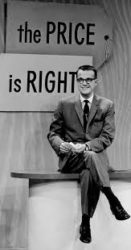 Also in 1956, "The Price Is Right," hosted by Bill Cullen, debuted on NBC-TV as a half-hour feature.  This first incarnation of the long-lasting game show ran for nine years – although the last two were on ABC. The hour-long CBS show as we know it today premiered in 1972 with Bob Barker as host.
On this day in 1958, Johnny Cash made his first appearance on the Billboard country chart when 'Cry! Cry! Cry!' made it to number 14. His next seven singles would all make the country top 10, with 'I Walk the Line' and 'There You Go' both hitting number 1.
On this day in 1962, The Beatles recorded "Please Please Me" and "Ask Me Why" at the EMI studios in London.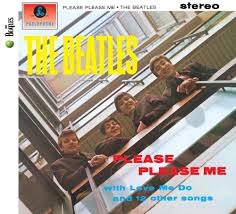 On this day in 1964, The Zombies recorded their 2nd hit "Tell Her No," written by their keyboardist Rod Argent.
On this day in 1967, a promotional video for The Beatles' new single, "Hello Goodbye," was aired on CBS-TV's "Ed Sullivan Show."
On this day in 1968, Cream gave a farewell performance filmed by the BBC in London. The rock group played before a capacity crowd at Royal Albert Hall.  Guitarist Eric Clapton and drummer Ginger Baker continued working together in the band Blind Faith.
On this day in 1969, The Band received a Gold Record for the album, The Band.

Also in 1969, John Lennon was at work in the Abbey Road studios mixing the Beatles songs "What's The New Mary Jane" and "You Know My Name (Look Up The Number)" intended as two sides of a Plastic Ono Band single.   But when "Number" was actually released as the B-side of the Beatles' "Let It Be" single it would become the last song of the Fab Four that John worked on.
On this day in 1975, the Canadian Radio-Television Commission ordered Canadian TV cable companies to black out identical US programs available on Canadian television at the same time.  The CRTC rules were designed to help Canadian stations & Canadian advertisers.
IAlso in 1975, Charles Boykin, a minister in Talahassee, Florida, led his congregation in burning two-thousand dollars worth of rock records. Boykin claimed that 984 out of one-thousand unwed mothers were impregnated with rock music in the background. (How he conducted his survey was not reported.)