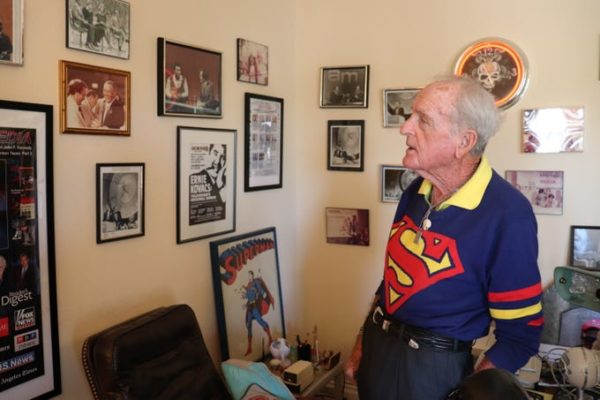 .
At 86, the godfather of reality television isn't finished creating…
by Ed Komenda,
November 16, 2019
LAS VEGAS – On a wall in John Barbour's home office is a cast of famous faces he's met over the years – often in front of a rolling TV camera.
There he is shaking Ronald Reagan's hand.
And that's him roasting his mentor, Redd Foxx, on "The Dean Martin Show."
And there he is interviewing Jane Fonda — and Muhammad Ali.
And look here, tucked in a frame — a 1978 letter from Ol' Blue Eyes:
"You ain't a Henny Youngman, but you're all mine," Frank Sinatra wrote of "I Met A Man I Didn't Like" – Barbour's second comedy record. "I will be in touch during the two weeks I'm in L.A., I have a thought regarding you and me."
Sinatra introduced Barbour on "The Tonight Show."
The relics in Barbour's office are just a few from a show business career that earned him five Emmys.
Barbour is best known as "the godfather of reality TV" for his work as creator, producer and co-host of the hit show "Real People." The program showed viewers pre-taped segments infused with banter about jobs and hobbies of everyday folks.  It aired from 1979 to 1984.
But almost a decade earlier, Barbour captivated audiences with a sharp and humorous interviewing style as the original host of the Los Angeles morning show "AM LA."
https://youtu.be/0n9xmQwh7Is
Read Much More HERE
John Barbour will be returning to Canada for his second book tour in February of 2020
His book is called, Your Mother's Not a Virgin, which would make a great stocking stuffer this Christmas
To purchase his remarkable book, by the remarkable man, click on image below.