by Salmaan Farooqui, The Canadian Press
Published Sunday, November 10, 2019 by CTV News
.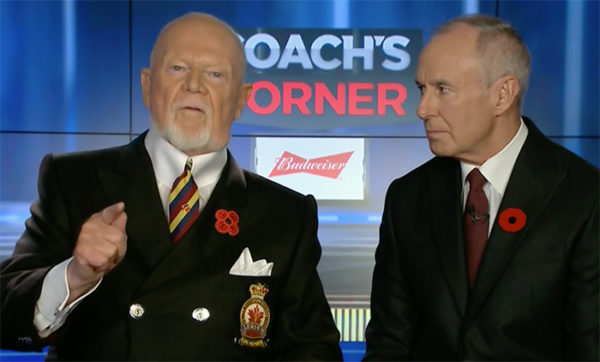 .
TORONTO — Sportsnet apologized Sunday for hockey commentator Don Cherry's televised rant about his belief that new immigrants don't wear poppies, and in turn don't support veterans — comments that sparked a swift backlash from the public, politicians and the NHL.
The station's apology was echoed by "Coach's Corner" co-host Ron MacLean in a segment that aired at the beginning of a Sunday evening broadcast, saying Cherry's remarks don't represent his own views or those of parent company Rogers Media.
"Don's discriminatory comments are offensive and they do not represent our values and what we stand for as a network," Sportsnet President Bart Yabsley said in a statement earlier Sunday. "We have spoken with Don about the severity of this issue and we sincerely apologize for these divisive remarks."
MacLean also shouldered some of the responsibility in his statement.
"Don Cherry made remarks which were hurtful, discriminatory, which were flat out wrong … I owe you an apology, too. I sat there, did not catch it, did not respond," MacLean said.
"Last night was a really great lesson to Don and me. We were wrong, and I sincerely apologize. I wanted to thank you for calling me and Don on that last night."
A spokesman for Sportsnet declined to comment on why Cherry himself didn't make the apology.
Read more  HERE.