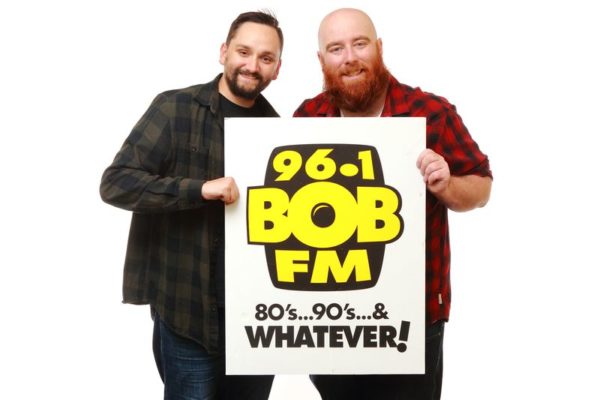 Brandon Manitoba,
September 27th, 2019 –
There's no turning back now. Everyone is gone for the weekend…
iHeartRadio Canada's 96.1 BOB FM is officially thrilled to reveal a brand new way to wake up in the Wheat City! BOB Mornings with Mike & Matt will take over weekday mornings starting Monday, September 30th at 6AM.
"What could possibly go wrong?" questioned BOB program director Troy Scott, "who wouldn't want M & M's every morning?"
Matt Gates joins Mike Lamb in the morning, moving from the drive slot after losing a bet he was pretty sure he'd win. Together Mike and Matt will wake up Westman with hits from 80's, 90's and whatever on the historic CKX-FM, the 1st FM stereo station in Manitoba. After Mike & Matt kick off BOB's broadcasting day, the boys are followed by Amanda Navid on middays, and Darrian Wrightson who has failed upwards to drive from weekends.
"We are so excited to be finally sharing a microphone (or two, if the budget is approved) in the mornings together. It's going to be so much fun, and waking up to go to work with someone who's already a great friend is a dream come true!" – Mike and Matt.
The BOB format is a Manitoba success story that changed the way the world listens to radio with the best of the 80's, 90's and Whatever! 96.1 BOB FM is CKX-FM, a division of Bell Media and an iHeartRadio station.
For more information please leave a lengthy voicemail or forward spam to:
Troy Scott
Program Director
96.1 BOB FM | 99.9 BOB FM & 103.1 Virgin Radio
204.477.2052 | [email protected]
Listen to 96.1 BOB FM via iHeartRadio and 961bobfm.ca
BOB Social Channels:
Facebook: facebook.com/961bobfmbrandon/
Twitter: @bobfm961
Instagram: @961bob