CFNY FM: ain't your average radio clone
FOR IMMEDIATE RELEASE: ________________________________________________
What happened in the late 1970s, that made Toronto's CFNY FM (today branded as: 102.1 The Edge), Canada's most influential alternative rock station?
Karim Mosna, a 21 year old self-professed radio junkie posed the question to the personalities behind the station: Rock and Roll Hall of Fame inductee, David Marsden (CFNY's station manager), radio and music guru, Alan Cross and several others from The Spirit of Radio era at CFNY FM.
The 22 minute documentary, CFNY FM: ain't your average radio clone is the first to provide a glimpse into the creation and ideology of the legendary radio station. The director jokes that he was not even born during The Spirit of Radio era, but says the story has always fascinated him.
"Whenever my father and I listened to The Edge, he would reminisce about what the station was like back then, he would get out his old tapes, he would talk about how it was like no other on the dial, and he frequently would tell me he just couldn't listen to anything else. It was different and explored music that wasn't heard elsewhere…This piqued my curiosity, so I began learning about this very special underground station."
The video begins out of a little yellow house in Brampton where as David Marsden jokes the station initially "only had 12 listeners." Then the film dives into the programming philosophy, the freedom the personalities and music director had.
"Other stations have their very set rules: this is what we play, this is how long the talk breaks are, this is what we talk about, while CFNY knew it had to stand out as explained in the documentary… when Q107 came along and started playing the hard rock, they moved away from that, they were looking for the next thing."
With his love of radio, Mosna would go on to study radio broadcasting and later journalism in college. He hopes CFNY FM's story will become a part of the radio broadcasting program's curriculum and will inspire tomorrow's broadcasters.
"When I was studying radio in 2011 to 2013, I remember the class' favourite station was 102.1 The Edge, but it bothered me that my fellow classmates didn't know the story behind the station. It was in my final year in journalism that I had to create a documentary and I knew exactly what I needed to do."
The personalities guide the viewer from their inspiration to be a part of the station, to what made CFNY unique through its music selection, its programming, and how it built an intensely loyal following in Southern Ontario.
"You hear from the hosts that this is where they wanted to be because they could be part of all this cool music that just wasn't heard anywhere in the country until the other stations would later start to catch on…looking to CFNY as their influence to what to play," explained Karim Mosna.
The documentary and stills can be found on the Facebook page: www.facebook.com/cfnydoc
-30-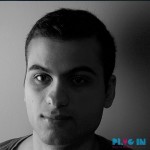 Karim Mosna
Email: [email protected]
Weblog  http://karimmosna.weebly.com/