by Steve MacNaull, The Daily Courier                                                                                                                                                                                                                                                  Jul 19, 2019 
.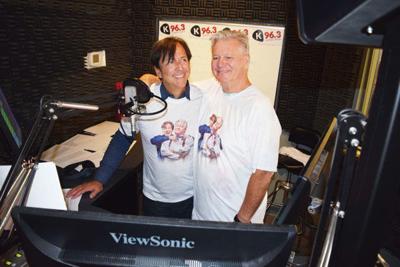 Goodbye, good luck and piss off.
With those six words shortly before 9 a.m. on Friday, David Larsen ended a decade of the David and Tony morning show on Kelowna classic rock radio station K96.3.
"The last words were actually something a K listener texted in," said Larsen.
However, before the cheeky send-off, Larsen and co-host Tony Peyton were emotional and poignant.
"I feel rich," Peyton told Larsen and all the listeners in the final minutes approaching 9 a.m.
"In the words of Lou Gehrig at Yankee Stadium in 1939, I feel like the luckiest man on earth. I'm lucky to be here in the studio today, surrounded by my family and working in morning radio with you, David Larsen. You enriched my life and I'm a better man for the entire experience."
The last song the duo played was Cuts Like a Knife by Canadian rocker Bryan Adams.
It was a fitting metaphor for how the longtime co-workers and friends felt on their final morning.
Larsen borrowed from one of the Lord of the Rings movies for his send-off to Peyton and listeners.
"I'm happy to be with you, Tony, here at the end of all things," said Larsen.
Of course, it's not quite the end of all things.
The 10-year radio partnership broke up so Peyton can retire and Larsen can take another on-air radio job out of town.
"I had to sign a 43-page non-disclosure agreement about the new job," said Larsen, "so I can't say exactly what it is or where, yet."
READ THE REST OF THE STORY  HERE.