She's a talented young woman with deep broadcasting DNA.  Roo Phelps is the granddaughter of the late Billy and Norma Browne, of CJOR and Vancouver Island radio ownership fame.
Roo has been co-hosting with Casey Clarke (pictured together below) on New Country 100.7, a popular Stingray station in the Okanagan.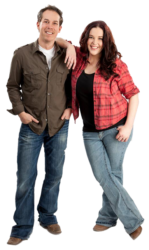 Roo advises via Twitter that as of this coming Monday July 8th she'll be handling evenings across Bell Media's EZ Rock radio network, originating in Kelowna. She is replacing Derek Scott who has left broadcasting.
Late last year Ms. Phelps turned author with the release of 11 Weeks, a best-selling book (on Amazon) that chronicles her own struggles after an excrutiatingly painful breakup earlier in 2018.   She calls it "essentially a diary. A real-time chronicling of that period of my life."