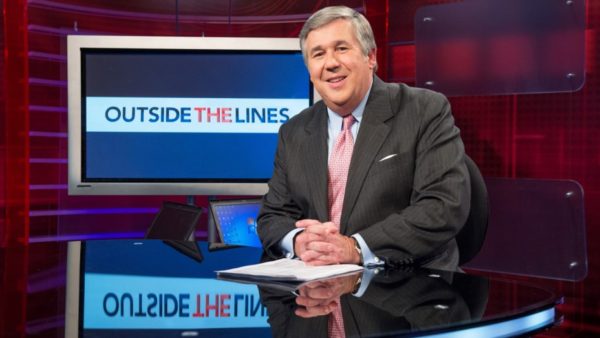 Jeremy Schaap and Ryan Smith will take over anchoring duties on 'Outside the Lines.'
Bob Ley, one of ESPN's original on-air hosts and the longest-tenured anchor in the channel's history, is retiring after 40 years with the company.
Ley has been off the air since September, when he announced he would be taking a six month sabbatical. On Wednesday, he released a statement saying that he would retire from the company at the end of this month.
"To be clear, this is entirely my decision. I enjoy the best of health, and the many blessings of friends and family, and it is in that context that I'm making this change," he said. "In September, I signed off my last show saying, 'I'll catch you on the flip side.' Now it's time to take that vinyl off the turntable (ask your folks), flip it over, and drop the needle on the B-side. There are always great cuts, and hidden gems on the B-side."
Ley hosted ESPN's signature investigative reporting show Outside the Lines since it first launched in 1990. ESPN says that going forward, Jeremy Schaap and Ryan Smith will handle the bulk of the anchoring duties on the program.
Read more HERE at HollywoodReporter.com