by Prince George Citizen Staff      JUNE 21, 2019
.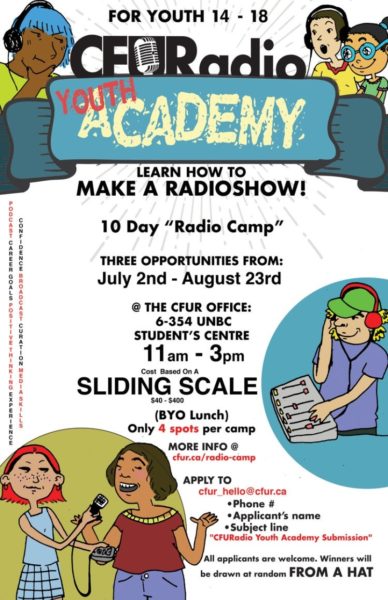 .
It will host three 10-day camps, July 2-12, July 22-August 2 and August 12-23, 11 a.m. to 3 p.m. each day, at its station at University of Northern British Columbia.
"In this ever changing media landscape it is important for those who are interested in pursuing a future in this discipline to accumulate as many skills as possible and mentorship is key," said station manager Ian Gregg.
"Everybody has a passion. It might be bugs, track and field, drawing, hockey, string-theory, mountaineering, or it might be radio. You'll never know unless you're allowed to try."
Payment for the camp works on a sliding scale, ranging from $40 to $400 depending on the camper's financial situation.
For more information and to download the registration form, go to www.cfur.ca/radio-camp/.
READ MORE PRINCE GEORGE & AREA NEWS  HERE.