Matthew Halton's and Peter Stursberg's posthumous honour follows 75th anniversary of D-Day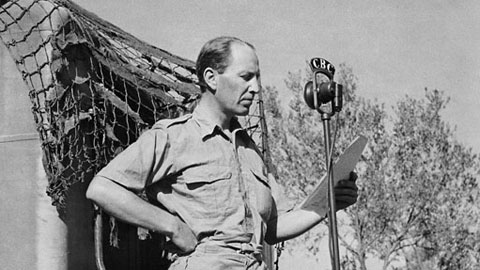 Second World War correspondents Matthew Halton and Peter Stursberg, who offered unvarnished from-the-field reporting that let Canadians know what was happening on the battlefields during the liberation of Europe, are the latest inductees to the CBC News Hall of Fame.
The two were posthumously honoured at a ceremony at the CBC's Toronto Broadcasting Centre on Friday, just over a week after ceremonies commemorating the 75th anniversary of D-Day.
"As we actively remember what Canadians went through in the Second World War — both the soldiers and the families back home — we owe a debt to those who sent back descriptions that were so acute, so haunting … that Canadians listening in were virtually transported to those battlefields of Europe," said senior correspondent and The National co-host Adrienne Arsenault, who emceed Friday's ceremony.
It was the work of pioneering journalists like Matthew Halton and Peter Stursberg that helped build the public broadcaster into a vital institution, said David Halton, the retired CBC correspondent who followed in his father's footsteps and represented him at Friday's ceremony.
READ MORE  HERE.