ON THIS DAY in 1894
comedian Fred Allen was born John Florence Sullivan in Cambridge Mass.


He was star of his own radio show under several titles and sponsorships from 1932 to 1949, was featured on NBC radio's The Big Show from 1950-52, and guested on TV's What's My Line & Colgate Comedy Hour until his death from a heart attack March 17, 1956 at age 61.
In 1898, author/columnist/radio minister Dr. Norman Vincent Peale was born in Bowersville Ohio. For 54 years (from 1935 to 1989), Peale hosted the weekly radio program The Art of Living.  He was best known for the best selling book The Power of Positive Thinking.  He served as mentor to televangelist Robert Schuller. He died Dec 24, 1993 at age 95.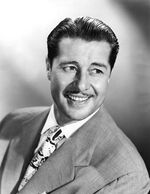 In 1908, actor/radio host Don Ameche was born Dominic Felix Amici in Kenosha Wisconsin.  The movie star was first a star of bigtime radio.  His radio credits include Betty & Bob, Grand Hotel, First Nighter, The (Battling) Bickersons, & the Charlie McCarthy Show.  On TV the Frances Langford-Don Ameche Show ran one season.  In 1992 he was inducted into the Radio Hall of Fame.  He died of prostate cancer Dec. 6 1993 at age 85.
In 1912, actress Barbara Pepper was born in New York City.  She is best remembered as Doris Ziffel in the CBS TV sitcoms Green Acres & Petticoat Junction.  She also played numerous bit parts on I Love Lucy & The Jack Benny Show. She died July 18 1969, of a coronary thrombosis, at age 57.
In 1917, widely regarded as the first jazz single, "Dark Town Strutters' Ball," was recorded by the Original Dixieland Jazz Band. In 2006 it was inducted into the Grammy Hall of Fame.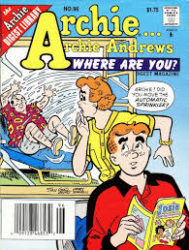 In 1943, another comic strip came to radio, as Archie Andrews was heard on the Blue Network for the first time. Archie, Veronica, Jughead and the gang remained on network radio for some nine years.
In 1948, John Bonham, drummer with Led Zeppelin, was born in Redditch, England. Led Zeppelin, formed by guitarist Jimmy Page after the demise of the Yardbirds, became the world's premier heavy-metal band in the 1970's. Keith Moon, drummer with the Who, is said to have been responsible for naming the band — he said they'd go over like a lead balloon. The group released their final album in 1979.  A year later, John Bonham choked to death after drinking and falling asleep at Page's home in Windsor, England.  He was only 32.
In 1949, a crowd of 35,000 people paid tribute to radio personality Mary Margaret McBride at Yankee Stadium in the Bronx, (one of the five boroughs that make up New York City). McBride was celebrating her 15th year in radio.
In 1951, in New York Tony Bennett, backed by Toronto's Percy Faith and his Orchestra, recorded a future #1 pop hit single, "Cold Cold Heart" for producer Mitch Miller and Columbia Records.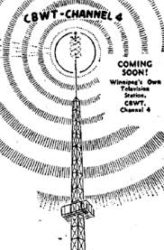 In 1954, the first Canadian TV signal on the prairies took to the air as CBWT Winnipeg signed on to channel 4 with a bilingual schedule.
In 1956, Buddy Holly found the inspiration to write "That'll Be the Day" when he saw the movie "The Searchers."  Star of the flick John Wayne uses that sarcastic phrase several times in the screenplay.
Also in 1956, the weekly Odessa Texas TV show featuring Roy Orbison and the Teen Kings boasted Elvis Presley as their singing guest.
In 1957, the No. 1 Billboard Pop Hit was "Love Letters in the Sand," by Pat Boone.
In 1958, Sheb Wooley's "Purple People Eater" hit the top of the pop charts and stayed there for six weeks.
Also in 1958, guitarist Dick Dale introduced "surf music" for the first time when he played  "Let's Go Trippin" at a concert in Balboa Calif.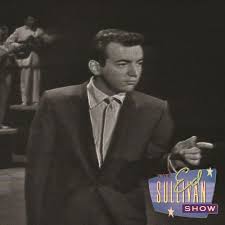 In 1959, Bobby Darin appeared on CBS-TV's Ed Sullivan Show singing his two top pop singles "Mack the Knife" and "Dream Lover."  And Canada's Wayne & Shuster did a takeoff on TV crime shows.
In 1961, in Seattle, 18-year old rocker Jimi Hendrix opted to sign up for a three-year tour in the US Army, rather than serve prison time for his part in stealing a car.
Also in 1961, rocker Chuck Berry opened Berry Park, an outdoor amusement complex in Wentzville, Missouri, near St. Louis. It included a miniature golf course, rides, a children's zoo and a hotel.
In 1962, the shortlived (5 month) successor to "You Bet Your Life" called "Tell It To Groucho" aired for the final time on CBS-TV.

In 1964, the UK group the Dave Clark Five made the first of 12 appearances on CBS TV's "Ed Sullivan Show." A young Bill Cosby supplied comedy, while Helen Hayes did a dramatic scene from her Broadway play, "The White House."
In 1966, filming began on The Monkees TV sitcom. Starting on NBC in September the weekly series chronicled the misadventures of a struggling rock band.
In 1969, Stevie Wonder's My Cherie Amour was released by  Tamla Records. The song made it to number four on the pop music charts on July 26 and stayed on the nation's radios for eleven weeks.
Also in 1969, John Lennon and Yoko Ono recorded "Give Peace a Chance" during their Montreal bed-in.
Still in 1969, the Rolling Stones recorded "Honky Tonk Women."
Again in 1969, ABC's Saturday night variety show the Hollywood Palace was hosted by Diana Ross & The Supremes. The Jackson Five, Stevie Wonder and Sammy Davis Jr. were among the guest performers.
In 1972, the No. 1 Billboard Pop Hit was "I'll Take You There," by The Staple Singers.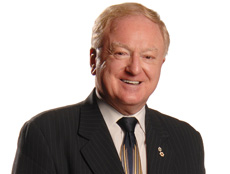 In 1974, Mel Cooper received approval to acquire 71% of CFAX AM 1070 Victoria from Clare Copeland. Formal ownership transfer occurred on September 1st.  Cooper kept CFAX at the top of the Victoria radio ratings for the next 30 years, before selling to CHUM in 2004.
Also in 1974, William DeVaughn, a soul singer, songwriter and guitarist from Washington, DC, received a gold record for his only hit, Be Thankful for What You Got. The tune made it to number four on the pop music charts (6/29/74).
Still in 1974, Gordon Lightfoot received Gold Record certification for his tenth album, "Sundown," on the Reprise label.
In 1975, "Before the Next Teardrop Falls" by Freddy Fender topped the charts, his only #1 song.

Also in 1975, The Eagles released their soon-to-be classic "One Of These Nights."
In 1976, five Toronto FM stations and four TV stations began broadcasting from transmitters atop the newly-constructed CN Tower.
Also in 1976, the Who played at the Charlton Athletic Grounds in England and made the Guinness Book of World Records as the loudest rock band ever. Their set measured 76,000 watts and 120 decibels. The record has since been broken.
In 1977, the BBC announced a ban on the new Sex Pistols single 'God Save The Queen' saying it's "in gross bad taste".  Nveretheless the single reached No.2 on the UK chart.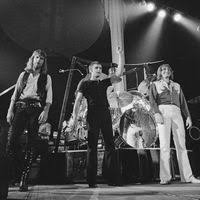 Also in 1977, Emerson, Lake & Palmer began a tour of the US accompanied by a 70-piece orchestra.
In 1980, the song "Funkytown" by Lipps, Inc. topped the charts and stayed there for 4 weeks.  The same day "Love Stinks" by the J Geils Band peaked at #38.
In 1982, the Rolling Stones played an unannounced show at the 100 Club in London. It was at the 100 Club that the Sex Pistols debuted about six years earlier.
Still in 1982, The Clash released the album "Combat Rock."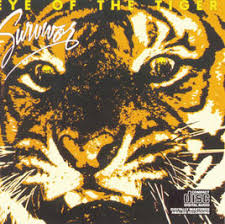 Also in 1982, Survivor released the single "Eye of the Tiger."
In 1987, the No. 1 Billboard Pop Hit was 'You Keep Me Hangin' On," by Kim Wilde.
In 1988, Bob Dylan released the album "Down in the Groove."
In 1989, Los Angeles-based CBS News correspondent (for 25 years) Terry Drinkwater lost his six-year battle with cancer at age 53.
Also in 1989, "Rambling with Gambling" celebrated its 20,000th radio program on New York's WOR,  with the third member of the Gambling clan as host.
In 1990, singer-actor Art Lund, who rose to fame with the Benny Goodman Orchestra, died in Holladay, Utah at age 75. Lund began a solo career in 1947, scoring a million-seller that year with "Mam'selle." In later years, he concentrated on acting, appearing on T-V in such series as "Gunsmoke" and "Little House on the Prairie."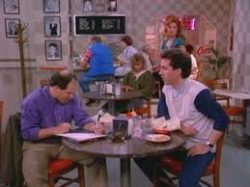 Also in 1990, a summer replacement TV show debuted as The Seinfeld Chronicles on NBC.  It ran only through July, but the "show about nothing" returned in January 1991 as Seinfeld, to become a full-blown smash, running through May 14, 1998. The sitcom's original cast, Jason Alexander as George, Julia Louis-Dreyfus as Elaine, Michael Richards as (Cosmo) Kramer and, of course, Jerry Seinfeld as himself, became part of North Americana, with millions of viewers discussing the show at work, and quoting the funny lines.
In 1991, Glass Tiger cut short a concert in Sault Ste. Marie, Ontario after lead singer Alan Frew was hit in the head with a loonie.

In 1992, the final episode of the sitcom "Night Court" aired on NBC.
In 1996, Elsbeary Hobbs, bass singer on some of the Drifters' biggest hits, died in New York of throat and lung cancer. He was 59.
In 1997, a very nervous Lee Ann Womack made her Grand Ole Opry debut. The singer was so nervous that she barely moved from center stage during her performance. Womack later admitted "If I'd moved, I would've peed in my pants."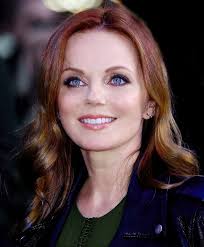 In 1998, Geri Halliwell, better known as Ginger Spice, announced she was leaving the hugely popular British pop group The Spice Girls because of unspecified differences. The remaining four Spice Girls went ahead with a North American tour, but the group later disbanded.
In 1999, radio station WABC, New York, first presented "WABC Rewound" where the news/talk station broadcast airchecks from its glory days when it was a Top 40 formatted music station. It has since been repeated several times on US Statutory Holidays.
In 2000, Latin jazz legend Tito Puente died on the operating table of a New York hospital as a result of complications following 12 hours of open-heart surgery. He was 77.
Also in 2000, soul singer Johnnie Taylor suffered a fatal heart attack shortly after his 66th birthday at the start of the month. Taylor had been a member of The Highway QCs and The Five Echoes and in 1957 Taylor replaced Sam Cooke in The Soul Stirrers. He scored the 1976 No.1 'Disco Lady.'
Still in 2000, the Guess Who's "Running Back Through Canada" reunion tour opened at a baseball park in St. John's, Newfoundland.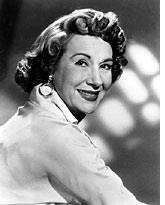 In 2001, actress/radio-TV hostess Arlene Francis, best known nationally as a regular panellist on CBS TV's What's My Line?, died at age 93. Sadly her last years were clouded by Alzheimer's disease.
In 2002, Swift Current's CJFB-TV closed its local studios, sold its transmitters, towers, repeaters and land to the CBC, and became nothing more than a repeater for CBC Regina.
In 2004, guitarist Robert Quine was found dead of a heroin overdose in his New York City home. He had worked with Lou Reed, Brian Eno, Lloyd Cole, Marianne Faithfull, Tom Waits and They Might Be Giants.
In 2005, San Francisco & LA-based NBC announcer Frank Barton died at age 87.  He worked on a wide range of bigtime radio shows, notably Dr. I. Q., One Man's Family, and the Jack Carson & Dennis Day comedy shows.  He went on to TV booth work into the early 1970's, including Truth or Consequences and Tom Snyder's early 'Tomorrow" shows.

In 2006, NBC's "Today" show threw a going-away party for 15-year host Katie Couric, who left to become anchor of "The CBS Evening News."
Also in 2006, the first ever Rock Honors aired on US cable channel VH1, honoring rock icons Queen, Judas Priest, Def Leppard, and Kiss. The show had been taped in Las Vegas six days earlier.
In 2008, Death Cab For Cutie were at No.1 on the Billboard album chart with their sixth release 'Narrow Stairs.'
In 2009, KISS' Gene Simmons was interviewed on the A&E cable channel's "Private Sessions."
In 2010, Bret Michaels: Life As I Know It debuted on cable channel VH1. The series took a "serious look" at the Poison frontman's offstage life.
In 2011, Gibson Guitar's website named Led Zeppelin's John Bonham as the #1 Rock drummer of all time.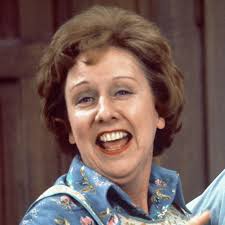 In 2013, actress Jean Stapleton, beloved by millions for her role as Edith Bunker on the CBS classic sitcom All in the Family, died of natural causes at age 90.
In 2014, actress Martha Hyer, who was Oscar-nominated for her role in 1954's 'Some Came Running,' who made a career of playing high society sophisticates on the big screen & on such TV series as 'Burke's Law' and 'Lux Video Theatre,' died at age 89.
In 2015, folksinger/songwriter/lyricist Will Holt, who wrote the English lyrics for the 1960's hits Lemon Tree and Sinner Man, died of Alzheimer's Disease at age 86.
In 2016, televangelist Janice Crouch, co-founder (with late husband Paul) of the Trinity Broadcasting Network, world's largest Christian-owned cable TV channel, died following a stroke at age78.
In 2017,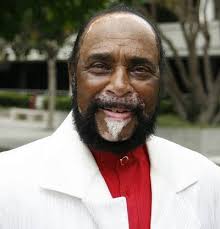 R & B singer Eddie Lewis, the last surviving member of the 50's doo wop group The Olympics, died at age 79.  Their big hit was 1958's Western Movies.
In 2018, a statue of Led Zeppelin's John Bonham was unveiled in his home town of Redditch, England on what would have been his 70th birthday (see 1948 above).
Today's Birthdays:
Actor-director Clint Eastwood (Rawhide) is 89.
Singer Peter Yarrow of Peter, Paul and Mary is 81.
Keyboardist Augie Meyers of the Texas Tornadoes and the Sir Douglas Quintet is 79.
Actress Sharon Gless (Cagney and Lacey, Burn Notice, Queer as Folk) is 76.
Vancouver-born radio/TV talk hostess Vicki Gabereau is 73.
Actor Tom Berenger (October Road, Peacemakers) is 70.
Actor Gregory Harrison (Trapper John M.D., One Tree Hill, Falcon Crest, Logan's Run, Safe Harbor) is 69.
Actor Jack Gilpin (One Life to Live) is 68.
Actress Susie Essman (Curb Your Enthusiasm, Baby Boom) is 64.
Tacoma-born actor Kyle Secor (Homicide:Life on the Street,Commander in Chief,Veronica Mars, Confess) is 62.
Actress Roma Maffia (Pretty Little Liars, Nip/Tuck, Profiler) is 61.
Actor Tommy Hinkley (Mad About You, Teen Angel) is 59.
Actor Don Harvey (The Deuce, General Hospital) is 59.
Comedian Chris Elliott (E'body Loves Raymond, Schitt's Creek, Get a Life, Late Night w/David Letterman) is 59.
Actress Lea Thompson (Switched at Birth, Caroline in the City) is 58.
TV host/producer Patti Stanger (The Millionaire Matchmaker) is 58.
Actor Sebastian Koch (Homeland) is 57.
Montreal-born singer Corey Hart is 57.
Ontario-born musician/actor Hugh Dillon (X Company, Flashpoint, Durham County) is 56.
Rapper Kid Frost is 55.
Rapper DMC of Run-DMC is 55.
Actress/commercial spokesperson Brooke Shields (Lipstick Jungle, Suddenly Susan) is 54.
TV producer & host Phil Keoghan (The Amazing Race) is 52.
Country bassist Ed Adkins of The Derailers is 52.
Actor Andrew T. Lee (General Hospital) is 51.
Actress Alison Pargeter (EastEnders) is 48.
Actress Archie Panjabi (The Good Wife, Blindspot) is 47.
Actress Ara Celi (All My Children) is 45.
Actress Merle Dandridge (Greenleaf, The Night Shift, Sons of Anarchy) is 44.
Actor Colin Farrell (Ballykissangel) is 43.
Trumpet player Scott Klopfenstein of Reel Big Fish is 42.
Actor Eric Christian Olsen (NCIS:Los Angeles, The Loop, Get Real) is 42.
Drummer Andy Hurley of Fall Out Boy is 39.
Actor Jonathan Tucker (Kingdom, Parenthood, Justified, Black Donnellys) is 37.
Actor Lee Majdoub (Dirk Gently's Holistic Detective Agency) is 37. 
Actress Zana Marjanovic (Legends) is 36. 
Actor Richard Riddell (The Terror, Scott & Bailey) is 35.
Actress Justine Cotsonas (Sneaky Pete, As The World Turns) is 34. 
Ontario-born actress Melissa McIntyre (Degrassi: The Next Generation, Redwall) is 33.
Rapper Waka Flocka Flame is 33
Actor Curtis Williams (The Parent 'Hood) is 32.
Actress Meredith Hagner (Search Party, Royal Pains, Men at Work, As the World Turns) is 32.
Actress Justine Lupe (Mr. Mercedes, Madam Secretary, Cristela, Harry's Law) is 30.
Singer/actress/voicist Phillipa Soo (Smash) is 29. 
TV personality Farrah Abraham (Teen Mom) is 28.
Singer Normani Hamilton of Fifth Harmony is 23.
Actress Sharon Gless ("Cagney and Lacey") is 76. Actor Tom Berenger is 69. Actor Gregory Harrison is 69. Actor Kyle Secor ("Homicide: Life on the Street") is 62. Actress Roma Maffia ("Nip/Tuck," `'Profiler") is 61. Comedian Chris Elliott is 59. Actress Lea Thompson ("Caroline in the City," `'Back to the Future") is 58. Singer Corey Hart is 57. Rapper DMC of Run-DMC is 55. Actress Brooke Shields is 54. Country bassist Ed Adkins of The Derailers is 52. "The Amazing Race" host Phil Keoghan is 52. Jazz bassist Christian McBride is 47. Actress Archie Panjabi ("The Good Wife") is 47. Actress Merle Dandridge ("Greenleaf") is 44. Actor Colin Farrell is 43. Trumpet player Scott Klopfenstein of Reel Big Fish is 42. Actor Eric Christian Olsen ("NCIS: Los Angeles" is 42. Drummer Andy Hurley of Fall Out Boy is 39. . Actor Curtis Williams Jr. ("Parent'Hood") is 32.
Chart Toppers – May 31
1950
My Foolish Heart – The Gordon Jenkins Orchestra (vocal: Eileen Wilson)
Bewitched – The Bill Snyder Orchestra
It Isn't Fair – The Sammy Kaye Orchestra (vocal: Don Cornell)
Birmingham Bounce – Red Foley
1959
Kansas City – Wilbert Harrison
Dream Lover – Bobby Darin
Personality – Lloyd Price
The Battle of New Orleans – Johnny Horton
1968
Tighten Up – Archie Bell & The Drells
Mrs. Robinson – Simon & Garfunkel
A Beautiful Morning – The Rascals
Honey – Bobby Goldsboro
1977
Sir Duke – Stevie Wonder
I'm Your Boogie Man – KC & The Sunshine Band
Dreams – Fleetwood Mac
Luckenbach, Texas (Back to the Basics of Love) – Waylon Jennings
1986
Greatest Love of All – Whitney Houston
Live to Tell – Madonna
On My Own – Patti LaBelle & Michael McDonald
Whoever's in New England – Reba McEntire
1995
This is How We Do It – Montell Jordan
Have You Ever Really Loved a Woman? – Bryan Adams
Water Runs Dry – Boyz II Men
What Mattered Most – Ty Herndon
2004
The Reason – Hoobastank
Naughty Girl – Beyoncé Knowles
I Don't Wanna Know – Mario Winans featuring Enya & P. Diddy
Redneck Woman – Gretchen Wilson