A Celebration of Life for the longtime CHQM program executive and on-air personality will be held at 2 p.m. June 2 at Point Grey Golf Club, 3350 SW Marine Drive, Vancouver.
.
OBITUARY as published May 17 in the Vancouver Sun & Province: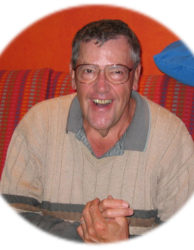 Maurice Leo Foisy passed away peacefully (May 10 at age 86) with his loving wife, Sharel, at his side. He will be missed by his daughter Janice (Larry), his step daughters Sharlein, Merran (Ivan), Sandra (Paul) and his grandchildren Danielle, Marc (Jayna), Colby, Cory (Natasha), Duncan, Rachel, Rowan, Taya and five great grandchildren. He will also be fondly remembered by Darin, Joe, and Rod. He was pre-deceased by sons Greg and Neal, and daughter Lisa.
Born in Halifax, he was a proud Nova Scotian his whole life. He was 'Man About Town' in the 70's and 80's for CHQM radio and a well-known broadcast personality in Vancouver for over 40 years. He was known within the symphony community for his fundraising with the VSO. In retirement he contributed his golden voice by reading for the visually impaired.
Maurice and Sharel loved to travel. In retirement, he became passionate about golf.
The family gives special thanks to the remarkable doctors and caregivers at St Paul's Hospital, and the many years of supportive care from Dr. Christopher Ryan.
Published on May 17, 2019