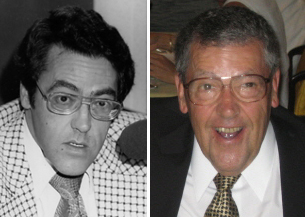 The sad news comes via Gord Lansdell at his Northwest Broadcasters site. Maurice Foisy, whose giant pipes resonated from CHQM Vancouver for over three decades, has died at age 86 after several years of serious lung dysfunction.
He was one of the first announcers hired at CHQM in 1959, brought in from CBC Halifax by founder Bill Bellman, staying until 1991.  He became Production Manager and then Program Director.
In later years he worked for CKST AM 1040 and read books for the visually impaired at UBC's Crane Library.
Our sincere condolences to his family.
Thanks to Vancouver Broadcasters for the pictures.