The sad news arrived via an e-mail from our old friend and fellow retired broadcaster Clive Kitchener:
An advisory that Doug Linn died Saturday in Chilliwack. He'd been in hospital for about 1 month. He was aged 79.
I don't know his full history in radio but I believe his last gig was in Chilliwack. Before that JR Country (Mornings ?) and prior to that in Nanaimo but at which station I don't recall.
A voice as big as all outdoors. Maybe even bigger.
I'll pass along more info when I get it but that could be a while. His partner is devastated and is dealing with her own significant health issues.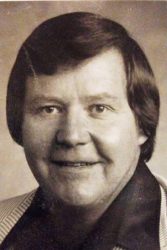 Doug Linn
Michael Linn is Doug's son.  He was good enough to supply Doug's radio itinerary:
My Dad worked at CHUB in Nanaimo. Then went to work for CHNS in Halifax, Nova Scotia, then CFCH in North Bay, Ontario. After North Bay he worked for JR Country (CJJR-FM) Vancouver morning show from 1985-87. He then went to work for Star FM (CKSR-FM) Chilliwack, before retiring in 1996.
SEE THE CHILLIWACK PROGRESS OBIT  HERE.