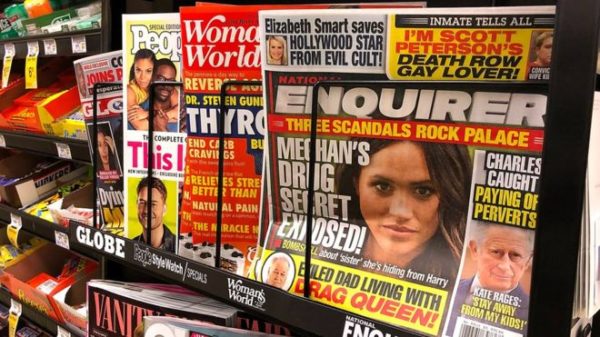 The owner of US tabloid newspaper the National Enquirer has agreed to sell the title to magazine distributor James Cohen.
American Media Inc (AMI) said it would sell the title and two of its sister publications to Mr Cohen.
The tabloid has been embroiled in high-profile scandals involving US President Donald Trump and Amazon's Jeff Bezos.
The sale terms were not disclosed but the Washington Post reported a sale price of $100m (£77m).
In a statement, AMI said it had reached an agreement in principle with Mr Cohen to sell the title's US and UK editions, along with the Globe and National Examiner.
"The sale of these brands shows their vitality in today's newsstand marketplace where they continue to generate nearly $30 million in profit annually," AMI chief executive David Pecker said.
Mr Cohen's family built the Hudson chain of airport newsstands. The family now owns US magazine and book distributor Hudson News Distributors.
"Year after year, the Enquirer has continued to be one of the best-selling and most profitable newsstand titles," Mr Cohen said.
Read more HERE at the BBC News website