Deal for undisclosed sum is expected to close in April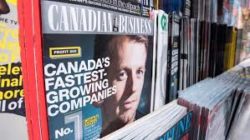 Rogers sold off all of its remaining magazine brands on Wednesday, including Canadian Business, which it stopped publishing in print form in 2016. (Ryan Remiorz/Canadian Press)
Rogers Media has struck a deal with the company that publishes Toronto Life to sell the company's remaining magazine brands for an undisclosed sum.
In a press release Wednesday, Rogers and St. Joseph Communications say Maclean's, the English and French versions of Chatelaine, Today's Parent, HELLO! Canada, along with digital publications FLARE and Canadian Business, have been sold for an undisclosed sum.
"All current Rogers Media Publishing employees will be offered employment through the deal, which is expected to close in April 2019," the release said.