ON THIS DAY in 1901
character actor J. Pat O'Malley was born in Burnley England. A familiar face in bit parts on the big screen he also had recurring roles in TV's My Favorite Martian, A Touch of Grace, & Maude.  He died from a heart condition Feb. 27 1985 at age 83.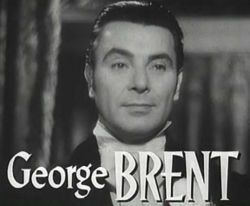 In 1904, film actor George Brent was born near Dublin Ireland. A favorite co-star (& lover) of Bette Davis, he'd been in films more than 20 years before making his TV debut in 1953. He starred in the series Wire Service & the TV movie Born Again, and guested on Climax, Rawhide, Schlitz Playhouse, Ford TV Theatre, etc.  He died of emphysema May 26 1979 at age 75.
In 1905, comedian Joe E Ross was born in Manhattan.  He is best remembered for his trademark "Ooh Ooh" expression in roles as Officer Gunther Toody on TV's Car 54 Where Are You, and as Sgt. Rupert Ritzik on the Phil Silvers Show.  He died Aug. 13 1982 at age 77.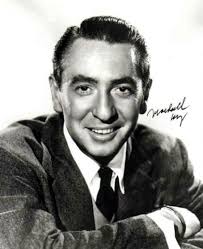 In 1913, actor Macdonald Carey was born in Sioux City Iowa. Although most famous for his 3 decades as Dr. Tom Horton on the NBC-TV soap Days of Our Lives  (& the famous opening voiceover), he had been active in bigtime radio, as the host of First Nighter, for a supporting role in Stella Dallas, the lead in Jason & the Golden Fleece, etc. He died Mar 21, 1994 at age 81.
In 1915, broadcast journalist David Schoenbrun was born in New York.  One of the second generation of 'Ed Murrow's Boys' he was longtime chief of the CBS Paris bureau, and a regular contributor to radio's 'CBS World News Roundup.'  He died May 23 1988 at age 73.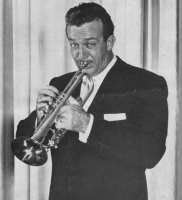 In 1916, big band leader/trumpeter Harry James was born in Albany Georgia.  His was the first 'name' band to employ Frank Sinatra.  Big hits include Chiribiribin, And the Angels Sing, Two O'clock Jump, You Made Me Love You, & Music Makers. He was active in bigtime radio, his dance remotes proving very popular, plus he was musical director for the Danny Kaye Show.  On TV he was featured in The Cavalcade of Bands, and 10 times on Ed Sullivan. James continued touring with the 'Music Makers' right up to 9 days before his death from lymphatic cancer July 5 1983 at age 67.
In 1922, BC got its second radio station as the Vancouver Sun took to the airwaves, two days after the Vancouver Province. The first night's programs featured a "Digest of the world's news" at 8 pm followed by music from 8:30-9:30. This station was shut down in 1923.   Its call letters were CJCE. Freq: 420 meters (about 710 KHz).
Also in 1922, WSB, Atlanta, Georgia, began broadcasting becoming the first Southern radio station in the US.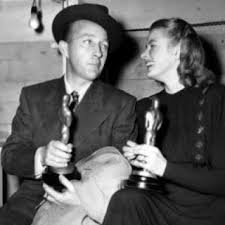 In 1945, celebrities sauntered into Grauman's Chinese Theater in Los Angeles to celebrate the best of 1944 as the Academy Awards were presented for the 17th time. These Oscar awards were the first broadcast in their entirety over the ABC radio network, and Armed Forces Radio around the world. Co-hosts for the big show were actor/director John Cromwell (first half) and actor/comedian Bob Hope (second half). The Oscar for Best Picture went to the musical comedy, "Going My Way" in which Bing Crosby was adjudged Best Actor. Best Actress Oscar was given to Ingrid Bergman for "Gaslight."
Also in 1945, "Billboard" magazine debuted a new feature, the record chart of top albums. At the time an album consisted of anywhere from 2 to 7 "78 RPM" discs.
What album was the first atop this new listing? "The King Cole Trio" on the Capitol label.
In 1947, "Heartaches" by Ted Weems Orch. (recorded in 1933) hit #1 for 13 weeks on Billboard's Pop Music chart.
In 1951, 25-year old country singer Ray Price left Nashville's small Bullet label to sign a contract with Columbia Records, where he remained for 30 years.
In 1952, the song "Wheel of Fortune" by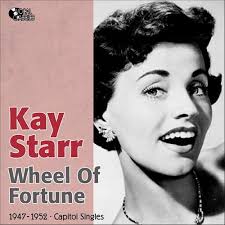 Kay Starr topped the charts and stayed there for 10 weeks.
In 1954, CBS television inaugurated its "Morning Show". The host? None other than the man who would become "the most trusted man in America," Walter Cronkite.  The show didn't work, but the program for youngsters immediately following did, quite nicely, thank you. That show was "Captain Kangaroo".
Also in 1954, The Chords recorded their own doo-wop composition "Sh-Boom" for an Atlantic Records subsidiary label.  It became their only Top 10 hit, and was covered more successfully a few months later by a Toronto-based quartet The Crew-Cuts; they took "Sh-Boom" to #1 where it remained for nine weeks.
In 1955, while on tour in Hollywood Fats Domino recorded the song that would break him out of the world of R & B onto the pop music scene, "Ain't That a Shame."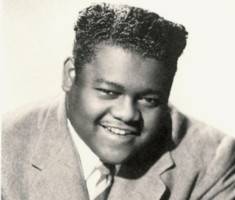 In 1956,Colonel Tom Parker signed a contract to manage Elvis Presley in exchange for 25% of the singer's earnings.
In 1959, jazz tenor saxophonist Lester Young, who played in the bands of Count Basie, Benny Goodman, Teddy Wilson and Billie Holiday, succumbed to the ravages of his alcoholic lifestyle, passing on at age 49.
In 1960, future Montreal rock radio powerhouse CFOX signed on at 1470 KHz with 1000 watts. The licensee was the son of CFRB's star newscaster, Gordon Sinclair Jr.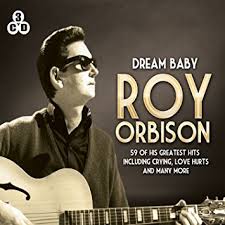 In 1962, Monument Records released "Dream Baby (How Long Must I Dream" by Roy Orbison, which would peak at #4 on the Billboard pop singles chart.
Also in 1962, Bobby Darin released his last album for the Atco label, "Bobby Darin Sings Ray Charles."
In 1964, the UK's Dave Clark Five were featured on CBS-TV's Ed Sullivan Show, performing "Do You Love Me," "Bits and Pieces" and "Glad All Over."  Also singing were Jack Jones and Carmel Quinn, with an Irish medley for St. Patrick's Day.  Ed also introduced a monkey act, a unicycle-riding accordion player, and Topo Gigio, the Italian mouse puppet.
In 1965, as part of the Beatles'-fuelled "British invasion" Freddie and the Dreamers released their future #1 single, "I'm Telling You Now" in North America, two years after it had been a hit in the UK.
In 1966, Herb Alpert's "Taste of Honey" won a Grammy as Record of the Year. (Alpert is pictured below.)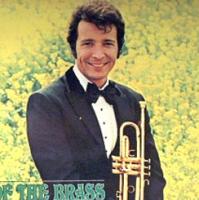 Frank Sinatra's "September of My Years" won as Album of the Year. Tom Jones won a Grammy as Best New Artist.
In 1967, Frank Sinatra won the record of the year Grammy for "Strangers in the Night" and album of the year for "Sinatra — A Man and His Music." John Lennon and Paul McCartney pulled an upset by winning for song of the year for "Michelle."
In 1968, "LIFE" magazine praised Jimi Hendrix as "the most spectacular guitarist in the world."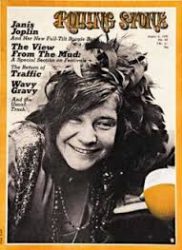 In 1969, Janis Joplin was featured on the cover of Rolling Stone magazine, on sale for 35 cents.
Also in 1969, the song "Dizzy" by Tommy Roe topped the charts and stayed there for 4 weeks.
In 1970, Judy Collins and Al Martino were this week's singing guests on CBS-TV's "The Glen Campbell Goodtime Hour," along with comedians George Lindsay and Larry Storch.
In 1971, CBS television made a major announcement, saying that it was dropping "The Ed Sullivan Show" from its program line-up after 23 years on the network. The Sullivan show, a Sunday night fixture, presented everyone from the Beatles and dancing bears to a talking mouse named Topo Gigio, plus anyone and anything in between. It was at the time the longest-running variety show in television history. (The final show aired June 6, 1971; Sullivan, below with The Beatles, died of esophageal cancer three years later at age 73.)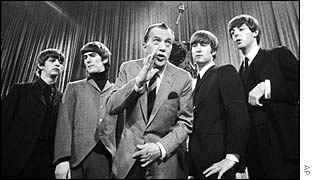 Also in 1971, Elvis Presley was in RCA Studio B in Nashville to record four songs, including two by Gordon Lightfoot, "Early Morning Rain" and "That's What You Get For Lovin' Me." The other two tracks were "The First Time Ever I Saw Your Face" and "Amazing Grace."
In 1972, Alberta saw the first radio and TV coverage of regular sittings of the provincial legislature.
Also in 1972, DJ Robert W. Morgan played the Donny Osmond version of 'Puppy Love' continously for 90 minutes on the Bill Drake Boss Radio station KHJ in Los Angeles.  LAPD raided the station after receiving numerous calls from listeners concerned that something must be wrong. After learning of the publicity stunt, officers left without making any arrests.

In 1973, Roberta Flack was at No.1 on the Billboard singles chart with 'Killing Me Softly With His Song', while Elton John had the No.1 album with 'Don't Shoot Me I'm Only The Piano Player'.
In 1975, the song "Black Water" by the Doobie Brothers topped the singles charts, while Olivia Newton-John went to No.1 on the Billboard album chart with 'Have You Ever Been Mellow'.
In 1976, the fourth studio album by KISS, "Destroyer," was released on the Casablanca label, enroute to a platinum certification.
In 1977, the first episode of "Eight is Enough" aired on ABC-TV, where it ran for 5 years.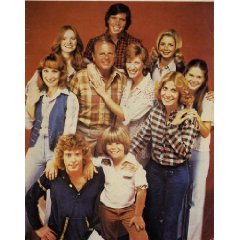 Mark Hamill starred in the opener & a few episodes as son, David. After talking to star, Dick Van Patten, Hamill said, "Enough!"  He left the series to star in the motion picture, "Star Wars" as Luke Skywalker.
Also in 1977, "Three's Company" made ITS debut on A-B-C.
In 1979, the 100th episode of "Barney Miller" aired on ABC.
In 1980, the 100th episode of "Saturday Night Live" aired on NBC.
In 1982, Bob Dylan was inducted into the Songwriters Hall Of Fame in a ceremony at New York's Hilton Hotel.

In 1985, the first episode of "Mr. Belvedere" aired on ABC.
Also in 1985, Anne Murray's 19th Capitol album, "A Little Good News," having sold more than 500,000 copies, was certified as a Gold Record.
In 1986, Starship went to No.1 on the US singles chart with 'Sara'.
In 1989, the Rolling Stones signed a $70 million contract to play 50 North American dates as part of their Steel Wheels tour. It was the largest contract in rock history.
In 1990, Heisman-winning running back-turned-sportscaster Tom Harmon died of a heart attack at age 70.

In 1997, actress Gail Davis, who starred as TV's Annie Oakley, and guested on many other western series, lost her battle with cancer at age 71.
In 1999, Bruce Springsteen and Billy Joel gracefully thanked their beaming mothers. Paul McCartney mourned the loss of his wife Linda. And the three led a jam session that had a star-studded audience up and dancing during the 14th annual Rock and Roll Hall of Fameinduction ceremony.
Also in 1999, relatives of Buddy Holly filed a suit against MCA Records for "grossly underpaying'" record royalties, for allegedly forging contracts and illegally producing albums without the heirs' consent.
In 2000, Sir Paul McCartney confirmed that he and former model Heather Mills had become 'an item'. The couple had met after working on the same charity project.
In 2001, actress Ann Sothern, who starred for 8 years in the radio series "The Adventures of Maisie," and on TV in "Private Secretary" and "The Ann Sothern Show," as well as guest starring occasionally on "I Love Lucy," died of heart failure at age 92.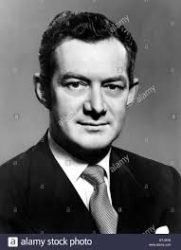 In 2002, TV pioneer Sylvester "Pat" Weaver, who'd created NBC's "Today" and "Tonight" shows, died of pneumonia in Santa Barbara, Calif., at age 93.
Also in 2002, Yoko Ono unveiled a 7-foot bronze statue of John Lennon (below) at the newly-named John Lennon Airport in Liverpool.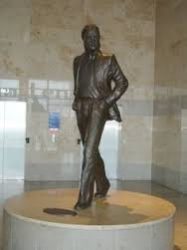 In 2004, former Crazy Town guitarist Rust Epique died of heart failure from an apparent heart attack at his home in Las Vegas at age 35. Crazy Town had the 1999 world-wide No.1 single 'Butterfly.'
Also in 2004, George Harrison, Prince, Bob Seger, The Dells, Traffic and ZZ Top were all inducted into the Rock and Roll Hall of Fame in New York City.
In 2006, in the wake of Hurricane Katrina in New Orleans, what remained of Fats Domino's three pianos was saved by the Louisiana State Museum after attempting to salvage his home in the Ninth Ward.
In 2007, Nickelback postponed their show in Atlanta after frontman Chad Kroeger strained his voice the previous night in North Charleston, SC. The "make good" concert was less than a week later.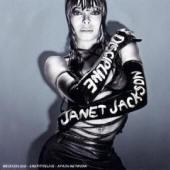 In 2008, Janet Jackson was at No.1 on the Billboard album chart with her tenth solo album 'Discipline.'
In 2009, actor Ron Silver, who had running roles in the TV series The West Wing, Veronica's Closet and Rhoda, and who hosted his own talk show on Sirius Radio, lost his battle with esophageal cancer at age 62.
Also in 2009, Vancouver-born baritone & actor Edmund Hockridge, who split his career between Canada and the UK, died in Britain at age 89.  He had his own coast-to-coast CBC Radio show in the 1950's.
In 2010, Genesis was inducted into the Rock and Roll Hall of Fame during a ceremony in New York. Original frontman Peter Gabriel did not attend – he was preparing for a European tour.

In 2011, in the New York Times Sunday Magazine, Jon Bon Jovi criticized Apple's Steve Jobs as "personally responsible for killing the music business." "Kids today have missed the whole experience of putting the headphones on, turning it up to 10, holding the jacket, closing their eyes and getting lost in an album, " said Bon Jovi. Apple's iTunes had recently sold its 10 billionth track.
In 2012, Bruce Springsteen was the keynote speaker at the South by Southwest (SXSW) festival in Austin Texas.  NPR provided a live stream of Springsteen's address.
In 2013, Green Day performed at the SXSW Festival and were on hand for the screening of two documentaries: Broadway Idiot, which chronicles the Broadway adaptation of the band's album, "American Idiot"; and, ¡Quatro!, covering the band's recording of their album trilogy, "¡Uno!," "¡Dos!" and "¡Tre!"
In 2014, comedian David Brenner,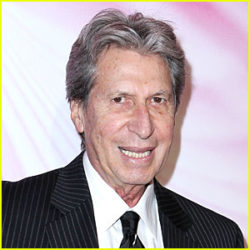 a frequent guest on Johnny Carson's "Tonight Show" (more than 150 appearances), succumbed to cancer at age 78.
In 2015, longtime jazz radio host Bob Parlocha, best known for his 16-year run at Bay Area station KJAZ-FM (1978-94) and for his syndicated program thereafter, suffered a fatal heart attack at age 76.
Also in 2015, Mike Porcaro, the longtime (1982-2007) bass player for Grammy-winning rock band Toto, died following a lengthy battle with amyotrophic lateral sclerosis (Lou Gehrig's Disease) at age 59.
In 2018, Michael Getler, a Washington Post foreign correspondent who later led the Paris-based International Herald Tribune and served as an incisive media critic at The Post and ombudsman at PBS, died of  complications from bile duct cancer at age 82.
Also in 2018, the company behind the biggest U.S. radio broadcaster (iHeart Media) filed for chapter 11 bankruptcy protection, a decade after a private-equity-led buyout left it with billions in debt.
Still in 2018,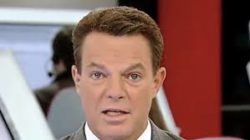 Shepard Smith, chief news anchor and managing editor of breaking news for the Fox News Channel, signed a new contract that would keep him at the top-rated news network for several more years.
Today's Birthdays:
Actor Judd Hirsch (Superior Donuts, Forever, Damages, Numb3rs, Dear John, Taxi) is 84.
Former televangelist Jimmy Swaggart is 84.
Jazz saxophonist Charles Lloyd is 81.
Bassist Phil Lesh of the Grateful Dead is 79.
Singer Mike Love (The Beach Boys) is 78.
Rock singer-musician Sly Stone (aka Sylvester Stewart) is 76.
Ontario-born ex-deejay Bob Dearborn (KIXI Seattle, WCFL Chicago, CKOC Hamilton, plus Cleveland, Detroit, Albany, Providence, et al) is 74.
Rock singer-musician Howard Scott (War) is 73.
CTV Vancouver feature reporter/author Mike McCardell is ??
Rock singer Ry Cooder is 72.
Actor Craig Wasson (One Life to Live, Skag, Phyllis) is 65.
Rock singer Dee Snider (Twisted Sister) is 64.
Actress Park Overall (Empty Nest, Reba) is 62.
Actor Joaquim de Almeida (Wanted, 24) is 62.
Ontario-born actress Lisa Langlois (Our World Today) is 60. 
Model/actor Fabio (Acapulco H.E.A.T.) is 60.
Model/writer/actor Fabio (Acapulco H.E.A.T.) is 58.
Actor Jimmy Baio (Soap) is 57.
Singer Sananda Maitreya (formerly Terence Trent D'Arby) is 57.
Rock singer Bret Michaels (Poison) is 56.
Actor Derek Kelly (Third Watch) is 55.
Singer Rockwell (born Kennedy William Gordy) is 55.
Actress Robyn Malcolm (Top of the Lake) is 54.
Actor Chris Bruno (The Fosters, Stephen King's Dead Zone) is 53.
Actor Sean Bridgers (Rectify, Deadwood) is 51.
Rock singer/TV personality Mark McGrath (Sugar Ray/Extra) is 51.
Actress Kim Raver (24, Grey's Anatomy, 24, Third Watch) is 50.
Montreal-born actress Anne Bedian (Combat Hospital, The Ex List, Delta State) is 47.  
Rock musician Mark Hoppus is 47.
Singer-guitarist Matt Thomas of Parmalee is 45.
Actress Eva Longoria (Mother Up, Desperate Housewives, The Young & the Restless) is 44.
Rapper-musician will.i.am (Black Eyed Peas) is 44.
Toronto-born actress Cara Pifko (This is Wonderland, Our Hero] is 43.
Actor Brian Tee (Chicago Med, Crash) is 42.
Rock DJ Joseph Hahn (Linkin Park) is 42.
Actress Pollyanna McIntosh (Hap and Leonard) is 40.
Rapper Young Buck is 38.
Toronto-born actress Lisa Marcos ( The Listener, Played) is 37.  
Rock musician Ethan Mentzer of The Click Five is 36.
Vancouver Wash.-born actor Nate Scholz (Assignment:Unexplained) is 34. 
Actor Kellan Lutz (The Comeback) is 34.
Actress Eva Amurri Martino (Undateable, Mindy Project, Californication) is 34.
Actor Jai Courtney (Spartacus: War of the Damned) is 33.
Actress Adrianna Léon (General Hospital, The Young and the Restless) is 32.
Eugene Oregon-born actress Caitlin Wachs (Commander in Chief, Family Affair, Profiler) is 30.
Actress Sosie Bacon (Here & Now, 13 Reasons Why) is 27.
Edmonton-born singer/songwriter Alyssa Reid is 26.
Chart Toppers – March 15
1950
I Said My Pajamas – Tony Martin & Fran Warren
Music, Music, Music – Teresa Brewer
If I Knew You Were Comin' I'd've Baked a Cake – Eileen Barton
Chatanoogie Shoe Shine Boy – Red Foley
1959
Venus – Frankie Avalon
Charlie Brown – The Coasters
Alvin's Harmonica – David Seville & The Chipmunks
Don't Take Your Guns to Town – Johnny Cash
1968
(Sittin' On) The Dock of the Bay – Otis Redding
Love is Blue – Paul Mauriat
Simon Says – 1910 Fruitgum Co.
Take Me to Your World – Tammy Wynette
1977
Love Theme from "A Star is Born" (Evergreen) – Barbra Streisand
Fly like an Eagle – Steve Miller
I Like Dreamin' – Kenny Nolan
She's Just an Old Love Turned Memory – Charley Pride
1986
Sara – Starship
These Dreams – Heart
Secret Lovers – Atlantic Starr
I Could Get Used to You – Exile
1995
Take a Bow – Madonna
Candy Rain – Soul For Real
Baby – Brandy
You Can't Make a Heart Love Somebody – George Strait
2004
My Immortal – Evanescence
Toxic – Britney Spears
Yeah – Usher featuring Ludacris and Lil' Jon
American Soldier – Toby Keith