Former CKWX copywriter Doreen Janko writes from Penticton with the sad news:
The man who was probably the oldest living CKWX Technician/ Engineer: Dick Williams, at CKWX in the 1940's, passed away quietly, in the Penticton Hospital on Tuesday (Feb. 19). He celebrated his 100th birthday here at Cherry Park Retirement Residence last September. Earlier that month, he attended the Penticton Jazz Festival … all 3 days of it.  It was a tradition with him.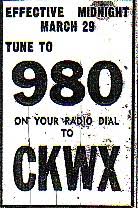 Dick would stop me on our way to lunch to ask if I knew "so-and-so", like Bernard Braden, or various Police Chiefs or Mayors of Vancouver or other celebrities who made headlines 50 – 60 years ago. One day, it was "Did you know 'the Professor' who played the organ at the Orpheum?" I replied, "No Dick I don't know …."the :Professor" ….but I did know Ivan Ackery. His reply, : "Oh, EVERYone knew Ivan Ackery."
Dick attived at WX in 1939 …and was there on Dec 7, 1941 when Japan bombed Pearl Harbour because he had kept all these years, a crumpled piece of Teletype he retrieved from the waste basket in the WX newsroom from that date.
From CKWX, he moved to CFGP Radio in Grand Prairie. He did a lot of jobs at the radio stations, but was never on the air … always in engineering, doing technical jobs. He recalled the Mornings when he had to go out to the CKWX Steveston transmitter, and turn it on.
And a morning when the control room door was locked, and nobody had a key, so he went to the workshop, got a glass cutter, and cut the three layers of glass out of the window so they could get in. He left GP one winter, when he discovered that 2 fellows who were new and had less experience, were earning more than he was.
His area of expertise was always the technical side, and worked all his life as a technician, though not necessarily in broadcasting.  And he made it to the century mark, so good on him.
Thank you Doreen for telling us about him.