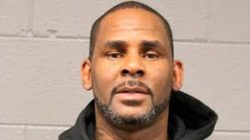 R. Kelly, the R&B star who has been trailed for decades by allegations that he violated underage girls and women and held some as virtual slaves, is due in court Saturday after being charged with aggravated sexual abuse involving four victims, including at least three between the ages of 13 and 17.
In a brief appearance before reporters, Cook County State's Attorney Kim Foxx on Friday announced the 10 counts against the 52-year-old Grammy winner, whose real name is Robert Kelly. She said the abuse dated back as far as 1998 and spanned more than a decade. She did not comment on the charges or take questions.
Kelly was driven to a Chicago police station in a dark-coloured van with heavily tinted rear windows around 8:15 p.m. Friday. He did not respond to questions from gathered reporters as he walked inside the building.
Kelly's lawyer, Steve Greenberg, told reporters following the singer's arrest that one of the charges he faces appears to be tied to a decade-old child pornography case.
Acquitted in child pornography case
"Double jeopardy should bar that case," Greenberg said. "He won that case."
Kelly, who was acquitted of child pornography charges in 2008, has consistently denied any sexual misconduct.
Greenberg said he thinks prosecutors rushed to judgment Friday in charging Kelly, calling the singer "an innocent man."
READ MORE  HERE.