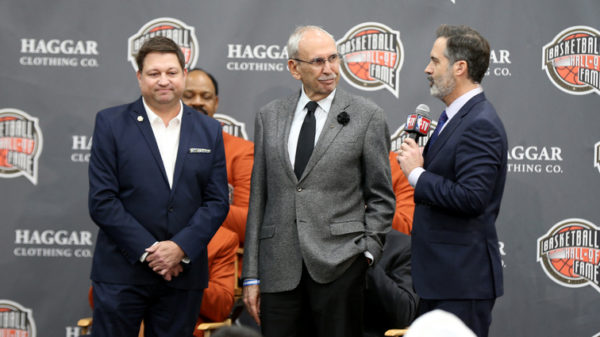 LOS ANGELES
– The Naismith Memorial Basketball Hall of Fame announced today, at NBA All-Star Weekend, that the "Voice of the Clippers," Ralph Lawler, alongside longtime NBA reporter Marc Stein, is a 2019 Curt Gowdy Media Award recipient. Lawler will be acknowledged for his contributions to basketball media during the Naismith Memorial Basketball Hall of Fame Enshrinement events Sept. 5-7 in Springfield, Massachusetts – the birthplace of basketball.
"I can hardly believe this is happening. Never in my wildest dreams did I dare to imagine that my career would culminate with this ultimate honor," said Lawler. "My wife and I are thrilled and humbled to be joining the elite group that preceded me with the Curt Gowdy Award. Thanks to everyone who helped make this a reality."
"It is a very well-earned honor for Ralph to receive this award; he has always been a Hall of Famer to Clippers fans,'" said Clippers Head Coach Doc Rivers. "Ralph has been a pioneer in his field, and we have been fortunate to hear him for 40 years. His love for the game and this team are on display every night. Congratulations Ralph on this very well-deserved award."
Lawler is in his 40th season broadcasting Clippers games and has kept fans tuned-in for more than 3,140 broadcasts with his off-the-cuff style. He currently does Clippers telecasts for Prime Ticket and Fox Sports San Diego and has announced that he will retire at the end of this season. Lawler is well known for his "Lawler-ism" catchphrases that have become a fixture in Clippers broadcasts and across the NBA, and fans tune in to hear "Bingo!," "Oh Me, Oh My" and "Lawler's Law." The impact that Lawler has had on the Clippers organization and the broadcasting community across his four decades with the team is immeasurable.
READ MORE  HERE.