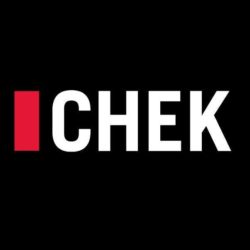 February 11, 2019 FOR IMMEDIATE RELEASE
'US & THEM'– A FILM TEN YEARS IN THE MAKING, SHOT IN VICTORIA PREMIERES ON CHEK
VICTORIA – Over 1,500 people are homeless in the Capital Region according to the 2018 Point–In–Time Homelessness Count. CHEK Television is focusing on this societal challenge with the Broadcast Premiere of "Us and Them'–a compelling documentary that follows four individuals for ten years on the streets of Victoria as they cope, not only with homelessness, but also mental illness and addiction. The result is a film that is bound to change attitudes, policies, and most importantly, lives.
CHEK will broadcast and live stream 'Us and Them' at 8 pm on February 23, 2019 – the same night when many people in Victoria and across the country will take part in the "Coldest Night of the Year" walk to raise funds for charities that help the homeless.
Because of the importance of this subject, CHEK will be showing 'Us and Them' commercial free. And immediately following the film, CHEK will broadcast a panel discussion moderated by CHEK News anchor Ben O'Hara Byrne. The panel will include film Producer Krista Loughton, Victoria Mayor Lisa Helps, and representatives from Island Health, the Our Place Society and the Victoria Foundation. The film presentation and panel discussion is made possible with support from presenting sponsor Victoria Foundation, with additional support from Island Health.
Filmmaker Krista Loughton wants "people to watch the film and never look at a street person, or themselves, in the same way again." The film shatters misconceptions about why people end up on the streets. It will hopefully give viewers a newfound perspective and understanding of homelessness, and be a first step in addressing the larger issues surrounding this complex topic.
"As a local employee–owned station, we are proud to be able to bring this important film and its message to our viewers," said Rob Germain, General Manager, CHEK Media Group. "Victoria is dealing with both a housing crisis and an opioid epidemic. This film and the panel discussion aim to help the community understand those problems better and to aid in the search for solutions."
About CHEK CHEK is proudly based on Vancouver Island. It was the first commercial television station in BC, signing on the air in 1956. CHEK became independent and employee–owned in 2009 when employees and community minded investors rallied to save the station hich was threatened with closure. CHEK will celebrate ten years of employee–ownership in September.
For further information and to arrange interviews please contact the following:
Krista Loughton MindFuel Films Inc. krista@usandthemfilm.ca (250) 889–1232
Ben O'Hara Byrne CHEK News benohara@cheknews.ca (250) 480–3774
Rob Germain, GM CHEK Media Group rgermain@cheknews.ca 250–213–5180
CHEK Media Group 780 Kings Road, Victoria, BC V8T 5A2 phone 250.383.2435
fax 250.384.7766 www.cheknews.ca