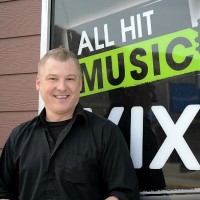 Vista Radio has appointed Kent Schumaker as Regional Content Manager of its five Vancouver Island stations, working out of the head office in Courtenay.  He takes over his new responsibilities as of March 4th.
Vista's Island holdings include CIQC-FM Campbell River, CFCP-FM Courtenay, CJSU-FM Duncan, CFPW-FM Powell River, and CFNI-AM Port Hardy.
Since 2010 Kent has served as PD and Brand Director at Peace River Broadcasting's YL Country and KIX-FM.
A graduate of the Columbia Academy of Broadcasting, his 26 year radio itinerary has included Mountain FM in Squamish, almost 3 years at MIX 100 in Yellowknife, three years as Music Director at CKWV Nanaimo, then two years doing middays at KG Country Red Deer, and the next two years as Music Director at ZED 99 in Red Deer.