ON THIS DAY in 1900
hot jazz trumpeter Wingy Manone was born Joseph Mathews Manone in New Orleans.  He lost an arm in a streetcar accident, thus the name Wingy.  He was as much a master of the humorous use of slang and jive talk as he was a great musician. He and his band did regular recording and radio work through the 1930s. Wingy died July 9, 1982 at age 82.
On this day in 1908,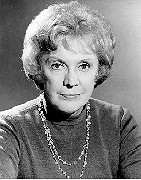 pioneering woman broadcast journalist Pauline Frederick was born at Galitzin PA.  For 21 years she was the "Voice of the United Nations" as the NBC correspondent there. For the next 16 years until her death she was a foreign affairs commentator for PBS.  She died May 9 1990 at age 82.
On this day in 1914, the American Society of Composers, Authors and Publishers (known as ASCAP) was formed in New York City. The society was founded to protect the copyrighted musical compositions of its members.
On this day in 1915, actor Lyle Bettger was born in Philadelphia.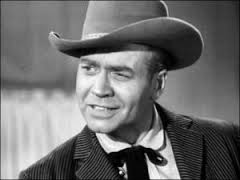 The handsome steely-eyed blonde specialized in scores of smooth villain roles in such TV series as Hawaii Five-O, Rawhide & Bonanza over a 25 year span.  He died Sept. 24 2003 at age 88.
On this day in 1916, actor James Griffith was born in Los Angeles.  He worked steadily in episodic  TV for more than 30 years, but only scored a recurring role in two early series Trackdown & Daniel Boone.  He died of cancer Sept. 17 1993 at age 77.
On this day in 1919, singer Joan Edwards was born in New York City. She is best remembered as the gal singer on the Lucky Strike Hit Parade on radio for six years, before, during & well after the Sinatra period. She first won the public's attention as a vocalist with the Paul Whiteman Orch.  She died Aug. 26 1981 at age 62 after apparently suffering a heart attack at home in her New York apartment.

Also in 1919, singer Tennessee Ernie Ford was born in Bristol, Tenn.  He began his career as a radio announcer at hometown station WOPI, and continued after WWII at stations in San Bernardino & Pasadena. He joined Cliffie Stone's Dinner Bell Roundup on KXLA radio, and his Hometown Jamboree TV show. In 1950 he had his first crossover song hit with Kay Starr, I"ll Never Be Free.  His big smash five years later was Sixteen Tons, which propelled him to a six year prime time show on NBC TV.  He has three stars on the Hollywood Walk of fame, for records, television, and radio.  A heavy drinker off stage, Ernie died of increasing liver problems Oct. 17 1991 at age 72.
On this day in 1920, soprano Eileen Farrell was born in Willimantic Conn. A popular concert singer, she had her own radio show on CBS in the 1940's, before establishing an operatic career.  She appeared 4 times on The Ed Sullivan Show and once on its NBC Sunday competiton, the Colgate Comedy Hour.  She died Mar 23, 2002 at age 82.
Also this day in 1920, songwriter Boudleaux Bryant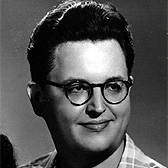 was born in Shellman Georgia.  His songwriting successes began with the Everly Bros., and continued with hits for Roy Orbison & Buddy Holly.  With wife & writing partner Felice Bryant he earned 59 country, pop and R&B music awards.  He died June 26 1987 at age 67.
On this day in 1935, Bruno Hauptmann was found guilty of the kidnap & murder of pioneer aviator Charles Lindbergh's infant, and radio reporters like Gabriel Heatter flashed the news around the world.
On this day in 1937, actress Susan Oliver was born in New York City. She starred in TV's Peyton Place, and the pilot for the Star Trek series, plus scores of other guest roles.  She directed episodes of MASH & a few other series. She succumbed to cancer May 10 1990 at age 53.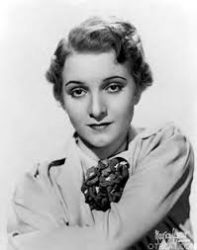 On this day in 1939, actress Virginia Payne, already popular in the role of "Ma Perkins" for the previous six years, took on another character in NBC Radio's new soap opera, "The Carters of Elm Street". Virginia played the part of Mrs. Carter, but the show was gone within 18 months. "Ma Perkins" lasted another 20 years.
On this day in 1940, Earl "Fatha" Hines and his orchestra recorded the classic "Boogie Woogie on St. Louis Blues". The tune was waxed on RCA's famous Bluebird record label.
On this day in 1943, country music pioneer Ernest Tubb, the Tennessee Troubador, became a member of the Grand Ole Opry.
On this day in 1947, "Family Theater" was heard for the first time on Mutual radio. Jim Ameche and Loretta Young starred in the program's first episode, "Flight from Home".  The overtly-Christian stories were directed at Roman Catholic families. Production ceased in 1956 but reruns continued through the 1960's.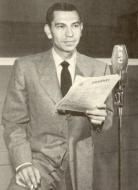 On this day in 1949, after a successful West Coast-only run, "Pat Novak For Hire," Jack Webb's first radio crime drama, went national on the ABC Radio Network. New Westminster's Raymond Burr played police inspector Hellman.
On this day in 1953, major-league baseball owners were warned by Colorado's Senator Edwin Johnson against televising their games nationwide. The Senator (who was also president of the Western League) said that broadcasting these games to a coast-to-coast audience would threaten the very survival of minor league baseball. Major league owners did not heed the advice, and ABC-TV's Game of the Week telecasts on Saturday, with Dizzy Dean and Buddy Blattner, soon garnered a large and loyal following outside the major league markets where they were blacked out.
On this day in 1955, in Lubbock Texas Elvis Presley headlined a 4 pm matinee show at the Fair Park Coliseum, sold as "The Be-Bop Western Star of the Louisiana Hayride Returns to Lubbock."  It was Elvis' first concert booked directly through Col. Tom Parker. One of the opening acts was the country duo of Buddy & Bob, featuring eighteen-year-old home town boy Buddy Holly, who performed with a guitar he borrowed from Elvis.
On this day in 1959, the doo wop group The Skyliners appeared on Dick Clark's "American Bandstand," performing their Top 20 hit "Since I Don't Have You."
On this day 1961, Frank Sinatra unveiled his own recording label, Reprise.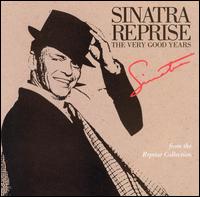 Sinatra did not have a good opinion of rock music, nevertheless the label would release songs by The Beach Boys, Jimi Hendrix and The Kinks.
Also this day in 1961, the instrumental "Calcutta" by Lawrence Welk topped the charts and stayed there for 2 weeks.
On this day in 1965, organist/pianist Jerry Burke, who played with the Lawrence Welk Orch. from 1934 until the present, succumbed to cancer at age 53.
Also this day in 1965, the son of Jerry Lewis Gary Lewis & the Playboys recorded their future #2 hit "Count Me In" for Liberty Records.
On this day in 1966, the Rolling Stones made their 3rd appearance on CBS TV's "The Ed Sullivan Show," performing their international chart topper "(I Can't Get No) Satisfaction." The number had been taped the day before. Also on the playbill were Wayne Newton, Ethel Merman, and Hal Holbrook portraying Abraham Lincoln in an anti-slavery address.

On this day in 1967, "Mr. Dressup" debuted on CBC TV.  Ernie Coombs was originally a puppeteer on Fred Rogers' Canadian series "Misterogers" and on the short-lived "Butternut Square."  "Mr. Dressup" ran for almost 30 years, ending in 1996.
Also this day in 1967, four days before it was to be issued in Britain, The Beatles' single "Penny Lane" backed with "Strawberry Fields Forever" was released in North America.
On this day in 1969, The Doors' single "Touch Me" and Sly and the Family Stone's "Everyday People" were both certified Gold.
On this day in 1970, Black Sabbath's self-titled first LP was released.
On this day in 1971, The Osmonds, a family singing group from Ogden, Utah, began a five-week stay at the top of the pop music charts with the hit, "One Bad Apple". The song, featuring the voice of little Donny Osmond, also showcased the talent of Alan, Wayne, Merrill and Jay Osmond. The brothers were regulars on Andy Williams' TV show from 1962 to 1967. Together, the Osmonds scored with 10 singles in four years — four of them were top ten hits.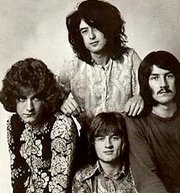 On this day in 1972, Led Zeppelin had to cancel a scheduled concert in Singapore when authorities refused their entry due to local laws banning males from wearing long hair.
On this day in 1973, three weeks into a month-long gig at the Hilton Hotel in Las Vegas, Elvis Presley became ill during the dinner show. Doctor Sidney Bowers treated him, and although he had to cancel three shows, Elvis later gifted the good doctor with a Lincoln Continental in appreciation of his efforts.
On this day in 1975, in San Francisco, Jefferson Starship recorded what would prove to be their biggest hit "Miracles." It peaked at #3 for three weeks.
On this day in 1979, radio station CJAZ-FM Vancouver was approved as Canada's first All Jazz station at 92.1 MHz, from a Saltspring Island transmitter. Owner Selkirk Broadcasting also owned CKWX. The station has since been through a frequency change, to 96.9 MHz, a transmitter move to Mount Seymour, and two call letter and format switches. It is currently formatted as Jack-FM with the calls CJAX-FM.
On this day in 1980, actor David Janssen, who starred in  
 the TV series The Fugitive, Harry O, and Richard Diamond, suffered a fatal heart attack & died too young at age 48.
On this day in 1981, Pink Floyd's "Dark Side of the Moon" LP established a longevity mark for a rock album by remaining on the charts for a remarkable 402nd week.
On this day in 1985, Vancouver's CKVU-TV gained approval to move up the dial from Channel 21 to Channel 10.   The transmitter was to remain on Salt Spring Island, but the move to the VHF slot would vastly improve reception, both on the Lower Mainland and Vancouver Island.
On this day in 1988, the King of Pop, Michael Jackson, purchased a ranch in Santa Ynez, Calif. He later named it Neverland; it now houses an amusement park, a full size movie theatre, and a zoo.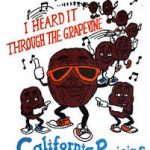 Also this day in 1988, "I Heard It Through the Grapevine" by the 
California Raisins
 peaked at No. 84 on Billboard's Hot 100. The song was recorded by studio musicians based on Claymation characters featured in a TV ad.
.
On this day in 1990, actor Ken Lynch, who played tough lawmen & cops on scores of TV episodes over almost 35 years, died of a virus at age 79.
On this day in 1992, Motley Crue announced that Vince Neil was leaving the heavy metal group. He said he'd been fired, launched a lawsuit for damages, and Neil rejoined the band five years later.
On this day in 1993, Whitney Houston's "I Will Always Love You" from the soundtrack to "The Bodyguard" topped Billboard's Hot 100 singles chart for the 13th week. That tied "End of the Road" from Boyz II Men as the longest-running No. 1 song of the rock era.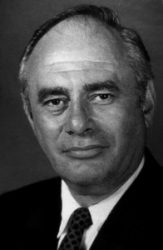 On this day in 1996, Oscar-winning supporting actor Martin Balsam died of a heart attack at age 76. A lengthy list of his TV credits over 43 years is highlighted by his two seasons as Murray Klein on Archie Bunker's Place.
On this day in 1997, Michael Jackson became a father when his wife Debbie Rowe gave birth to a baby boy, Prince Michael Jackson Jr.
On this day in 1998, Nashville music veteran Buddy Lee, who managed the likes of Hank Williams Jr, Willie Nelson & George Strait, died of respiratory failure in Houston,where he had been undergoing treatment for lung cancer. He was 65.
On this day in 1999, BCTV technician Geoff Fisher was killed in Delta when the mast on his microwave truck contacted power lines, electrocuting him as he was setting up for a live hit on the Noon News.
Also in 1999,  Monica's "Angel of Mine" was the #1 top-40 hit in the U.S…it remained on top for 4 weeks.
On this day in 2000, on FOX-TV's "The Simpsons," Maude Flanders was "killed off."
On this day in 2002, country singer/songwriter Waylon Jennings 
 died in his sleep at age 64 of diabetes-related issues. He recorded 60 albums & had 16 #1 country singles in a career that spanned 5 decades. His #1 TV credit is as singer of the theme on 146 episodes of The Dukes of Hazzard.
Also this day in 2002, ABC-TV announced that it had renewed "NYPD Blue" for its 10th season.
On this day in 2003, CBS-TV began airing "Survivor: The Amazon", the fourth season of the reality series.

Also this day in 2003, at 7 pm CJSF FM 90.1 signed-on from Simon Fraser University.   For the previous 20 years, the station had been heard on AM 940 in two residences on campus and on cable FM since 1985.  It has 450 watts and its coverage is spotty throughout the Lower Mainland.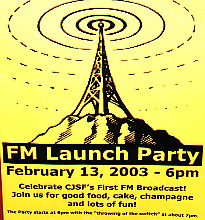 On this day in 2005, Ray Charles' final album, Genius Loves Company, won eight Grammy awards, including album of the year, record of the year for Here We Go Again (with Norah Jones), and pop-vocal album of the year.
On this day in 2006, impressario Hugh Pickett, the dean of Vancouver's show biz celebrities, died at age 93.
On this day in 2007, British singer Robbie Williams checked into rehab in the US on his 33rd birthday, to deal with an addiction to prescription drugs.
Also this day in 2007, Premiere Radio Networks announced that American Top 40 with Ryan Seacrest had passed the 400-station mark worldwide. Seacrest also enjoyed a #1 rating in New York and Los Angeles with the target demo of adults 18-34.

On this day in 2008, a Hollywood writer's strike ended after 100 days.  The walkout had spawned a rash of unscripted TV 'reality shows.'
Also in 2008, a fan paid $3,000 for a jewelled bra which Shakira wore on her Oral Fixation world tour in 2007, in an auction for the pop star's children's charity in Colombia.
On this day in 2010, rockabilly legend Dale Hawkins, cousin to Toronto's Rompin' Ronnie Hawkins, passed away due to colon cancer at age 73. Best known for "Susie Q," which was covered by Creedence Clearwater Revival in '68, Hawkins was a member of the Rockabilly Hall of Fame and the Louisiana Music Hall of Fame.
On this day in 2012, actor/singer Russell Arms, co-star of NBC-TV's "Your Hit Parade" for five years in the 1950's, died at age 92.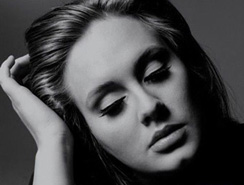 Also in 2012, British vocalist Adele won all six categories she was nominated for at this years Grammy Awards.
On this day in 2013, Lady Gaga was forced to postponed her world tour after sustaining an injury which left her unable to walk. The singer had severe inflammation of the joints, known as synovitis.
On this day in 2014, actor Ralph Waite, who forever will be remembered as the father in the CBS TV depression-era series "The Waltons," died at age 85.
On this day in 2015,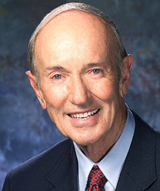 veteran TV journalist Stan Chambers, who for six decades covered the news for Los Angeles' KTLA until he retired in 2010, died at age 91.  His coverage of more than 22,000 Southern California stories earned him a star on the Hollywood Walk of Fame.
Also in 2015, Canada's right-wing leaning Sun News Network, dubbed Fox News North when it debuted in 2011, went dark after failing to find a buyer, after years of financial losses, and after being denied status as a must-carry basic cable channel.
On this day in 2017, Bruce Lansbury, the veteran TV writer/producer known for his work on The Wild Wild West, Wonder Woman and Murder, She Wrote, which starred his older sister, Angela Lansbury,  died of complications from Alzheimer's Disease at age 87.
Today's Birthdays:
Actress Barbara Shelley (Doctor Who, The Borgias) is 87.
Actress Kim Novak (Falcon Crest, Alfred Hitchcock Presents) is 86.
Actor George Segal (The Goldbergs, Retired at 35, Just Shoot Me) is 85.
Singer-bassist-actor Peter Tork of The Monkees is 77.
Actress Carol Lynley (Fantasy Island, Another World) is 77.
Actress Stockard Channing (West Wing, Stockard Channing Show, Just Friends) is 75.
Actor Michael Ensign (Boston Legal, Guns of Paradise, General Hospital) is 75.
Talk show host Jerry Springer is 75.
Singer Peter Gabriel (Genesis) is 69.
Actor David Naughton (At Ease, Makin' It) is 68.
Bassist Peter Hook of New Order and Joy Division is 63.
Actress Leslie Bevis (The Young & the Restless) is 62.
Actor Donal Gibson (ReBoot) is 61.
Toronto-born actor Richard Eden (Santa Barbara, RoboCop:The Series) is 60.
Actor Matt Salinger (24, Second Chances, Blood & Orchids) is 59.
Actor Michael Buscemi (Nurse Jackie) is 59.
Singer/actor Henry Rollins (Legend of Korra, Sons of Anarchy) is 58.
Actor Richard Tyson (Hardball) is 58.
Actor Barry Tubb (Friday Night Lights, Lonesome Dove, Bay City Blues) is 56.
Actor Stephen Manley (Outlaw Chronicles:Hell's Angels, Secrets of Midland Heights) is 54.
Actor Neal McDonough (Arrow, Suits, Justified, Desperate Housewives, Boomtown) is 53.
Singer Freedom Williams (C and C Music Factory) is 53.
Actress/voicist Carolyn Lawrence (SpongeBob SquarePants, Morel Orel, Jimmy Neutron Boy Genius) is 52.
Actress Kelly Hu (Sunset Beach, Nash Bridges, Phineas & Ferb) is 51.
Actor/voicist JB Blanc (Beware the Batman, Peter Rabbit, Bleach) is 50.
Actor Galen Gering (Passions, Days of Our Lives) is 48.
Singer Matt Berninger of The National is 48.
Bassist Todd Harrell of 3 Doors Down is 47.
Drummer Scott Thomas of Parmalee is 46.
Singer Robbie Williams is 45.
Singer/songwriter Feist is 43.
Actor Ian Reed Kesler (Suits, The Loop, Kickin' It) is 42.
R&B singer Natalie Stewart of Floetry is 40.
Actress Mena Suvari (Six Feet Under) is 40.
Actress Lucy Brown (Primeval) is 40.
Calgary-born actor Ryan Farrell (Jessica Jones, Inside Amy Schumer) is 38. 
Actress/voicist Brina Palencia (Dragon Ball Super, Snow White with the Red Hair, Soul Eater) is 35.
Drummer Dash Hutton of Haim is 34.
Actress Veronika London (Body Language) is 31.
Vancouver-born actress Carly McKillip (Alice I Think, What About Mimi, CardCaptors, The Marshal) is 30.
Actor Daniel Portman (Game of Thrones) is 27.
Chart Toppers – Feb. 13
1947
For Sentimental Reasons – Nat King Cole
A Gal in Calico – Johnny Mercer
Oh, But I Do – Margaret Whiting
So Round, So Firm, So Fully Packed – Merle Travis
1956
Rock and Roll Waltz – Kay Starr
No, Not Much! – The Four Lads
Teenage Prayer – Gale Storm
Why Baby Why – Red Sovine & Webb Pierce
1965
You've Lost that Lovin' Feelin' – The Righteous Brothers
My Girl – The Temptations
All Day and All of the Night – The Kinks
You're the Only World I Know – Sonny James
1974
Love's Theme – Love Unlimited Orchestra
The Americans – Byron MacGregor
Until You Come Back to Me (That's What I'm Gonna Do) – Aretha Franklin
World of Make Believe – Bill Anderson
1983
Down Under – Men at Work
Baby, Come to Me – Patti Austin with James Ingram
Shame on the Moon – Bob Seger & The Silver Bullet Band
'Til I Gain Control Again – Crystal Gayle
1992
I'm Too Sexy – R*S*F (Right Said Fred)
I Love Your Smile – Shanice
Diamonds and Pearls – Prince & The N.P.G.
A Jukebox with a Country Song – Doug Stone
2001
Love Don't Cost a Thing – Jennifer Lopez
Don't Tell Me – Madonna
You Make Me Sick – Pink
Tell Her – Lonestar
2010
TiK ToK – Ke$ha
Bad Romance – Lady Gaga
BedRock – Young Money featuring Lloyd
The Truth – Jason Aldean