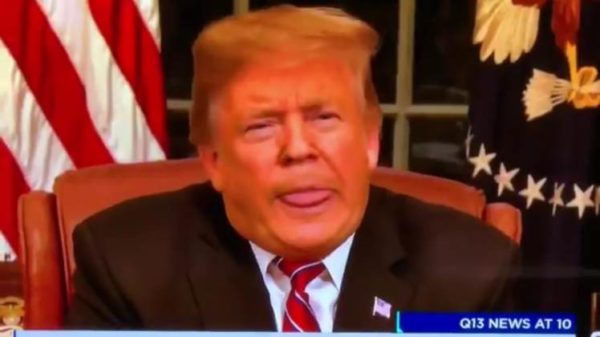 by Kristinn Taylor
January 9, 2019
Fox affiliate Q13 (KCPQ-TV) in Seattle broadcast a doctored video of President Trump giving his Oval Office address to the nation Wednesday during the intro to their 10 p.m. news show.
The video was captured by viewer Jeff Wallis who pinged Seattle talk radio host Todd Herman with KTTH-AM 770.
The video starts with an excerpt of Trump giving his address, however his face is made to look orange colored and his mouth has been distorted with video software. When the Q13 anchor starts talking near the end of the clip the video of Trump is further altered so that he is repeatedly licking his lips with an exaggerated large tongue.
Read More and Watch Video HERE
LATER Q13 ANNOUNCED  THAT THE SUSPENDED EMPLOYEE HAD BEEN FIRED.