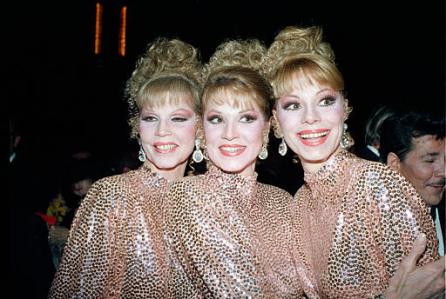 .
Christine McGuire, whose pop hits propelled her and her singing sisters to many radio and television appearances, died Dec. 28 in Las Vegas, where she lived. She was 92 and her family confirmed the death, but did not provide a cause.
In 1952, the sisters traveled to New York in hopes of auditioning for Arthur Godfrey's Talent Scouts, a TV show that was akin to the American Idol of its time. Godfrey wasn't around, but singer Kate Smith was, and she booked them for a two-month engagement on her national radio broadcast.
Eventually, the sisters auditioned for Godfrey, won the competition, and immediately became regulars on Godfrey's top-rated radio and television shows.
The first hit for the trio was in 1953, a version of Goodnight, Sweetheart, Goodnight. The next year, they spent 10 weeks at No. 1 on the Billboard pop charts with Sincerely, a cover of the Moonglows hit. They followed up with Something's Gotta Give, a Johnny Mercer song that hit No. 5 on the chart.
READ MORE  HERE.