ON THIS DAY in 1904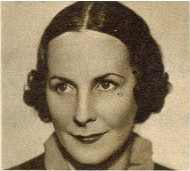 radio actress Bernardine Flynn was born in Wisconsin.  She is revered by all Vic & Sade fans for for her portrayal of Sade Gook in the unique daily domestic smilefest from its beginnings in 1932 until its final broadcast in the mid-1940's.  She recreated the part for several TV incarnations of Vic & Sade as late as 1957.  She also had the lead role in the first US TV soap opera, Hawkins Falls, Population 6200, which ran on NBC from 1951 to 1955.  She died March 20 1977 at age 73.
Also in 1904, operatic tenor James Melton was born in Moultrie Georgia.  By the 1930's he was starring on radio in The Ziegfield Follies of the Air and The Intimate Review, the show that introduced us to Bob Hope. By the 40's he was featured on the Bell Telephone Hour, the Harvest of Stars, & The Texaco Star Theatre. On TV he sang 4 times on The Ed Sullivan Show, and was host of The Ford Festival. Melton died of pneumonia April 21 1961 at age 56.
On this day in 1908,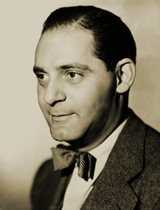 announcer Ben Grauer was born in New York City.  He began as a child actor in the 20's, and started his more than 40 year announcing career with NBC in 1932.  He covered Olympic Games, presidential inaugurations, international events, and hosted on radio and TV the annual New Year's Eve broadcasts live from Times Square. He emceed over half a dozen TV programs including game shows, quiz shows, concerts and news programs, before leaving NBC when he turned 65 in 1973.  Grauer suffered a heart attack & died May 31 1977 at the age of 68.
On this day in 1912, actress Anna Lee was born in England.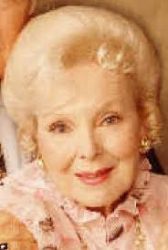 By the early days of US TV she was playing the mother on the sitcom A Date with Judy.  Later she played Lila Quartermaine on two soaps, General Hospital & Port Charles over 27 years, until her death May 14, 2004 at age 91, due to pneumonia.
On this day in 1921, listeners to pioneer Pittsburgh radio station KDKA heard the first-ever religious broadcast, with Dr. E.J. Van Etten of the local Calvary Episcopal Church the preacher.
On this day in 1928, actor Howard Caine was born in Nashville.  He had a 35 year career of guest spots on TV, capped by voice roles on Jonny Quest, Challenge of the Go-Bots & Scooby Doo and Scrappy Doo.  Earlier he was a member of the cast of Hogan's Heroes, & War and Remembrance.  He died Dec. 28 1993 just shy of his 65th birthday.
On this day in 1930, singer Julius Larosa was born in Brooklyn.  Hired  in 1951 to be a member of Arthur Godfrey's troupe of entertainers on his radio & TV shows, Larosa has the distinction of being fired on the air after he hired an agent and manager, contrary to Godfrey's wishes.  Godfrey told the press Larosa was terminated because he "lacked humility."  For much of the rest of his career Julius was a disk jockey at New York's WNEW radio.  He died of natural causes May 12 2016 at age 86.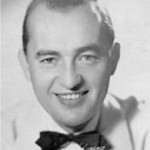 On this day in 1932, Freddy Martin formed a new band and was hired to play the Roosevelt Grill in New York City. Martin became one of the big names in the music business. Merv Griffin later became the lead vocalist with Martin's sweet dance band.
On this day in 1936, crooner Bing Crosby began a ten-year run as the host of the hour-long "Kraft Music Hall" Thursday nights on NBC Radio.
Also in 1936, singer/songwriter Roger Miller was born in Fort Worth Texas. Winner of 11 Grammy's he is remembered for such hit songs as King of the Road, England Swings, You Don't Want My Love, Dang Me, & Chug-a-Lug. He died Oct 25, 1992, succumbing to lung & throat cancer.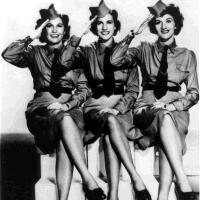 On this day in 1941, the Andrews Sisters recorded one of their most memorable hits, 'Boogie Woogie Bugle Boy' for Decca Records. Patty, LaVerne and Maxene recorded in Los Angeles and the song was heard in the movie, Buck Privates, starring Bud Abbott and Lou Costello.
On this day in 1944, CBC Radio started the Dominion Network with CJOR Vancouver, CJVI Victoria and CHWK Chilliwack as the local affiliates.
On this day in In 1949, New Westminster radio station CKNW moved up the dial from 1230 to 1320 KHz and increased power to 1000 watts. The station had been broadcasting 24 hours a day, a first in British Columbia, since 1947.
On this day in 1953, NBC presented the first episode in the new TV version of "The Life of Riley", starring William Bendix.


The program had aired for one season in 1949 with Jackie Gleason as Chester A. Riley. Before that it had an 8-year run on NBC radio with Bendix in the Riley role (as pictured.)  The TV version ran for 6 years.
On this day in 1954, "Oh! My Pa-Pa" by Eddie Fisher topped the charts and stayed there for 8 weeks.
On this day in 1955, NBC-TV viewers got their first look at a new sitcom, the "Bob Cummings Show", also known as "Love That Bob." It introduced us first to comedic supporting talents Ann B. Davis and Jane Kulp, who went on to further success on the small screen.
On this day in 1959, as the 'bigtime' radio era was coming to a close, CBS Radio dropped the curtain on four soap operas. Our Gal Sunday, This is Nora Drake, Backstage Wife and Road of Life all signed off for the last time.
On this day in 1962, The Weavers folksinging group became roadkill in the anti-Communist climate of that era.  When they refused to sign an oath stating they had never been members of the Communist party they were removed from the guest line-up at NBC-TV's "Jack Paar Show," and were blacklisted.
On this day in 1963, 
 Manitoba-born actor Jack Carson died at age 52 of stomach cancer.  In his 25 year career in film he appeared in some 90 movies, and became a popular m.c. & light comedian on radio. He starred in The Sealtest Village Store with Joan Davis, and the Jack Carson Show.  He also had some memorable roles on TV,  e.g. a Twilight Zone in which he played an underhanded used car salesman.
Also this day in 1963, actor/director Dick Powell died at age 58 of cancer of the lymph glands.  He'd been a movie star in the 30's, a radio star in the 40's (Richard Diamond, Private Detective) and a TV star & producer in the '50's. (Four Star Playhouse, Dick Powell Show.)
On ths day in 1964, the Rolling Stones performed "I Wanna Be Your Man" (written by John Lennon and Paul McCartney) on the first edition of the landmark British TV music show "Top Of The Pops."
On this day in 1965, 
 Elvis Presley went to No.1 on the Billboard album chart with the soundtrack from 'Roustabout,' Presley's eighth No.1.
On this day in 1966, the No. 1 Billboard Pop Hit was "We Can Work It Out" by the Beatles. The song took over the top spot from Simon & Garfunkel's "Sounds of Silence."
Also this day in 1966, Frankie Valli and The 4 Seasons sang "Let's Hang On" on CBS-TV's "The Ed Sullivan Show." Leslie Uggams and The King Family also sang, while Alan King and the team of Wayne and Schuster supplied the laughs.
On this day in 1967, Col. Tom Parker persuaded his client Elvis Presley to increase his share of the revenue from Elvis' live performances to 50% from the previous 33%.

On this day in 1968, Newark, NJ, police confiscated a shipment of John Lennon and Yoko Ono's album "Two Virgins". The album featured a nude cover.
Also in 1968, RCA released Elvis Presley's 31st album, and a future Gold Record itself, "Elvis' Golden Records, Volume 4," a compilation of his hits of the previous six years.
On this day in 1969, Led Zeppelin played the first of four nights at the Whisky A Go-Go, Los Angeles during the bands first North American tour. Support group was the Alice Cooper band.
On this day in 1970, Marty Robbins recorded his composition "My Woman, My Woman, My Wife."  It became his 14th #1 country song and a Grammy winner.
On this day in 1971, George Harrison's triple-LP "All Things Must Pass" was number one on North American album charts, where it stayed for 7 weeks.  Harrison was the first of the Beatles to have a solo album reach #1.
Also in 1971, RCA Victor released Elvis Presley's 37th album "Elvis Country (I'm 10,000 Years Old)."

On this day in 1974, singing cowboy Tex Ritter died of a heart attack at the age of 67.  His son, John, became a significant television star in Three's Company, and later, Eight Simple Rules, while grandson Jason Ritter has had continuing roles in the series Joan of Arcadia, The Event and Parenthood.
Also in 1974, RCA Victor released "Elvis: A Legendary Performer Volume 1." This first of four LP's in the series included twelve songs by Elvis Presley and two interviews.
On this day in 1976, the 100th episode of "Sanford and Son" was aired.
On this day in 1977, jazz piano great Erroll Garner died at 53.  His most memorable composition was Misty.
On this day in 1979, the trial of ex-Sex Pistol, Sid Vicious for the October 1978 murder of his girlfriend Nancy Spungen, opened in New York City.


Vicious died of a heroin overdose a month later, thereby not living to hear the verdict.
On this day in 1980, officials of the Miss America Pageant announced that Bert Parks would not return as host of the annual beauty contest in Atlantic City. Parks sang "There she is, Miss America" for 25 years. He was replaced by Ron Ely, television's Tarzan.
Also in 1980, R & B singer/songwriter (& reputed sometime pimp) Larry Williams was found dead in his home in Los Angeles.  The gunshot wound to the head was never confirmed as the result of a murder or suicide.
On this day in 1981, singer David Lynch, an original member of the Platters who sang on all their hit recordings, died of cancer at age 51.
Also in 1981, the late-night radio feature "Night Time America" with Hamilton Ont.-born host/producer Bob Dearborn began as a satellite-distributed music program from New York. It eventually aired on 154 US stations and locally on Seattle radio station KPLZ.
On this day in 1990, 
 actor Alan Hale Jr., forever fondly recalled as the Skipper on Gilligan's Island, died of cancer at age 71.
On this day in 1995, CHUB 1570 Nanaimo became THE WAVE CKWV FM 102.3.  Rebroadcaster CHPQ Parksville/ Qualicum became CKWV-1 FM 99.9 (now branded 'The Lounge', and CKEG 1350 moved to AM 1570.
On this day in 1997, guitarist Randy California of 'Spirit' disappeared after being caught in a current off the coast of Hawaii. He was 45.
On this day in 1998, an autopsy of Saturday Night Live star Chris Farley showed he overdosed on opiates & cocaine.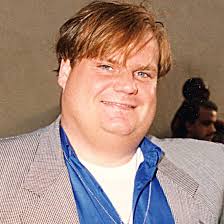 Also this day in 1998, veteran record producer Nik Venet died in Los Angeles of lymphoma. He was 62. During his career, Venet produced more than 300 albums by such greats as the Beach Boys, Glen Campbell, and Bobby Darin.
On this day in 2000, jazz cornet player Nat Adderley died at his home in Lakeland, Fla., of complications from diabetes. He was 68.
On this day in 2003, rapper 50 Cent was arrested by police in New York after two loaded guns were found in his vehicle. His SUV was searched after it had been left in a no-parking zone.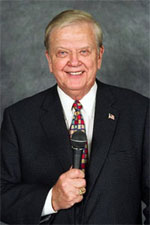 On this day in 2004, legendary agriculture broadcaster Orion Samuelson at age 69, did his last farm report on WGN-AM, concluding a 43 year run. However he continued to co-host TV's US Farm Report for another year, and has since been hosting a similar weekly show on cable's RFD-TV.
On this day in 2006, the Rolling Stones were recognized for having the highest grossing '05 tour of North America. According to Pollstar magazine, the Stones took in $162 million from 42 shows. The average ticket price was $134. U2 took second place with $138.9 million from 78 concerts.
On this day in 2007, Kylie Minogue played the first of two nights at Wembley Arena in London during her re-scheduled Showgirl world tour.
On this day in 2008, in spite of his best efforts to keep his hospitalization out of the news, Billboard magazine revealed that Paul McCartney had recently undergone a coronary angioplasty.
Also in 2008, Josh Groban was named America's top selling artist of 2007. The 26-year-old whose hits included 'You Raise Me Up', had the best-selling album of the year with the Christmas compilation Noel, which sold close to 3.7 million copies.

On this day in 2009, official US sales figures showed that AC/DC (above) were the biggest sellers of 2008 with over 3.4 million sales. Lil Wayne was in second place with 3.3 million, Taylor Swift was third with 3.2 million, Coldplay fourth with 2.5 million and Metallica fifth with 2.3 million.
On this day in 2011, longtime stage actress Margot Stevenson died at age 98. In 1938 she had played the female lead Margo Lane on radio's The Shadow, opposite Orson Welles.
Also in 2011, film actress Anne Francis, who played detective Honey West in her own ABC-TV series in the mid 1960's, succumbed to pancreatic cancer at age 80.
On this day in 2012, a longtime sportscaster for CNN and Turner Sports Jim Huber (below) succumbed to his recently diagnosed leukemia at age 67.

Also in 2012, Iron Butterfly/Captain Beyond guitarist Larry "Rhino" Reinhardt died of sclerosis of the liver at age 63.
On this day on 2013, Ned Wertimer, a prolific character actor perhaps best known for playing Ralph the Doorman on the CBS sitcom The Jeffersons, died of complications following a fall at age 89. He had more than 100 other TV credits on such series as Gunsmoke, McMillan & Wife, Car 54 Where Are You?, The Mary Tyler Moore Show, WKRP in Cincinnati, Mork & Mindy, and Family Law.
Also in 2013, former US Vice President Al Gore struck a deal to sell his cable television network, Current TV, to the Qatar-based Al Jazeera  news network. It has since been turned into Al Jazeera America.
On this day in 2014, singer John 'Jay' Traynor,
 the original lead singer of 'Jay and the Americans.' succumbed to liver cancer at age 70.
On this day in 2015, comedic country star Little Jimmy Dickens, the longest-performing member of the Grand Ole Opry, died at age 94.
On this day in 2016, Stanley Siegel, an irreverent New York TV talk-show host whose unscripted interviews at 9 am  (1975-80) coupled Jack Paar's raw candor with Oscar Wilde's credo that nothing succeeds like excess, died of complications from pneumonia at age 79.
On this day in 2017,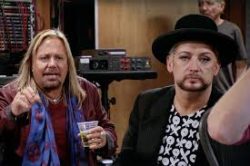 Motley Crue singer Vince Neil (pictured, left) singer Boy George (on the right) and comedian Jon Lovitz were among the celebrities competing on NBC's "The New Celebrity Apprentice." Twice-elected California governor, Arnold Schwarzenegger took over as host replacing President Donald Trump.
On this day in 2018, we learned that nonprofit broadcaster Pacifica Foundation might have been edging toward bankruptcy as it struggled to pay a $1.8 million judgment over missed lease payments for its Empire State Building antenna.
Today's Birthdays:
Country musician Harold Bradley is 93.
Actor John Considine (Santa Barbara, Another World) is 84.
Former television evangelist Jim Bakker is 79.
TV animal specialist Jack Hanna is 72.
Actor Ron Hale (General Hospital, Ryan's Hope) is 72.
Actress Wendy Phillips (Studio 60, Big Love, Falcon Crest) is 67.
Actress Cynthia Sikes (JAG, St. Elsewhere, Flamingo Road) is 65.
Actor John Bedford-Lloyd (All My Children, Aliens in the Family) is 63.
Actress Joanna Pacula (Escape From Sobibor, Jake in Progress) is 62.
Actor Neal Jones (Generation Kill, Rescue Me) is 59.
Actress Gabrielle Carteris (Code Black, My Alibi, Beverly Hills 90210) is 58.
Actress Kate Hodge (Level 9, Working, She-Wolf of London) is 53.
Actress/voicist Tia Carrere (Lilo & Stitch, Relic Hunter, Supernova) is 52.
Actor James Marshall (Twin Peaks, Growing Pains) is 52.
Actor Brian Leckner (L.A. Firefighters) is 52.
Actor Cuba Gooding Jr. (MacGyver) is 51.
Actor Evan Parke (The Young & the Restless) is 51.
Actor/TV host Chris Spencer (Black Poker Stars Invitational, Vibe) is 51.
Montreal-born actor Patrick Huard (Taxi 0-22) is 50.
Actor Taye Diggs (Murder in the First, Private Practice, Kevin Hill) is 48.
Actress Renee Goldsberry (The Good Wife, One Life to Live) is 48.
Rock musician Scott Underwood (Train) is 47.
Actor Kiko Ellsworth (General Hospital) is 46.
Actress Lucy Davis (The Office UK, Studio 60 on the Sunset Strip) is 46.
Actor Dax Shepard (Parenthood) is 44.
Singer Doug Robb of Hoobastank is 44.
Actor/stuntman David Paul Olsen (NCIS: Los Angeles) is 43.
Actress Paz Vega (Big Time in Hollywood, FL.) is 43.
Rock singer Doug Robb (Hoobastank) is 43.
Dancer Karina Smirnoff (Dancing with the Stars) is 41.
Miss Panama-1995/model/actress Patricia De León (Men of a Certain Age) is 41.
Actress Rene Ifrah (Homeland, Nurse Jackie) is 41.
Actress Suranne Jones (Scott & Bailey, Coronation Street) is 40.
Actress Erica Hubbard (Let's Stay Together, Lincoln Heights) is 40.
Actress Anna Pheil (Las Vegas) is 40.
Country musician Chris Hartman is 40.
Actress Catherine Bailey (House of Anubis, EastEnders) is 39.
Rock musician Jerry DePizzo Jr. is 39.
Singer Kelton Kessee of Immature and of IMX is 38.
Musician Ryan Merchant of Capital Cities is 38.
Actor Dustin Clare (Spartacus: War of the Damned) is 37.
Actress Kate Bosworth (The Art of More, Young Americans) is 36.
Ontario-born actress Kristen Hager (Being Human, Valemont) is 35. 
Actress Shelley Hennig (Teen Wolf, Days of Our Lives, The Secret Circle) is 32.
Actress Lauren Storm (Flight 29 Down) is 32.
Actor Ben Hardy (EastEnders) is 28.
Singer Bryson Tiller is 26.
Actor Cyrus Arnold (The Exorcist) is 16.
Chart Toppers – Jan. 2
1950
Dear Hearts and Gentle People – Dinah Shore
A Dreamer's Holiday – Perry Como
The Old Master Painter – Snooky Lanson
Mule Train – Tennessee Ernie Ford
1959
The Chipmunk Song – The Chipmunks
Smoke Gets in Your Eyes – The Platters
One Night – Elvis Presley
City Lights – Ray Price
1968
Hello Goodbye – The Beatles
Daydream Believer – The Monkees
Judy in Disguise (With Glasses) – John Fred & His Playboy Band
For Loving You – Bill Anderson & Jan Howard
1977
Tonight's the Night (Gonna Be Alright) – Rod Stewart
You Don't Have to Be a Star (To Be in My Show) – Marilyn McCoo & Billy Davis, Jr.
You Make Me Feel Like Dancing – Leo Sayer
Sweet Dreams – Emmylou Harris
1986
Say You, Say Me – Lionel Richie
Party All the Time – Eddie Murphy
Alive & Kicking – Simple Minds
Have Mercy – The Judds
1995
On Bended Knee – Boyz II Men
Another Night – Real McCoy
Creep – TLC
Pickup Man – Joe Diffie
2004
Hey Ya! – Outkast
The Way You Move – Outkast
It's My Life – No Doubt
There Goes My Life – Kenny Chesney