There have been dozens of problems with delayed delivery of the Victoria Times Colonist since it moved its production to Black Press in Ladysmith a few months ago.   But things have stabilized in the last few weeks.
Until today, Friday Dec 21, when the entire press run was cancelled due to a lack of power in Ladysmith following Thursday's wind storm.
The T/C has been celebrating 160 years of reporting the news of Vancouver Island .. and I can't imagine a circumstance heretofore when it or its predecessors failed to publish.
Management is pointing out that the entire paper is online and is free to all to access today, so technically it did publish.
But the print universe is under tremendous pressure these days, challenged by younger generations who feel they have no need of a newspaper, and the fact that no physical paper appeared today cannot be reassuring to those hoping they are still viable a decade or so from now.  And the loss of the advertising revenue 4 days before Christmas has to hurt. 
Ed. note: Turns out the T/C also failed to publish due to the Boxing Day blizzard of 1996 that stopped all traffic on the south Island for a day or more.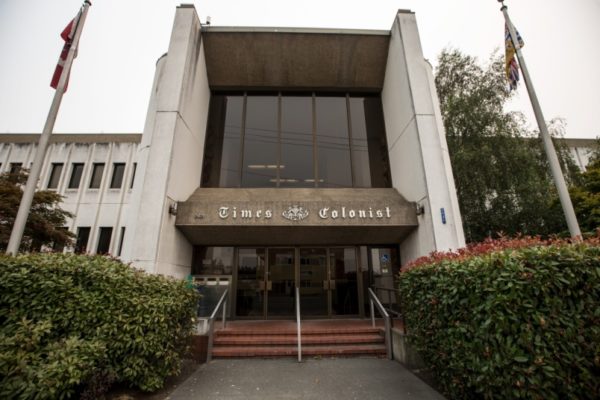 Our Friday edition has been cancelled because the press plant is still without power. We apologize for the inconvenience
The complete Friday newspaper is on our website, with free access today. Go to the menu and click on the e-edition tab to get to the digital facsimile, then click on the image of the paper. You should not have to log-in or enter any information.
Major features from the Friday edition will be printed with the Saturday newspaper. These features include the Driving and TV Scene sections, as well as major feature stories. Time-sensitive advertising that should have appeared in the Friday edition will be in a special section in the Saturday edition instead.
We are hopeful that power will be restored this afternoon. It has been out for 21 hours already, a result of the wind storm that swept across the Island on Thursday. Many other businesses and residences are also still waiting for power to be restored.
Again, we are sorry for any inconvenience this has caused.