Actress said former CBS boss made a pass at her during a dinner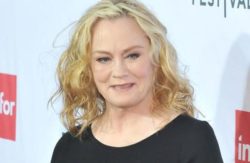 Cybill Shepherd claims that she, too, was a victim of Les Moonves.
The actress said during an interview on SiriusXM's "The Michelle Collins Show," that the former CBS chief once made a pass at her during a dinner. And when she declined his advances, her sitcom was canceled shortly thereafter.
"His assistant and my assistant made a dinner date and we went to it," she recalled. "He was telling me his wife [at the time, Nancy Wiesenfeld] doesn't turn him on, some mistress doesn't turn him on, and I'm watching him drink alcohol … and he says, 'Well, you know, why don't you let me take you home?' I said, 'No, I've got a ride.' And I had my car outside with a good friend of mine who is an off-duty LAPD officer."
Then, "quite shortly afterward," her show, "Cybill," was canceled, she said.
"Cybill" ran from 1995 through 1998. The series ended abruptly, the final episode a cliffhanger with the words "To be continued…"
What if she had accepted his invite? Shepherd believes her show "could have run another five years."
.
READ THE REST OF THE STORY 
HERE
.