ON THIS DAY in 1853,
Bat Masterson, gambler, saloon keeper, lawman & journalist was born in smalltown Quebec.  His life was the basis for
Gene Barry's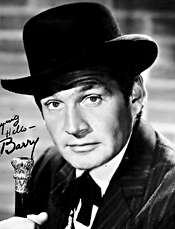 portrayal in the Bat Masterson TV series of the 1960's.  The real man died Oct 25, 1921 at age 67.
On this day in 1888, actress Cathleen Nesbitt was born in England.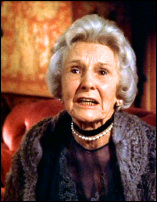 She was cast in the popular Masterpiece Theatre mini-series, Upstairs, Downstairs, and in North America was repeatedly cast in early TV's live dramas, including Studio One, US Steel Hour & Alcoa Hour. She died back in the UK August 2 1982 at age 93.
Onthis day in 1905, singer Harry Barris (below, centre), who sang with Bing Crosby (below, left) in "The Rhythm Boys" at the outset of his career, was born in New York City.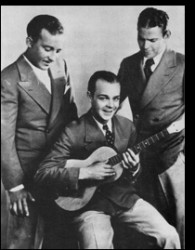 His songwriting successes include "Mississippi Mud", "I Surrender, Dear", & "Wrap Your Troubles in Dreams", which were all introduced (on the radio) by Bing.  Barris died Dec 13 1962 at age 57.
Also this day in 1905, actress Ireene Wicker of early radio quality kids show fame, was born in Quincy Illinois. She was "The Singing Story Lady" on network radio for twenty years, dramatizing the children's stories with her own acting & singing ability.  She also played bit parts on other radio & TV programs out of Chicago.  She died Nov. 17 1987 at age 81.
On this day in 1906,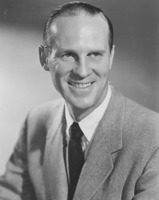 actor Don MacLaughlin was born in Webster, Iowa.   He was the star of ABC Radio's 'David Harding, Counterspy' in the 1940's, and continued in the role when it moved to NBC Radio and Mutual in the 1950's.  In 1956 he created the role of lawyer Chris Hughes on CBS-TV's 'As the World Turns' and continued to play him over the next 30 years! He died at age 79 on May 28 1986.
On this day in 1911, actor Kirby Grant was born in Butte Montana.  He is best remembered today as the star of the early TV kids series, Sky King, for more than a decade.  He died Oct. 30 1985 at the age of 73.
On this day in 1912, jazz pianist Teddy Wilson was born in Austin Texas. He played with Benny Goodman in both his trio & his quartet, becoming the first black musician to work with a previously all-white group. He died at 73 July 31, 1986.
On this day in 1913,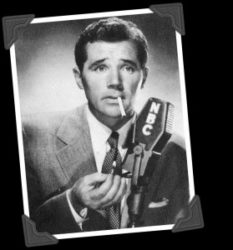 actor Howard Duff was born in Bremerton Wash.  He first hit the bigtime on radio in The Adventures of Sam Spade, Detective in the CBS series sponsored by Brylcreem.  On TV he starred in the series Felony Squad, Mr. Adams and Eve, Flamingo Road, Knots Landing, and Dallas. He died following a heart attack July 8, 1990 at age 76.
Also in 1913, actress Geraldine Fitzgerald was born near Dublin Ireland.  Although her biggest impact was on the big screen, she was also featured frequently on TV, starring in the short-lived series The Best of Everything and the mini-series Kennedy, plus numerous guest spots in such series as Studio One, Robert Montgomery Presents and St. Elsewhere.  She died July 17 2005 at age 91, due to complications from Alzheimers.
On this day in 1926, Seattle radio station KVI began broadcasting, with just 50 watts at 1280 on the dial. The studio was in Tacoma. Their slogan was "The Puget Sound Station." There were a couple of moves around the AM dial until they settled at 570 kc in 1932.
On this day in 1928, 31-year old Fred Bass joined radio station CKWX Vancouver and began doing a man-on-the-street broadcast raising money for charity each day until Christmas.
On this day in 1929,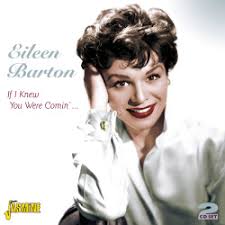 singer Eileen Barton was born in Brooklyn.  She was best known for her 1950 hit song, If I Knew You Were Comin' I'da Baked a Cake, which she introduced on radio on The Breakfast Club.   She had her own radio show at age 8, co-starrred on radio with Frank Sinatra in the '40's,  and made many guest appearances on Tv in the 50's.  In 1960 she was hostess of the TV quiz Video Village.  Ms. Barton succumbed to ovarian cancer June 27 2006 at age 76.
On this day in 1937, Music from the Raymor Ballroom in Boston, Massachusetts was beamed coast to coast on NBC radio. The special guests during this broadcast were the soon-to-be hugely popular Glenn Miller and his orchestra.
Also this day in 1937, three lovely ladies, known as Patti, Laverne & Maxine, the Andrews Sisters, recorded Decca record number 1562 this day. It became one of their biggest hits: Bei Mir Bist Du Schön.
On this day in 1955, the No. 1 
 Billboard Pop Hit was "Sixteen Tons" by Tennessee Ernie Ford.
On this day in 1957, Harry Belafonte's Christmas favorite "Mary's Boy Child" became the first single to top a million sales in Great Britain.
On this day in 1958, Harold Jenkins, who changed his name to Conway Twitty, got his first #1 hit. "It's Only Make Believe" was the most popular song in the U.S. for one week.

Also this day in 1958, Jackie Wilson's soon-to-be smash hit "Lonely Teardrops" was released, as was a disk by Richie Valens featuring "Donna" on one side and "La Bamba" on the other.
Still in 1958, 18-year old Ricky Nelson recorded "Never Be Anyone Else But You" for Imperial Records.  Intended as the B side to Ricky's "It's Late" it made it to #6 on Billboard's singles chart, while "Late" got no higher than #9.
Again in 1958, Decca Records released what would soon become a seasonal evergreen for 13-year-old Brenda Lee, "Rockin' Around the Christmas Tree."
On this day in 1959, singer Johnnie Ray was released on bail after spending the night in a Detroit jail charged with accosting and soliciting a male undercover officer. He was eventually acquitted.

On this day in 1963, viewers got to witness the first and only live murder on TV, as Jack Ruby shot JFK assassin Lee Harvey Oswald.
On this day in 1965, NBC-TV's prime time schedule featured the musical special "Frank Sinatra: A Man And His Music."
On this day in 1966, The Beatles began recording sessions for their next album, "Sgt. Pepper's Lonely Hearts Club Band." However, the song they recorded on this date, "Strawberry Fields Forever," did not make it onto that album.
On this day in 1967, The Beatles released their next single "Hello Goodbye" with "I Am The Walrus" on the flip side.
On this day in 1968, the No. 1 Billboard Pop Hit was "Love Child" by Diana Ross & the Supremes.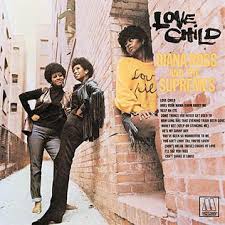 Also this day in 1968, CBS-TV's Ed Sullivan Show featured Dusty Springfield singing "Son of a Preacher Man."  The Doodletown Pipers performed "MacArthur Park," while comedy was supplied by Jackie Mason, the team of Burns & Schreiber and The Muppets.
On this day in 1969, the Rolling Stones album "Let It Bleed" was certified gold. The title track, "Live With Me," "Midnight Rambler," "You Can't Always Get What You Want" and "Gimme Shelter" made this effort among the Stones' very best.
On this day in 1972, a Friday night ABC-TV show that would compete head-to-head with NBC's Midnight Special premiered. "In Concert" featured Chuck Berry, Alice Cooper, Blood Sweat and Tears, Seals and Crofts and Poco performing before a live audience. Robert W. Morgan of KHJ, Los Angeles was the offstage announcer.
Also on this date in 1972, Rick Nelson was awarded a gold record for "Garden Party," his song about the poor reception he received when he performed new songs at a rock 'n' roll revival show at Madison Square Garden. "Garden Party" was Nelson's first major hit in eight years.
On this day in 1973,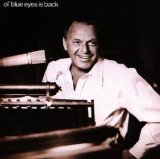 Frank Sinatra went back to work (following more than two years of retirement,) with a TV special on NBC titled, "Ol' Blue Eyes is Back." Despite the fact that the show finished third in the ratings (in a three-network race), at least one critic called the program, "The best popular music special of the year."
Also this day in 1973, the song "Photograph" by Ringo Starr topped the charts, his first of two US #1's as a solo artist.
On this day in 1975, the CBC Vancouver Broadcasting Centre opened at 700 Hamilton Street, bringing all radio & TV operations of the public broadcaster under one roof.
On this day in 1976, The Band, appearing at the Winterland in San Francisco, announced that this was to be the group's last public performance.
On this day in 1977, actor Richard Carlson died of a cerebral hemorrhage 
at age 65. Although he handled scores of guest roles over the first 25 years of the TV era, he is best remembered for playing counterspy Herb Philbrick in the syndicated 1950's series "I Led Three Lives."
On this day in 1979, "No More Tears (Enough Is Enough)" by Barbra Streisand & Donna Summer topped the charts and stayed there for 2 weeks.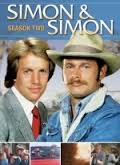 On this day in 1981, the first episode of the detective series "Simon & Simon" aired on CBS-TV.
On this day in 1985, the No. 1 Billboard Pop Hit was "Separate Lives" by Phil Collins & Marilyn Martin. Songwriter Stephen Bishop was nominated for an Oscar for the song, which appeared in the movie "White Nights."
Also this day in 1985, blues singer Big Joe Turner suffered a fatal heart attack at age 74. His biggest hits were "Chains of Love," "Honey Hush" and "Shake, Rattle and Roll."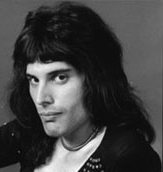 On this day in 1991, Queen lead singer Freddie Mercury died of AIDS-related pneumonia at age 45. Queen's biggest hits were the No. 1 songs "Another One Bites the Dust," which sold more than 2 million copies, and the million-selling "Crazy Little Thing Called Love." The group is also well known for the double-sided hit "We Are the Champions/We Will Rock You."
Also this day in 1991, Kiss drummer Eric Carr died of cancer at age 41. Doctors removed a cancerous tumor in Carr's heart in April but the cancer had already spread to his lungs. He joined Kiss in 1982 when founding drummer Peter Criss left the group.
On this day in 1993, Michael Jackson, embroiled in sex and drug addiction scandals, managed to pull off the biggest deal in music publishing history. Jackson sold his publishing operation, A-T-V Music, to E-M-I Music Publishing, in a deal worth more than 200-million dollars. Sources said Jackson himself received half that amount. Among the four-thousand titles under A-T-V's control are most of the classic Lennon-McCartney Beatles compositions.

Also this day in 1994, Celine Dion was presented with a diamond record to mark Canadian sales of over one-million copies of her album "Color of My Love." She was only the fourth Canadian artist to reach that sales plateau, following in the footsteps of Bryan Adams, Alannah Myles and Corey Hart.
On this day in 1995, actor Jeffrey Lynn died of liver and lung cancer at age 86. He had starred in the short-lived TV series My Son Jeep, and while cast in dozens of guest spots had recurring roles in the soaps The Edge of Night & Secret Storm.
On this day in 1996, Makaveli, (aka 2Pac) was at No.1 on the US album chart with 'The Don Killuminati – The 7 Day Theory'.

On this day in 2000, "Superhero" by Skye rose to #1 for 8 weeks on the Canadian Singles chart.
On this day in 2002, Jay-Z was at No.1 on the Billboard album chart with 'The Blueprint 2', the rapper's first chart-topping album.
On this day in 2003, singer Glen Campbell was arrested on drunk driving and hit-and-run charges in Phoenix after colliding with another vehicle in an intersection, then fleeing. The 67-year-old Campbell, who was sentenced to ten days in jail, allegedly attacked an officer during the arrest, kneeing him in the groin.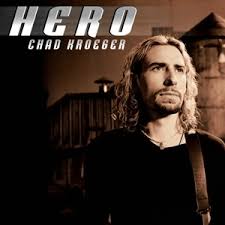 Also this day in 2003, Nickelback's Chad Kroeger won the Rock Music Award at the 14th annual SOCAN (Canada`s Grammys) Awards for "Hero," from the Spider-Man soundtrack.
On this day in 2004, former US American Idol winner Ruben Studdard was taken to hospital, suffering from exhaustion. The 26-year-old was in his Alabama hometown when he was taken ill.
On this day in 2005, actor Pat Morita died in Las Vegas of kidney failure at age 73.


Besides his success in the Karate Kid movies, he had a high profile on TV, with roles in MASH and Sanford & Son, as Arnold on Happy Days, and his own series O'Hara.
On this day in 2006, the CRTC approved the sale by OK Radio Group of Victoria's CKKQ-FM and CJZN-FM to Jim Pattison for $15.75 million.
Also in 2006, winners at the American Music Awards included Kelly Clarkson, Red Hot Chili Peppers, Shakira, Jamie Foxx, Nickelback, Black Eyed Peas, Eminem, Faith Hill, Rascal Flatts, Tim McGraw, Mary J. Blige, Nelly Furtado, John Mayer and Fall Out Boy.
Still in 2006, Roger Daltry of The Who guest-starred as a killer on "CSI: Crime Scene Investigation" on CBS-TV.
Again in 2006, interviews with U2's Bono and The Edge were featured on the first episode of HBO's Off the Record. The series was hosted by Eurythmics guitarist Dave Stewart.

On this day in 2007, Red Hot Chili Peppers bassist Flea lost his multi-million dollar house in a wildfire that swept through Malibu, 53 other properties were destroyed by the blaze. Flea told the L.A. Times the $4.8 million property was "burnt to a crisp".
On this day in 2009, the ninth season of ABC-TV's "Dancing with the Stars" wrapped up with singer Donny Osmond receiving the "coveted" Mirrorball Trophy.
On this day in 2010, "Born Free" by Kid Rock debuted at #1 on the Billboard Rock Albums chart.,
On this day in 2013, Taylor Swift was the big winner at the American Music Awards with four wins while Justin Timberlake  took home three  trophies. Rihanna won the first-ever Icon Award as well as winning Favorite Soul/R&B Female Artist.

On this day in 2014,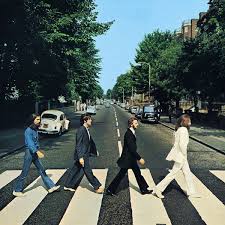 unused photos from The Beatles' 'Abbey Road' photoshoot sold at auction for £180,000 at Bloomsbury Auctions in London. They had been expected to fetch about a third of that.
On this day in 2016, Florence Henderson,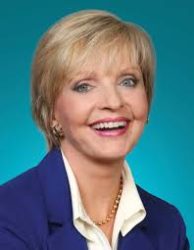 who played the mother Carol Brady on ABC-TV's "The Brady Bunch," died unexpectedly from heart failure at age 82.
On this day in 2017, Mitch Margo, a founding member of The Tokens, the 1960's doo-wop foursome behind the mega-hit "The Lion Sleeps Tonight," died of natural causes at age 70.
Also in 2017, Dish Network said it had reached a carriage agreement with CBS and was restoring the programmer's stations to more than two million subscribers impacted by a three-day blackout that lasted through CBS's Thanksgiving Day NFL game.
Today's Birthdays:
Toronto-raised bass singer with The Crew Cuts Ray Perkins is 86. 
Actress Carol Mayo Jenkins (Fame, Another World) is 80.
Original lead singer Jim Yester of The Association is 79.
Country singer Johnny Carver is 78.
Drummer Pete Best (an original Beatle) is 77.
Actor-comedian Billy Connolly (Billy, Head of the Class) is 76.
Singer Lee Michaels is 73.
Actor Dwight Schultz (Star Trek: Voyager, A-Team) is 71.
Actor Damon Evans (The Jeffersons) is 69.
Actor Stanley Livingston (My Three Sons) is 68.
Actor Roscoe Born (The City, Family Passions,The Young & the Restless) is 68.
Actor Glenn Withrow (Dirty Dozen: The Series) is 65.
Rock musician Clem Burke (Blondie; The Romantics) is 64.
Actor Ruben Santiago-Hudson (Public Morals, Castle, Low Winter Sun) is 62.
Record producer Terry Lewis is 62.
Actress Denise Crosby (Star Trek: Next Generation, Days of Our Lives) is 61.
Actress Amanda Wyss (Highlander) is 58.
Actress Shae D'Lyn (Dharma & Greg) is 56.
Rock musician John Squire (The Stone Roses) is 56.
Rock musician Gary Stonadge (Big Audio) is 56.
London Ont.-born actress Lisa Howard (Earth: Final Conflict) is 55. 
Actor Garret Dillahunt (Terminator: Sarah Connor Chronicles, Damages) is 54.
Actor Conleth Hill (Game of Thrones) is 54.
Actress Shirley Henderson (Happy Valley) is 53.
Comedian/actor Scott Krinsky (Chuck) is 50.
Actor Kevin Breznahan (The Heart, She Holler) is 50.
Rock musician Chad Taylor (Live) is 48.
Actress Lola Glaudini (Criminal Minds, Sopranos, NYPD Blue) is 47.
Actor Brandon Molale (Tonight Show w/Jay Leno, Granite Flats) is 47.
Actress Danielle Nicolet (3rd Rock from the Sun, Starter Wife) is 45.
Actor Colin Hanks (Life in Pieces, Fargo, Roswell, Band of Brothers) is 41.
Actress Katherine Heigl (State of Affairs, Grey's Anatomy, Roswell) is 40.
Actor Michael Patrick Carter (Guns of Paradise) is 37.
Quebec-born actress Karine Vanasse (Revenge, Pan Am) is 35.
Ontario-born Meredith Henderson (Adventures of Shirley Holmes, Beach Girls, MythQuest, Queer as Folk) is 35.
Actress Elena Satine (Revenge, Magic City) is 31.
Actress Sarah Hyland (Modern Family) is 28.
Actor Peyton Meyer (Girl Meets World, Dog with a Blog) is 20.
Chart Toppers – Nov. 24
1947
I Wish I Didn't Love You So – Vaughn Monroe
Near You – The Francis Craig Orchestra (vocal: Bob Lamm)
You Do – Dinah Shore
I'll Hold You in My Heart (Till I Can Hold You in My Arms) – Eddy Arnold
1956
Love Me Tender – Elvis Presley
The Green Door – Jim Lowe
Singing the Blues – Guy Mitchell
Singing the Blues – Marty Robbins
1965
I Hear a Symphony – The Supremes
1-2-3 – Len Barry
Rescue Me – Fontella Bass
May the Bird of Paradise Fly Up Your Nose – "Little" Jimmy Dickens
1974
I Can Help – Billy Swan
Do It ('Til You're Satisfied) – B.T. Express
Tin Man – America
Trouble in Paradise – Loretta Lynn
1983
All Night Long (All Night) – Lionel Richie
Say Say Say – Paul McCartney & Michael Jackson
Uptown Girl – Billy Joel
One of a Kind Pair of Fools – Barbara Mandrell
1992
How Do You Talk to an Angel – The Heights
If I Ever Fall in Love – Shai
Rump Shaker – Wreckx-N-Effect
I'm in a Hurry (And Don't Know Why) – Alabama
2001
Family Affair – Mary J. Blige
Hero – Enrique Iglesias
Drowning – Backstreet Boys
I Wanna Talk About Me – Toby Keith
2010
What's My Name? – Rihanna featuring Drake
Like A G6 – Far East Movement featuring Cataracs & Dev
Just the Way You Are – Bruno Mars
As She's Walking Away – Zac Brown Band featuring Alan Jackson