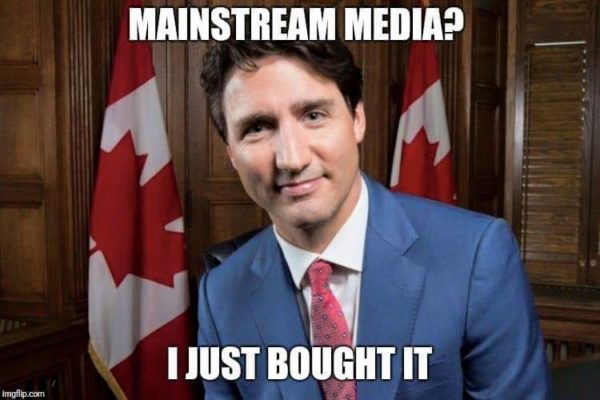 November 21, 2018
It's even worse than many people feared.
In their economic update, the Trudeau Liberals have announced a series of measures that add up to a $600 million media bailout.
Instead of letting the Canadian People pick and choose which media companies to support freely, the Trudeau Liberals are forcing you to bail out the media that they pick – using your tax dollars to do it.
The government has announced a series of 'tax credits and incentives,' which will cost $600 million over the next five years.
While the dollar amounts of the bailout have been announced, the government says the specifics will be decided after they consult an 'independent panel.' Among the expected ideas are a 'tax credit' (really cheques being sent to media corporations) for labour costs and content creation, alongside a tax credit for subscribers of digital media sites.
Surely it's just a coincidence that the Toronto Red Star just put a paywall in and is shifting towards a subscription model…
Of course, nobody on the panel will recommend not giving the media a huge bailout at taxpayer expense.
The big problem is that – beyond the waste of taxpayer dollars – the government will be picking which media companies end up getting bailed out.
The Trudeau Liberals are trying to hide the true nature of the program by saying it will be 'independent' from political interference, but everybody who understands life knows that's a total joke. Whoever picks the 'independent panel' has the power, and it's easy to pick people who will do exactly what you want them to do.
Read More HERE
Related Story – Not only will Conservatives have to overcome the Liberals, they'll have to overcome an entire media establishment machine desperate to crush Justin Trudeau's opponents. The Conservatives always face a headwind from the establishment media.
Read HERE