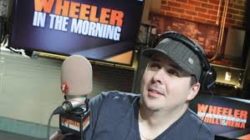 Winnipeg radio host Dave Wheeler lost his job after repeated warnings, training and a suspension due to his behaviour — including an incident in 2017 where he allegedly "attacked" a colleague and his station — according to a statement of defence filed by his former employer.
Wheeler was fired in July from his position as host of Wheeler in the Morning on 92 CITI FM, a station owned by Rogers Media, for his part in an on-air conversation about actor Scarlett Johansson pulling out of the upcoming film Rub and Tug.
He filed a $1.4-million lawsuit against his former employer in September, which suggested Rogers encouraged Wheeler to be "edgy" and "controversial."
In its statement of defence, filed on Nov. 5, Rogers said Wheeler was told from the beginning of his employment that he was to be "selective" in his comments "and was specifically coached as to acceptable and unacceptable commentary on air."
Rogers also denied Wheeler's allegations that he was encouraged to be controversial on air.
"He was entitled to be goofy, loud, raucous and rumbustious but not to be editorially 'controversial,'" the statement of defence said.
"In any event, it was made clear to to the plaintiff repeatedly that he was not to conduct himself in the manner which led to his dismissal."
Disciplined for 2017 incident
In addition to being disciplined in 2016, with a one-day suspension over his part in two videos that embodied racist and sexist stereotypes, Wheeler was also reprimanded for an incident that happened in August 2017, according to court documents filed by Rogers.
READ THE REST OF THE STORY  HERE  AT THE CBC NEWS WEBSITE