Kelly has now repeatedly apologized for suggesting that "blackface" might be OK on Halloween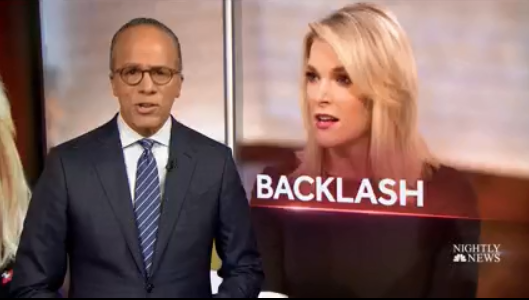 by Jon Levine, TheWrap.com         October 24, 2018
"NBC Nightly News" dedicated a full segment Tuesday evening to comments made by their network's own Megyn Kelly after the "Today" host defended the use of "blackface" as a Halloween costume.
"NBC's Megyn Kelly issued an apology tonight to her staff after she defended the idea of wearing blackface for Halloween," Lester Holt said. "Her comments came during a panel discussion on her program this morning quickly sparking a backlash over remarks many viewed as racially tone deaf."
Though only about 90 seconds, the segment packed a punch — including criticism from outsiders like television host Padma Lakshmi — and a "this isn't the first time" moment where the piece also hit Kelly for her 2013 remarks on Fox News asserting that Santa Claus was "white."
.
The piece concluded with Kelly's apology, which she circulated in a private note to staff yesterday and that she repeated on her show Wednesday.
"I want to begin with two words, I'm sorry," said Kelly. "The country feels so divided and I have no wish to add to that pain and offense. I believe this is a time for more understanding, more love, more sensitivity and honor. Thank you for listening and for helping me listen too."
THE REST OF THE STORY IS  HERE  AT TheWrap.com