courtesy AllAccess.com      Oct. 23 2018

.
The NATIONAL BASEBALL HALL OF FAME has announced the eight finalists for the 2019 FORD C. FRICK Award honoring excellence in baseball broadcasting.  This year's class comes from the Broadcasting Beginnings category, which rotates with current local announcers and national announcers in three year cycles.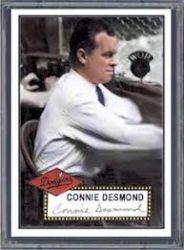 The finalists, all of whom are deceased, are BROOKLYN DODGERS announcer CONNIE DESMOND, 1930s CHICAGO CUBS and WHITE SOX road game re-creator PAT FLANAGAN, CLEVELAND INDIANS player-turned-broadcaster JACK GRANEY, DETROIT TIGERS Hall of Fame right fielder and radio/TV voice HARRY HEILMANN, MUTUAL and NBC broadcaster AL HELFER (pictured below), Hall of Fame pitcher and CINCINNATI REDS radio voice WAITE HOYT, PITTSBURGH PIRATES announcer ROSEY ROWSWELL, and DETROIT TIGERS radio and TV play-by-play announcer TY TYSON.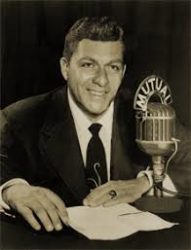 The winner will be announced at the Winter Meetings in LAKE BUENA VISTA, FL on DECEMBER 12th and will be honored during the JULY 20th awards presentation in COOPERSTOWN, NY.