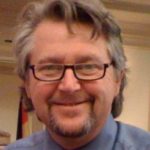 October 14, 2018
Welcome to JJ-365 Salutes. Over 2018, we pay tribute daily to one of "The Good Ones". Today we are shining the light on Graham Hatch.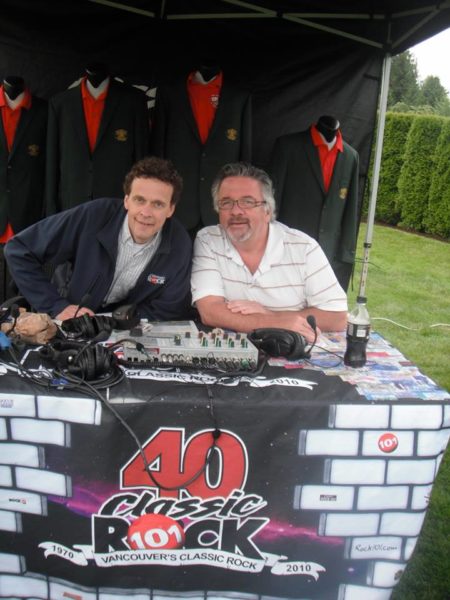 When I came into the LG-73/CFOX building, it was to rebuild CFOX. LG-73, the home of the world famous Morning ZOO, was still kicking ass and taking names prior to and for awhile after the launch of Z-95.3 which of course changed things. Brad Phillips had gone over there to get the station off the ground and I assumed his Program Director job of LG-73 as well. Quite the team including the late and great Patty Cardinal. I always get to know everyone as fast as I can and came to know pretty quick what a stand-up guy Graham Hatch is. This guy can pretty much take whatever is dished up and turn it into gold. He is an unassuming kind of guy who is loaded with talent and a great easy going way about him. Today is his birthday!
Graham graduated from Broadcast journalism in the Spring of 82 and went to work at CKDA in Victoria doing news and reporting and then worked his way up to morning news.
He was lucky enough to get a gig in Vancouver, one of the biggest markets in the country, and never looked back. He joined LG-73 in the fall of '83 doing evenings and weekend news and eventually became the afternoon guy working with a very talented Jeff Rechner.
The late and great Gary Russell, author of the wickedly successful Morning ZOO at LG-73 thought he needed an on-air assistant ZOO keeper for 365'er Dean Hill and put Graham into that role. By this time everyone knew that Graham could do impersonations and other voices and as a musician he had a knack for putting together funny parody songs which often mirrored the news of the day. Gary looked no further, and Graham entered the gates of the ZOO in 1987. Amazing radio came out of the speakers. One of the highlights was when the ZOO called the White House with Graham in character as Ronald Reagan (which was dead on) and he chatted up the White House receptionist. It was at the end of his presidency and Reagan had a reputation for being a little confused and forgetful, and Graham thinks, just for a moment, that the receptionist thought the real Ronald Reagan had actually mistakenly called the switchboard. They all had a good laugh.
He stayed at the ZOO until I moved over to 101-CFMI in '92. As the Program Director, I turned it into Classic ROCK 101-CFMI, hired 365'er Robin LaRoseand Graham to come over to join the team. Robin was the Music Director/Assistant Program Director and did the mid-day show (which he still does) and Graham went to work on the Bill and Bob show doing the news and more. The talents' of both imports were welcomed by all!
Shortly after I left to work for Gary Slaight in Toronto, and Graham managed to stay on mornings there thru various incarnations until 365'er Jake Edwards took over. It was at that point that Dean and Graham were reunited and started doing the 'Dean and Hatch' afternoon show (where Dean still is). The station became famous for "Twisted Tunes", song parodies about the news of the day which were written and performed by Graham. In one of our brainstorms Graham recalls that I suggested doing a Musical Week In Review Friday afternoons where they'd take three of the week's top news stories and put them to music and that became a big hit. One of the things I love about Dean and Graham is they are always open to ideas and can make just about anything work. Total pro's!
Graham stayed on afternoons at ROCK 101 until Sept of 2011 when he got downsized. He was then brought over to the new station "SHORE 104" by Eric Samuels and did afternoons for just a few months before SHORE was bought by Astral and they canned everyone.
Then Ronnie Stanton brought him back to SHORE in 2012 where he co-hosted a morning show with Ken Allan Jooyner for a couple of years before SHORE was flipped to LG 104.3 (60's, 70's and 80's) in the summer of 2014. He's been doing the afternoon show there ever since.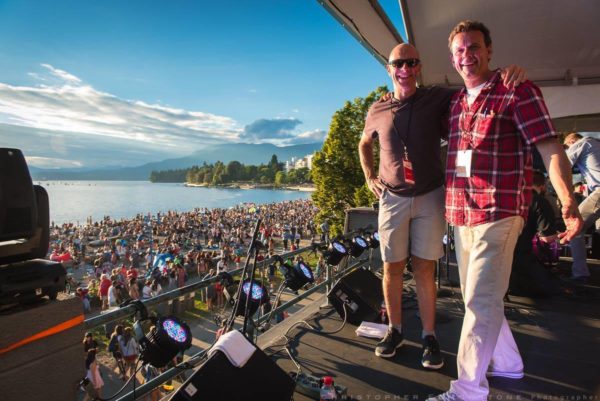 His advice to new broadcasters is to be versatile. He had to morph from news guy to co-host to voice talent (doing impersonations and characters) to song writer to singer! Versatility he says is what "made me survive for all these years. Sometimes you literally have to reinvent yourself. I've gone from news guys to co-host to jock and everything in-between. It's been a crazy ride." The business changed so much during his 38 years and counting and will continue to change even more for the young ones starting out now. He says you have to take what ever is thrown at you.
Graham sums up: "There were so many important people! Stu McAllister who first hired me in Vancouver. Gary Russell, JJ Johnston, Steve Parsons, Ross Winters as Program Directors. Of course, good old Alden Diehl back at 1006 Richards. The people I worked with at the ZOO, Dean and Cathy, Merv Connally, Stu and Glen Lamont. Brian Nicholson and all the amazing production work he did. 365'er Bob Saye and Bill Courage at CFMI. Working again with Dean on the 'Dean and Hatch' show. Getting to work with greats like 365'er Marty Strong and the late and great Neil McCrae in the CORUS building. Eric Samuels, Ronnie Stanton and Sherri Pierce for hiring me and SHORE 104, which is now LG. And the two great guys I work with now at LG, Paul Sereda and Kelly Latremouille. I am having so much fun doing my own afternoon show now. I wish I had done that sooner."
Graham is one of the most dependable people out there. While playing basketball during the ZOO days he snapped an Achilles tendon. That is supposed to be one of the most painful things ever. He got fixed up and came back to work as fast as humanly possible (probably too quickly). Shortly after that he snapped the other one and again was back at work immediately.
This fellow is so talented and creative, resourceful, versatile, works his butt off, loves talent direction, smart, and one of the nicest guys you will ever meet. No bad ego on this lad. He is also a great family man.
I loved working with him and happy to hear he and the family and his career are all doing well! Atta be Graham, keep it up and happy birthday!
Thank you, Graham Hatch, for being one of "The Good Ones". Feel free to like and share Graham's positive story. Who is the subject of tomorrow's JJ-365 Salutes? As they say, stay tuned.
Jim JJ Johnston is the CEO, President and Chief Talent/Content Coach for JJIMS INC. and works with talent in many different industries worldwide.