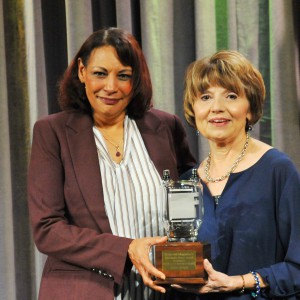 Julie Judge is the National Sales Manager for Hubbard Radio in Seattle. Last week at The Radio Show in Orlando, Julie's name was called by Radio Ink Publisher Deborah Parenti as the 2018 Radio Ink Radio Wayne Award winner in the NSM category. She tells Radio Ink that when she heard her name called, "It was an awesome feeling of elation, excitement and pride all at the same time."
Julie's supervisor is Michele Grosenick. "Julie is the most effective National Sales Manager that I have worked with in my 37-year radio career. She strikes a wonderful balance between the needs of the rep firm, the clients, and the radio stations. She is a smart and creative radio professional who understands all aspects of our business and I'm very proud to have her on the Hubbard Radio Seattle team."
Here is our extended interview with the 2018 Radio InkRadio Wayne National Sales Manager of the year.
Radio Ink: Why did you choose radio as a career? 
Julie Judge: I started in radio while I was in college and fell in love with it. What I thought was going to be a part-time job that helped me pay for school turned into so much more on so many levels. The more I became immersed in the various aspects of radio, the clearer it became to me that this was where I wanted to be.
Radio Ink: Why did you get into sales and then sales management? 
Julie Judge: I started in programming and promotions before going into sales. Sales intrigued me because it provided me with the opportunity to interact with potential clients as well as coworkers. As I grew my sales skills and began mentoring some of the newer sellers that I worked with, the transition to sales management was natural for me. When you can help your team grow and look at things from different perspectives it helps them meet not only their goals but their client's goals as well. I love being able to be a part of that process. As I continue to grow and evolve with the business, I love being able to share that knowledge with my team. I learn from them as well.
Radio Ink: What is the outlook for national sales for the year ahead? 
Julie Judge: National sales will have its ups and downs as does local sales. The keys to growing national sales is having a strong partnership with the rep firm, creativity, and strong client as well as agency relationships. The more both the NSMs and the rep firm can get in front of clients and agencies to provide them with innovative ways to increase their business or brand awareness through the use of radio, the stronger the future for national sales.
FIND THE REST OF THIS INTERVIEW TRANSCRIPT  HERE  AT THE RADIO INK WEBSITE