…HAPPY 80th TO LEGENDARY VANCOUVER DJ FROSTY FORST!
.
ON THIS DAY in 1902,
radio newsman Morgan Beatty was born in Little Rock Arkansas.


For many years in the 1940's & 50's in particular, he was a senior news broadcaster for NBC Radio based in New York. "This is Morgan Beatty speaking for Alka Seltzer bringing you news of the world! and the news tonight is…" When TV arrived he became news anchor for the short-lived Dumont Network.  A great radio presence with natural gravitas in his voice, he died July 4 1975 at age 72.
In 1920, the first prizefight to be broadcast blow-by-blow was heard on WWJ Detroit.  Heavyweight champ Jack Dempsey KO'd Billy Miske in the third round.
In 1925, guitarist & blues singer Jimmy Reed was born in smalltown Mississippi.


He became a major player in the field of electric blues. His lazy, slack-jawed singing, piercing harmonica and hypnotic guitar patterns were one of the blues' most easily identifiable sounds in the 1950s and 60s, and a major influence on the Rolling Stones. He died from the ravages of alcoholism & epilepsy Aug. 29 1976, just 8 days short of his 51st birthday.
In 1937, Benny Goodman and his orchestra recorded Sugar Foot Stomp on Victor Records. The tune was a Fletcher Henderson arrangement.
In 1942, Lionel Barrymore introduced us to his latest radio crowd-pleasing character as 'Mayor of the Town' debuted on NBC Red.  Agnes Moorehead co-starred as Marilly the mayor's housekeeper.  The warm-hearted family drama continued for most of the decade, for 5 years on CBS radio, and a season each on ABC &  Mutual.
Also in 1942, actress/model Carol Wayne was born in Chicago.  She was the buxom blonde who appeared numerous times as the Matinee Lady in Johnny Carson Tonight Show skits. She was just 42 when she died Jan 13, 1985 in a drowning accident in Mexico.

In 1952, Canadian television debuted when the CBC 's French language Montreal station, CBFT's first show was Jean Cocteau's drama Oedipus Rex. Toronto's CBLT opened up two days later. At first the two stations were programmed just 18 hours a week; a test pattern aired the rest of the time for Canadians setting up their first 17 inch black & white TV's.
In 1956, Hugo Winterhalter & Eddie Heywood's hit single Canadian Sunset reached #1 on the Billboard big band chart.
In 1957, the first flexi-disc record was produced and used in a promotion for a Nestle chocolate bar.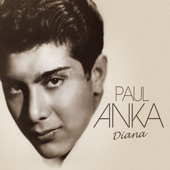 Also in 1957, Paul Anka's hit single Diana reached #1 on the Billboard pop chart.
Still in 1957, Elvis Presley was in West Hollywood to record his next #1 single "Don't" and "My Wish Came True," along with the seasonal standards "Here Comes Santa Claus," "White Christmas" and "Silent Night."
Again in 1957, "The Biggest Show of Stars for 1957″ opened in Pittsburgh, featuring Fats Domino, Chuck Berry, Buddy Holly, The Everly Brothers and Frankie Lyman & the Teenagers. The show played 78 cities over the next three months. But due to segregation laws in most Southern states, white performers were prevented from playing on the same stage as African-Americans, so they missed several dates.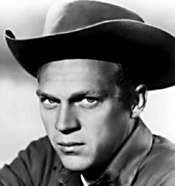 In 1958, actor Steve McQueen starred on the premiere of the CBS-TV series, "Wanted: Dead or Alive."  McQueen played bounty hunter Josh Randall. The western series, a spinoff of "Trackdown" with Robert Culp, continued for 2½ years, after which McQueen moved into movies.
Also in 1958, pop singer Georgia Gibbs sang The Hula-Hoop Song on The Ed Sullivan Show. It was the first national exposure for the Hula-Hoop craze.
In 1959, the hit radio sitcom "Fibber McGee and Molly" ended after almost 25 years. The series was launched in 1935 in Chicago and starred Jim and Marian Jordan (below). For the final 2.5 years it was a series of 4-minute vignettes on NBC's weekend radio service "Monitor."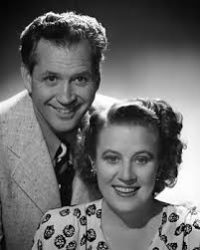 In 1961, Bob Dylan gave one of his first performances at the Gaslight Cafe in New York's Greenwich Village. The Gaslight was originally a 'basket house', where performers were paid from the contents of a basket that had been passed around.
In 1963, Jerry Lee Lewis' contract with Sun Records expired.  He moved to Smash Records, a subsidiary of the Mercury label, but his string of hits was over.
Also in 1963, Cilla Black signed a management contract with Beatles' manager Brian Epstein. She cut some demo records with The Beatles as her backing group. Cilla changed her name to Black, (it was White), after a misprint in the music paper Mersey Beat.
In 1965, just over a week after a disasterous fire caused by lightning, radio station  CKVL Verdun, Quebec, had a new RCA 50,000 watt transmitter in place.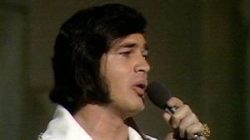 In 1967, Engelbert Humperdinck was at No.1 on the British singles chart with 'The Last Waltz.'
In 1968, Eric Clapton recorded the guitar solo for the Beatles' "While My Guitar Gently Weeps." The track appeared on The Beatles' "White Album."
In 1969, James Brown announced he would retire from live performances in July the following year saying 'I'm tired man'. Of course he came out of retirement more times than Frank Sinatra.
Also in 1969, David Bowie made his UK chart debut with "Space Oddity." It made little impact in North America before its re-release in 1973.
In 1970, Jimi Hendrix made his final live appearance when he appeared at the Isle Of Fehmarn in Germany. The guitarist died 12 days later after choking on his own vomit.
In 1972, the Jerry Lewis Labor Day Telethon for Muscular Dystrophy featured an appearance by John Lennon and Yoko Ono.

In 1974, ex-Beatle George Harrison launched his Dark Horse records in the US. But he himself could not record for the label until his contract with EMI expired in 1976.
In 1975, Glen Campbell started a two week run at No.1 on the US singles chart with his first smash 'Rhinestone Cowboy.' It had reached #1 on the Country chart two weeks earlier.
Also in 1975, Jefferson Starship went to No.1 on the Billboard album chart with 'Red Octopus'.
In 1976, the estranged team of Dean Martin and Jerry Lewis were reunited by Frank Sinatra on Jerry's Labor Day telethon, after 20 years of going their separate ways.
In 1978, record producer Tom Wilson died. Wilson had worked with Bob Dylan and Simon and Garfunkel.
In 1984, country superstar Ernest Tubb died of emphysema at age 70. The 'Texas Troubadour' recorded 'I'm Walking the Floor Over You' and sold more than three million copies of the tune.

In 1985, singer Johnny Desmond, who sang with the big bands of Glenn Miller, Gene Krupa & Bob Crosby, and on Don McNeil's 'Breakfast Club' show on ABC Radio, died of cancer at age 65.
In 1986, all girl group Bananarama went to No.1 on the Billboard pop singles chart with 'Venus',
In 1987, SaskWest Television's Regina and Saskatoon stations became the first in Canada to put out two simultaneous air signals in two different cities (STV-Regina and STV-Saskatoon).
In 1988, 2,000 items of Elton John's personal memorabilia including his boa feathers, 'Pinball Wizard' boots and hundreds of pairs of spectacles were auctioned at Sotheby's in London.
In 1989, Paula Abdul and Madonna dominated the sixth annual MTV Awards. After the show, MTV apologized to viewers because of a performance by Andrew Dice Clay, who made remarks about overweight women and sex.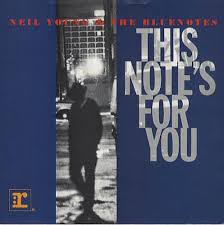 Also in 1989, Toronto rocker Neil Young won MTV's Best Video Award with 'This Note's For You' which the channel initially refused to air because it mocked commercials.
In 1990, guitarist with Creedence Clearwater Revival Tom Fogerty died due to complications from AIDS acquired during a blood transfusion.  He was just 48.
Also in 1990, actor Charlie Sheen (below), the star of CBS TV's Two-and-a-Half Men, left a rehabilitation center in Santa Monica, after nearly a month of treatment for alcohol abuse.

In 1993, Don Henley, Jimmy Buffett, Elton John, Sting and Aerosmith performed at a concert in a Boston suburb raising funds for Walden Woods, a green conservation project founded by Henley.
In 1997, an estimated three million mourners and onlookers in London, plus a worldwide TV audience, watched the funeral service for Princess Diana at Westminster Abbey.
Also in 1997, Vancouver's Fairchild radio station CHKG-FM Vancouver signed on for the first time at 96.1 MHz, becoming Western Canada's first multilingual FM station.

Also in 1997, Elton John recorded a new version of 'Candle In The Wind' after performing the song live at the funeral of Diana Princess of Wales. The track went on to become the biggest selling single of all-time.
Still in 1997, David Bowie launched a six-week tour of North America at The Plaza of Nations in Vancouver. The tour hit clubs, ballrooms, and theaters.
In 1999, Montreal sportscaster Rene Lecavalier (below) died at age 81.  For more than 30 years he did play-by-play of the Montreal Canadiens in French.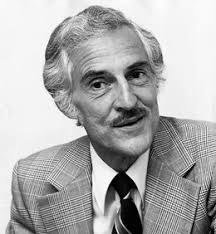 In 2000, a U.S. District Judge ruled that MP3.com had willfully violated copyrights and awarded Universal Music $118-250 million in damages.
In 2001, Earth Wind and Fire announced that Viagra would sponsor their forthcoming 30th anniversary American tour.
In 2002 at 6:00 p.m., Standard Broadcasting launched CIBK-FM Calgary as Vibe 98-5, at 98.5 MHz with 100,000 watts.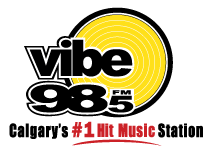 In 2007, operatic singer Luciano Pavarotti, a TV sensation as one-third of The Three Tenors, succumbed to pancreatic cancer at age 71.
Also in 2007, in Indianapolis, John Mellencamp performed on the NFL Opening Kickoff 2007 event on NBC TV.
In 2008, US rock band Great White whose pyrotechnics sparked a 2003 fire at a Rhode Island nightclub that killed 100 people, agreed to pay $1m to survivors and victims' relatives.  One band member, guitarist Ty Longley, was killed in the blaze.
Also in 2008, the Canadian edition of the Virgin Festival began in Toronto. The Foo Fighters and Oasis headlined the two-day event.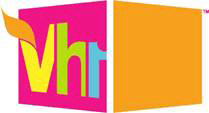 In 2010, US cable channel VH1 began a countdown of the 100 Greatest Artists of All Time. To noone's surprise, The Beatles topped the list.
In 2012, The Foo Fighters performed "My Hero" and "Walk" on the final night of the Democratic National Convention in Charlotte, NC.
Also in 2012, country music's Vince Gill was on hand to help unveil his new star on the Hollywood Walk of Fame.
In 2013, veteran WLS Chicago radio host Don Wade succumbed to brain cancer at age 72. First a breakfast show  deejay, Don and his wife Roma (pictured, below) were the only air talent asked to remain when WLS changed from music to talk in 1989.  They continued in the prime AM commute spot until nine months before his death.                                                                                                                                  
Also in 2013, the three surviving members of The Clash (guitarist Mick Jones, bassist Paul Simonon and drummer Topper Headon) reunited for an exclusive BBC Radio 6 Music appearance.
In 2014, Roger Waters' The Wall tour documentary debuted at the Toronto International Film Festival. The film chronicles the four year run of The Wall Live tour.
In 2015, actor Martin Milner, who co-starred on NBC-TV's "Adam-12" and, earlier, on CBS-TV's "Route 66,"  suffered heart failure and died at age 83.
In 2016,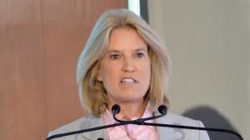 Fox News channel hostess Greta Van Susteren announced that after 14 years she was departing the network.  She landed in early 2017 at MSNBC, but that association ended less than 6 months later., apparently due to poor ratings.
In 2017, sports radio talk show host Craig Carton (WFAN New York) and another man were arrested on charges of bilking millions of dollars from investors in a concert-ticket selling scheme.
Also in 2017, Facebook said it had identified about 500 "inauthentic" accounts responsible for $100,000 in advertising spending that it believed to have ties to Russia, in response to intelligence-community concerns about Russian activity during the 2016 election.
Still in 2017,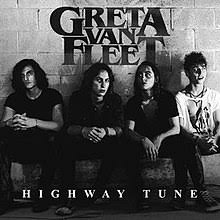 "Highway Tune," the debut single from Greta Van Fleet, was #1 on the U.S. Active and Mainstream Rock radio charts, and #1 on the Canadian Active Rock radio chart.
Today's Birthdays:
Comedienne JoAnne Worley (Laugh In) is 81.
Retired Vancouver deejay Brian "Frosty" Forst is 80.
Country singer David Allan Coe is 79.
Singer-bassist Roger Waters (Pink Floyd) is 75.
Actress Swoosie Kurtz (Pushing Daisies, Sisters, Love Sidney) is 74.
Comedy actress Jane Curtin (3rd Rock, Kate & Allie, Sat. Night Live) is 71.
Country singer Buddy Miller is 66.
Actress Katherine Cannon (Beverly Hills 90210, Father Murphy) is 65.
Actor James Martin Kelly (Ocean Ave.) is 64.
Country drummer Joe Smyth of Sawyer Brown is 61.
Actor-comedian Jeff Foxworthy (Are You Smarter than a 5th Grader?, Blue Collar TV) is 60.
Actor Ian Puleston-Davies (Coronation Street) is 60.
Spokane-born actor-comedian Michael Winslow (Police Academy: The Series, New Kids on the Block) is 60.
Guitarist Pal Waaktaar of A-ha is 58.
Actor Steven Eckholdt (The L Word, Friends, It's Like You Know, Melrose Place) is 57.
TV newscaster/news magazine host Elizabeth Vargas (20/20) is 56.
Country singer Mark Chesnutt is 55.
Actress/TV personality Rosie Perez (The View, Lipstick Jungle) is 54.
Singer Macy Gray is 51.
Actor Mark Ivanir (Homeland, Royal Pains) is 50.
Actress Trina McGee (Boy Meets World) is 49.
Miss USA-1991/actress Kelli McCarty (Passions) is 49.
Singer CeCe Peniston is 49.
Singer Darryl Anthony (Az Yet) is 49.
Singer Dolores O'Riordan (The Cranberries) is 47.
Actor Idris Elba (Luther, The Wire) is 46.
Actor Dylan Bruno (Numb3rs, High Incident) is 46.
Actress Anika Noni Rose (The Good Wife, No. 1 Ladies Detective Agency) is 46.
Actress Justina Machado (Queen of the South, Elena of Avalor, Six Feet Under, Three Rivers, Welcome to the Family) is 45.
Actor Chad L. Coleman (The Orville, The Expanse, The Walking Dead, Electric City) is 44.
Vancouver-born actress Sarah Strange (Garage Sale Mystery movies, Level Up, Men in Trees, ReGenesis, DaVinci's Inquest) is 44.
Actor Justin Whalin (Lois and Clark) is 44.
Singer Nina Persson (The Cardigans) is 44.
Actress Naomie Harris (Blood & Oil, Poppy Shakespeare) is 42.
Rapper Noreaga is 41.
Actress Natalia Cigliuti (Saved by the Bell: The New Class) is 40.
Rapper Foxy Brown is 40.
Actress Blaze Berdahl (Ghostwriter) is 38.
Actress Tehmina Sunny (NCIS, Mistresses) is 38.
Penthouse Pet of the Year-2007/actress Heather Vandeven (Life on Top) is 37.
Actress Deborah Joy Winans (Greenleaf) is 35.
Actress Lauren Lupkus (Clipped, Orange is the New Black, Are You There Chelsea) is 33.
Actress Paton Ashbrook (House of Cards) is 30.
Singer Max George of The Wanted is 30.
Actor Tylor Chase (Ned's Declassified School Guide) is 29.
Ontario-born actor Rhys Ward (The Returned, Heartland) is 29. 
Actress Ashlee Füss (The Fosters, How to be a Vampire) is 24.
Chart Toppers – Sept. 6
1949
You're Breaking My Heart – Vic Damone
Room Full of Roses – The Sammy Kaye Orchestra (vocal: Don Cornell)
Some Enchanted Evening – Perry Como
Why Don't You Haul Off and Love Me – Wayne Raney
1958
Nel Blu Dipinto Di Blu (Volare) – Domenico Modugno
When – Kalin Twins
Ginger Bread – Frankie Avalon
Blue Blue Day – Don Gibson
1967
Ode to Billie Joe – Bobbie Gentry
Reflections – Diana Ross & The Supremes
Come Back When You Grow Up – Bobby Vee
Branded Man – Merle Haggard
1976
You Should Be Dancing – Bee Gees
You'll Never Find Another Love like Mine – Lou Rawls
I'd Really Love to See You Tonight – England Dan & John Ford Coley
(I'm A) Stand by My Woman Man – Ronnie Milsap
1985
The Power of Love – Huey Lewis & The News
St. Elmo's Fire (Man in Motion) – John Parr
Freeway of Love – Aretha Franklin
Love is Alive – The Judds
1994
I'll Make Love to You – Boyz II Men
Wild Night – John Mellencamp  Me'Shell NdegeOcello
Can You Feel the Love Tonight – Elton John
Whisper My Name – Randy Travis
2003
Crazy In Love – Beyoncé Knowles featuring Jay-Z
Shake Ya Tailfeather – Nelly, P. Diddy & Murphy Lee
Can't Hold Us Down – Christina Aguilera featuring Lil' Kim
It's Five O'Clock Somewhere – Alan Jackson (with Jimmy Buffett)