O'Day recalls the day superstar Jimi Hendrix was too cool for school
By John Hughes, Special to The Seattle Times
.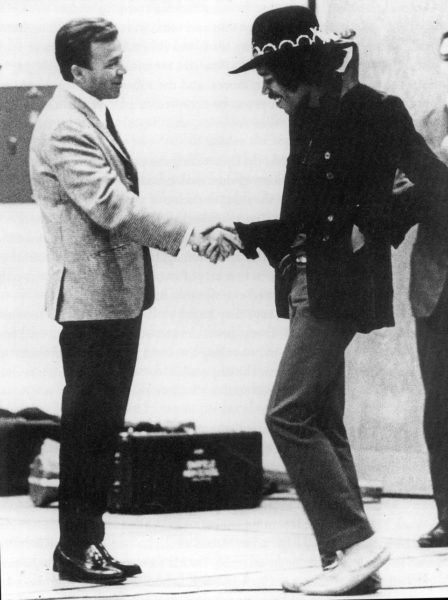 .
IF EVERY PICTURE tells a story, this one from Feb. 13, 1968, should be in a time capsule as evidence the times were changing. The 30ish guy in the tailored sport coat, black slacks and tassel loafers, his reddish-brown hair carefully brushed back, Philly-style, is Pat O'Day, the legendary Seattle disc jockey and concert promoter.
Pat was the king of Seattle Top 40 radio from 3 to 6 weekdays in the Sixties. The jingle he wrote for his station is nostalgic catnip to hundreds of thousands of aging Puget Sound baby boomers. They can intone it on cue: "KJR Seattle, Channel 95!"
Jimi Hendrix should need no introduction. The Garfield High School dropout is on the brink of international stardom. He's arriving at his alma mater for a special pep assembly on the morning after a sold-out homecoming concert at Seattle Center Arena.
.
1968: The Year That Rocked Washington
The office of the Secretary of State has produced an exhibit that will open Sept. 13 at the capitol in Olympia. The 3 p.m. grand opening will feature remarks by Secretary of State Kim Wyman and several of the individuals spotlighted. Two of those stories — John C. Hughes' profile of Pat O'Day, the legendary KJR disc jockey Hughes met in 1968, and Bob Young's profile of Ralph Munro, our former five-term Secretary of State, appear in this week's special 1968 issue of Pacific NW magazine.
Optically, O'Day and Hendrix are as incongruous a pair as Dick Clark and Little Richard (or Ryan Seacrest and Ozzy Osbourne). Jimi, who is 25, looks like a gypsy troubadour in moccasins and British peacoat, his electric hair stuffed into a jaunty Western hat banded with purple ribbon and silver hoops. His slightly bent left knee, downcast eyes and shy smile betray his what-am-I-doing-here nervousness, exacerbated by a raging hangover. He'd partied hard most of the night.
But, hey, man: Pat O'Day was going to introduce him. Jimi's song "Spanish Castle Magic" was an homage to O'Day's prime concert venue in the 1960s — an old roadhouse with faux turrets midway between Seattle and Tacoma. A combo called the Rocking Kings, with 17-year-old Jimi on a $49.95 Sears Roebuck guitar, opened for another band at the Castle in 1960.
"Look at him," O'Day says, studying the photo half a century later. "He's so cool. But when it came time to talk to a bunch of teenagers in the gym at his old school, he was absolutely petrified. … The Garfield student body was then predominantly black kids from the Central District, but Jimi's music wasn't exactly Motown. A lot of the kids didn't really know who he was. I grabbed the microphone and said, 'Standing before you today is a man who may soon surpass the Beatles in popularity!'
READ MORE  HERE  AT THE SEATTLE TIMES WEBSITE