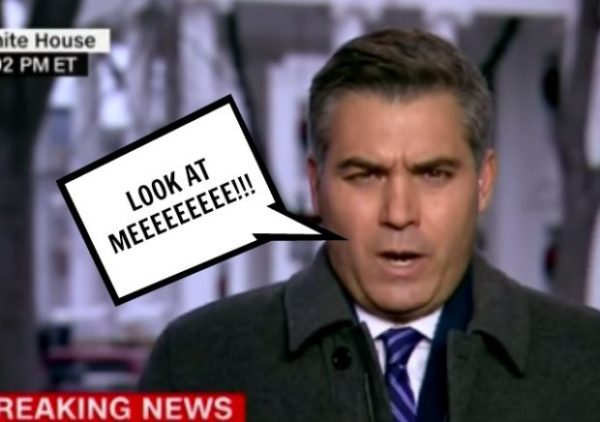 by Ben Marquis
The Western Journal
AUGUST 3, 2018
Breaking what is generally regarded as a cardinal rule of journalism — if perhaps unwritten — CNN White House correspondent Jim Acosta has made himself the center of the story on multiple occasions this week instead of simply reporting the story in an objective manner.
Townhall noted that Acosta became the central story on Tuesday after he attempted to cover President Donald Trump's rally in Tampa, Florida, but was confronted by a crowd of Trump supporters who loudly chanted "CNN sucks" and "fake news" — among other things — while he delivered a live report ahead of the rally.
Acosta became the center of attention again on Thursday when he clashed with White House press secretary Sarah Sanders during the daily briefing over his indignant insistence that she retract statements from the president that labelled some individuals and outlets in the "fake news" media as being "enemies of the people," which Sanders declined to do.
He later claimed in a tweet to have left the briefing early because he was "saddened" by Sanders not saying what he wanted her to say, but it appears that at least one veteran member of the mainstream media has had enough of Acosta's "antics," and let him know via social media.
Hey Jim @acosta, the job of a true journalist is not to be sad or happy by what happens in a press briefing room. It is to ask questions and report facts about what was said/not said. Your feelings, antics, + self promotion are hurting journalism, not helping it. Enough.

I walked out of the end of that briefing because I am totally saddened by what just happened. Sarah Sanders was repeatedly given a chance to say the press is not the enemy and she wouldn't do it. Shameful.

Read More HERE
https://www.facebook.com/RealBrittHughes/videos/2028736497149388/UzpfSTY2NDg2NjY5MToxMDE1NjYwMjA3MDIzMTY5Mg/