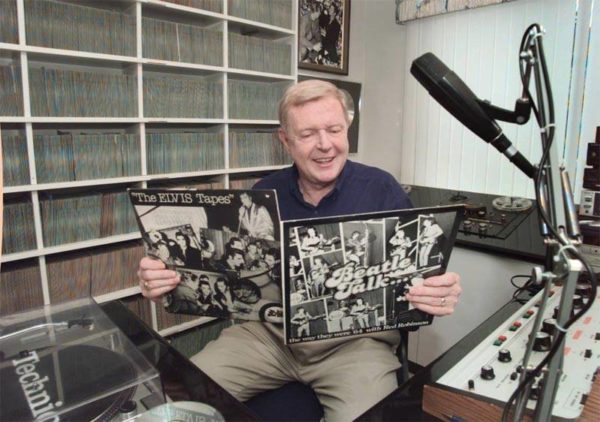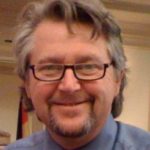 July 28, 2018
Welcome to JJ-365 Salutes. Over 2018, we pay tribute daily to one of "The Good Ones". Today we are shining the light on the legendary Dr. Red Robinson, who is still rocking after all these years.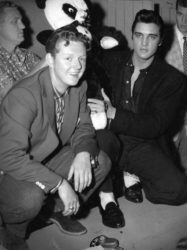 When I went to Vancouver the first time in the late 80's as Program Director of CFOX, I was well aware of Red Robinson. I thought he was a radio god and quite frankly hesitated to introduce myself to him as I knew I would be a blithering idiot (more so than normal 
?) when I would meet him.
I was checking through my messages one day and there was one from Red. What? I gulped, took some deep breaths to calm the anxiety and made the call. He answered and from "Hello" he had me. He was so nice, respectful and appreciative that I called him back. Really? We met shortly after and that's where I truly found out what a sweet guy he is. I mean this guy is a giant in Canadian radio but acted like none of the fame and accolades affected him in a bad way. I am five foot eight on a good day (five ten with a faux hawk), but came away from that meeting walking eight foot tall.
Red was born in Comox, British Columbia. While still in high school in 1954 he got his first gig at CJOR. His first record 'spun' as a professional DJ was "Marie" by The Four Tunes. He was one of the first DJs in Canada to regularly cue up Elvis Presley, Buddy Holly, and others that were part of the new Rock and Roll movement. Just two years later he won the Disc Jockey of the Northwest award from the Province newspaper in an audience poll, and often appeared as a guest host on the hottest nextwork program on CBC Television called "Cross Canada Hit Parade." He was like our own Alan Freed meets Dick Clark.
This man is a walking Canadian Hall of Fame. He was the emcee for most of the West Coast shows including the 'Show of Stars', a revue that featured eight acts now in the Rock & Roll Hall of Fame, Fats Domino, Chuck Berry, the Everly Brothers, the Drifters, Eddie Cochran, Clyde McPhatter and LaVern Baker — as well as Frankie Lymon, Paul Anka, Jimmy Bowen, Buddy Knox and yes the legendary Buddy Holly.
"They each got to do two songs, and if they had a lot of applause they did one more," said Robinson.
Red interviewed all of them including Buddy Holly backstage.
"I'd run out, do an interview, then (go back onstage) and introduce the next act," he recounts.
"In my interview with Buddy Holly I asked, 'How long do you think rock and roll is going to last?' He said, 'Oh, I think 'til Christmas but not much later.' Those were his exact words."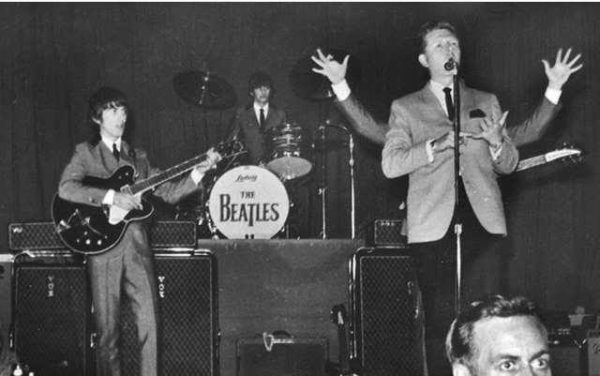 Two other gigantic MC jobs were the Elvis Presley show at Empire Stadium in Vancouver in 1957 and the Beatles first Canadian concert on August 22, 1964. Red's job was to settle the 20,000 screaming fans down so he could introduce the Beatles. Click on https://soundcloud.com/reds-archive to hear it, featuring concert audio, musical snippets and memories, including the moment John Lennon told Red to "Get the F*** off our stage!"
While still in his mid-twenties Red also became the Program Director of two top Vancouver radio stations, CFUN from 1962 to 1968 and CJOR from 1968 to 1970. Over the years, he worked at many radio and TV stations in Vancouver and Portland, including CKWX, KGW, KGW-TV, CFUN, and the CBC, CISL (twice) as well as CFUN-FM. He also served in the United States Army until his honourable discharge.
Red got into the television quiz show business with his first show being all about trivia, called "Trivia", on Vancouver CBC's CBUT. It ran for three years and it is said that this was the show that inspired three certain panelists to band together to create "Trivial Pursuit" and we know where that ended up. Luckily the name "Trivia" as applied to a board game had already been copyrighted by Red and his busines$ partner Jan Nablo.
This guy has done so much in his career. It's astounding really. Like from 1976 to 1996, he hosted the annual "Timmy's Christmas Telethon" for the B.C. Lions Society for Children with Disabilities on a regional network of CBC affiliates in British Columbia. That raised over $75 million during his time as host.
He hosted Red's Classic Theatre each Sunday on KVOS-TV for 618 shows, broadcasting from Vancouver to Seattle and all points between where he interviewed Tony Curtis, Charlton Heston, Debbie Reynolds, Mickey Rooney and hundreds of others. If you had a name you wanted to be on Red's show.
And how about this for a reward! In 1995, Red and a host of pioneer deejays were honoured at the opening of the Rock and Roll Hall of Fame in Cleveland, Ohio. He was one of a select group elected by his peers in radio and records.
Did I mention he was busy? Red was a feature writer for 20 years for Vancouver entertainment and television listings magazine TV Week and was also a partner in the Vancouver advertising agency Vrlak-Robinson. The agency had over $35 million worth of accounts when he hung up the agency business. He had previously worked in the advertising industry in 1967, but when asked to move to CJOR, Jim Pattison insisted that he sell off his business and dedicated his energies to the radio station.
After a whirlwind of so many years of fantastic experiences, he tried to retire, a few times: "I had big parties and everything — it was terrific," he laughs. "It became a thing with me. Maybe next year I can retire again."
He needed to get back that jolt of radio and kept at it with CISL 650 becoming his radio home for decades, and for the last number of years before he retired his own unique Sunday radio shows remained super popular.
When the station got sold and they decided to change to a sports format in 2017 that helped him decide, after 63 years behind a mic and just turning 80, that it was the time to move on. "I believe in signals. And when they sold CISL, it was sort of a, well, where do we go from here? The answer is nowhere. Just retire perhaps? Enjoy life.
What really did it to him though was his teenaged grandson who was always bugging him: "He'd say grandpa when are you going to retire? I knew what he meant. When the station got sold I said 'Aden, I'm retiring' and He said, 'Grandpa, you mean we can spend more time together?' That got to me. It was the right move. You've got to go sometime, right?"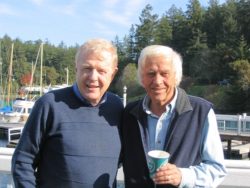 His final show on radio was August 27, 2017. Primary guests on his final CISL-AM show were longtime friends Pat O'Day and uber Talent manager and Canadian Music Hall of Famer Bruce Allen. Bruce says: "I'm his biggest fan. There's no way I would be in this industry if I hadn't heard and got to know Red. On the air he went father than anyone dared to go with all the great rock and roll acts and the R & B stuff like James Brown that he turned me on to. I believe Red still has lots of gas in the tank and is one of those 'appointment listening' experiences. He's got all the audio, all the memories and is a walking history of Rock and Roll."
Let's make no mistake. Red could never completely retire. He still has his downtown office in Bruce's building and says he has projects he's working. "You can't get up and do nothing. You have to keep moving."
Jo Faloona, daughter of 365'ers Joe and Collette Falloona, is Director of Marketing for the Bruce Allen Talent Agency. She sees Red regularly: "Red wanders down to visit our office a few days a week, his love and passion for radio is as strong as ever! I feel blessed to hear his stories & see that smile as often as I do. He's a gentleman and legend!"
To find out more about this remarkable character, check the two books he has co-authored, Rockbound and Backstage Vancouver. Rockbound is his personal accounts of early rock and roll. Backstage Vancouver looks at the rich history of entertainment in Vancouver.
Red's definitive biography "Red Robinson: The Last DJ" by Robin Brunet was published in October 2016 from Harbour Publishing and is a great read.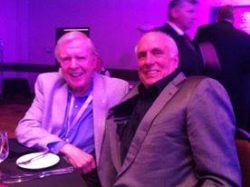 This little salute is absolutely nothing compared to the accolades this giant has received over the years. Playwright Dean Regan wrote a play about Red's early days in rock and roll and titled it "Red Rock Diner". It had significant runs in Kansas City, Vancouver, Toronto and a myriad of other Canadian cities.
When Michael Bublé's wedding happened in Vancouver, Red was the only guy he wanted to MC the reception. That star-studded night was attended by music royalty with the likes of David Foster, Jann Arden, Russell Peters and more.
It would take many more pages to note all of his awards and salutations but here are a few: The Canada 125 medal for contributions to the community over the years, induction into the BC Entertainment Hall of Fame and his name in cement in front of Vancouver's Orpheum Theatre, the Vancouver Music Industry Bruce Allen/Sam Feldman Legend award presented by Sarah McLachlan, the Queen's Golden Jubilee award, the British Columbia Association of Broadcasters Broadcast Pioneer Award, election to the Canadian Broadcast Hall of Fame and the Rockabilly Hall of Fame, an honourary Doctorate from the University of the Fraser Valley, for 7 years the Hard Rock Casino in Vancouver named their concert venue the 'Red Robinson Show Theatre' and in July 2016, Red was appointed to the Order Of British Columbia, the highest form of recognition by the BC Government.
Holy shit batman!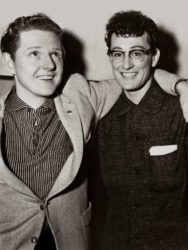 I am smiling yet exhausted thinking and writing about his career and don't know what else to day about Red. Except, as I said off the top, he has remained down to earth, cares about his people, loves radio and music, and loves his family and friends. He is simply amazing and I along with everyone else just love this guy and we are all so fortunate to know him.
Atta be Red! Oh..and one more thing, get back on the air will ya!
Red Robinson, definitely one of the "The Good Ones". Feel free to like and share Red's positive story. Who is the subject of tomorrow's JJ-365 Salutes? As they say, stay tuned.
Jim JJ Johnston is the CEO, President and Chief Talent Coach for JJIMS INC. and works with talent in many different industries worldwide.