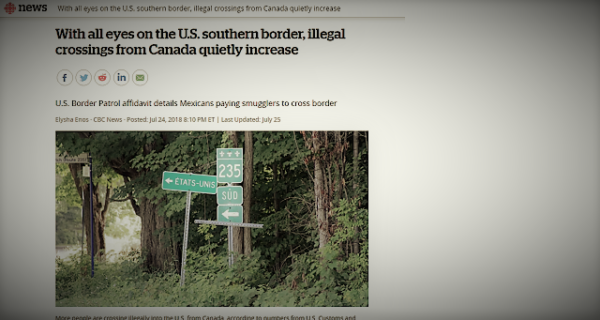 State Broadcaster Calls Illegal Crossings Into Canada "Irregular," While Saying "Illegal" For People Breaking Into The US From Canada
by Spencer Fernando
July 26, 2018
.
The state broadcaster continues pushing the propaganda narrative of the Trudeau government, and truth is left far behind.
A recent article on CBC News is titled "With all eyes on the U.S. southern border, illegal crossings from Canada quietly increase.
Here's a key excerpt:
"Mexicans wanting to illegally enter the U.S. are flying over it first, landing in Canada and then walking south across the northern border — sometimes with the help of human smugglers, according to the RCMP and U.S. Border Patrol (USBP).

And the numbers of people doing that are going up, judging by how many people were apprehended for crossing the Canada-U.S. border illegally this year, compared to previous years.

In an area called the Swanton sector, which covers a part of New York State, Vermont and New Hampshire, 121 people were apprehended in the U.S. for crossing illegally from Canada in June, according to U.S. Customs and Border Protection, which oversees the USBP."
There's nothing wrong with any of what is written. In fact, it's perfectly factual.
The problem is how massively it contrasts with the way CBC talks about people illegally entering Canada, something pointed out by Pundit Class on Twitter:
Read More HERE