Fox News stands 'in strong solidarity' after Kaitlan Collins excluded from meeting of Donald Trump and Jean-Claude Juncker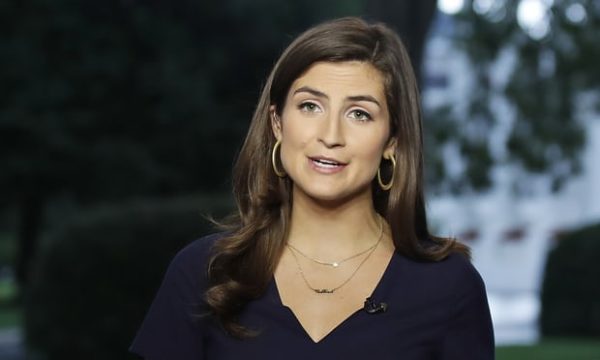 CNN White House reporter Kaitlan Collins was banned by the White House from a future event after asking Donald Trump about the Michael Cohen tapes and Vladimir Putin's US visit. Photograph: Alex Brandon/AP
.
A CNN reporter has been excluded by the White House from a press event after asking Donald Trump about Vladimir Putin's postponed visit and the Michael Cohen tapes.
The ban on White House reporter Kaitlan Collins sparked outcry from traditional rival Fox News and the White House Correspondents Association, which called the decision "wrong-headed, and weak".
Collins was barred from a Rose Garden event free to all press after asking what she was told were "inappropriate" questions at an earlier gathering. Collins had asked about the audio recording – featuring Trump discussing paying former Playboy model Karen McDougal – during a picture-taking session in the Oval Office as Trump met Jean-Claude Juncker, the European commission president.
CNN said in a statement that Collins was told by White House communications director Bill Shine and press secretary Sarah Sanders that her questions had been "inappropriate" and that she could not attend an event during which Trump and Juncker announced a joint working dialogue on trade.
"This decision to bar a member of the press is retaliatory in nature and not indicative of an open and free press. We demand better," CNN said.
In a statement that did not name Collins, Sanders said a reporter had shouted questions and refused to leave at the conclusion of an Oval Office press event "despite repeatedly being asked to do so".
"Subsequently, our staff informed her she was not welcome to participate in the next event, but made clear that any other journalist from her network could attend," Sanders said.
Jay Wallace, president of Fox News, which is frequently praised by Trump, expressed support for CNN. "We stand in strong solidarity with CNN for the right to full access for our journalists as part of a free and unfettered press," Wallace said in a statement.
READ THE REST OF THE  STORY  HERE  AT THE GUARDIAN WEBSITE