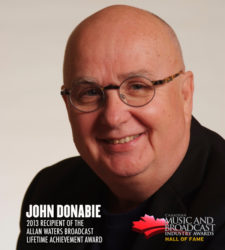 After 53 years on the air at a multitude of Canadian radio stations, including an earlier stint in Vancouver, John Donabie has taken retirement.  Gord Lansdell at Northwest Broadcasters informs that he has most recently been hosting a show on campus and community station CIUT-FM 89.5 Toronto.
Donabie was inducted into the Canadian Broadcast Industry Hall of Fame in 2013.  He was hired in 1976 to help CKLG-FM 99.3 Vancouver transition from an "Underground" format to "Progressive Rock" and subsequently change calls to C-FOX three years later.  He returned to Toronto in 1977, and did p.m. drive for two years at CILQ-FM.  Subsequent moves took him to CHUM-FM, CFGM, CFRB, CKFM, CKYC, CISS-FM, back to CFRB, then CJRT, before his volunteer slot at CIUT-FM for the last six years.
In 2016 Donabie was interviewed for FYI Music News, an interesting Q & A which you can access  HERE.