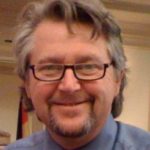 July 15, 2018
Welcome to JJ-365 Salutes. Over 2018, we pay tribute daily to one of "The Good Ones". Today we are shining the light on Don Kay.

I loved my time with Moffatt Communications and owe so many people in that organization for believing that I could do bigger things. There are so many to mention but I want to make sure I thank the following: Jim McLaughlin, Chuck McCoy, Pat Bohn, the late and great Gary Russell, Roy Hennessey, Danny Kingsbury, 365'er Keith James and one of the best guys you could ever meet and work for in Mr. Don Kay.
When my father passed away in 1985 it made me think about a lot of things including where I was going in my career. Funny that when I would offer suggestions (and often, too often sometimes), some would say "Well if you are so friggin' smart, why don't you go and become a Program Director?" So I started digging into that. Long story short, Danny Kingsbury, my PD at the time knew of my aspirations and when changes happened at Moffat Winnipeg, he asked me to be the assistant PD and Promo Director and the next level of my learning began. Sorry it took a bit to get here, but this is where Don Kay comes in.
I had met him a few times at the infamous Moffat Moose Jaw ball tournaments which was a great way for all to formiliairze with each other. Don was a lot of fun, funny, liked to party with the gang ("Rum and coke pard'ner!"), and was the kind of guy you just liked right away. That's a big part of the reason he was such a successful on-air and sales guy over the years. Kevin McKenna was the Program Director of CHAM Hamilton at the time and soon was promoted to the Moffat Calgary cluster. I got to Don right away with my interest in the opening which I will get to in a few.
Don has been in radio since the '60s, when he started as a DJ at a station in his hometown of Sault St. Marie. "I always wanted to be a jock," says Don. "You got paid for having fun."
From the Sault, Don headed to the ginormous CHED in Edmonton. He started the overnight shift and earned his way up. His son Dave was born one day when Don was on air. Thus, he became "Daddy" Don Kay. Son number two Robbie Kay came along shortly after. He talks about his dad: "Growing up as you would imagine, most boys look up to their fathers and we were no exception, only my dad was famous. My gym teacher in junior high school would tell me he listened when my dad was on the radio and and hear him do bits on the morning show from time to time even when he was the sales manager. That was the 70's and at that time CHED radio was the giant! The coolest concerts, contests and cult of personality with legendary announcers like Wes Montgomery and Bob McCord, it was also the time when Edmonton became the City of Champions, Eskimo and Oiler dynasties! Football stars and hockey players (Mark Messier and his pops) would be at my dad's house when I came over. Growing up, my dad was the coolest person on the planet!"
Don piloted the powerhouse CHED air waves for many years. In 1965 "Daddy Don Kay" was the 1-4pm jock, and in '66 he settled into the 9a-1pm slot following the late and great morning man Wes Montgomery each day. Everybody's ratings were huge including Don in the midday slot. More people listened to CHED for more hours each week then to any other Alberta radio station. I can't tell you enough how huge this station was. With Keith James programming the station, and the amazing late and great GM Jerry Forbes as the ring-leader for those characters, it was a fun house and a cash machine (back up the truck, here comes a bunch more million$). In 1970 Don decided to try the sales thing and soon became the long term and very successful sales manager of this giant station.
In time Don wanted to try the General Manager job and his first go around was when Moffat bought 1280 CJJD in Hamilton in 1981. Don and the team shortly after changed it back to CHAM, and in '83 changed the format to Country Music. In August 1985, CHAM moved to a stronger frequency at 820 AM, increasing power to 50,000 watts day and 10,000 watts at night and that's when the station really started taking off. You could hear it almost everywhere. For example, there were very few 820 frequencies out there in North America and when 820 WBAP was off the air in Dallas for whatever reason, CHAM would he heard clear as a bell down through to Texas.
When I applied after Kevin McKenna left in 1986, I was one of a dozen applicants and a complete long shot. Some people in head office weren't sure if I was ready to be a Program Director but I kept bugging Don to the point where he flew me in for a chat. I was pretty nervous on that plane, but Don picked me up at the airport, and his easygoing manner calmed me down pretty quick. We chatted and then he said, "I hear you like to golf?" I told him I loved to swat a ball around and next thing you know we were on the course. I played a lot as a kid and hadn't played for awhile but ended up beating him by a few strokes. Doh! Maybe not traditionally a great move when you are trying to win a job, but Don said: "I guess I am going to have to hire you, so I can kick your ass regularly on the course." Which he did, and did.
He also told me I got the job because he saw something in me and I was the hungriest and keenest of all the applicants. He was so patient with me, allowed me room, but at the same time stayed close. I like to call this "in the pocket." I had to learn a lot fast and he was there for me especially when I made the inevitable rookie mistakes.
After a year of being there Don told me and the staff he was off to headquarters in Winnipeg as the new GM of CITI-FM and KY58. I was happy for his step-up but also freaked out because I loved working for him and still didn't feel like I had my PD legs yet. 365'er Keith James came in as the new GM, and I proceeded to learn a ton from him too and get more confidence.
Don and I got to work together again later when I was VP of Programming for Standard Radio. Gary Slaight had just acquired MAGIC-FM in Winnipeg and needed a GM. I put the two of them together, they hit it off and we worked together again for a few years.
Don went on from there to consulting, mentoring and even took a crack at ownership in 2008 in Edmonton. For his application, he and his partner, Jim McLaughlin, were looking for CRTC approval for a station they would call The Planet, which would be "adult alternative." Unfortunately, they didn't win the licence.
Don and wife Joanne are now retired in Edmonton (but he still has stuff going on!), spending time with son Robbie and the grandkids, and winters down south in the desert.
He has been a radio lifer: "It's fun and it's challenging. Radio has been my life. It's all I've ever done, really."
I don't know that you could find a better General Manager to help someone grow and quickly into a new role. Without his foundation and support I am not sure I would have been able to do some of the things I have over the years. Don and was always respectful, and believed in me when I wasn't even sure about me. It's all about the fun for me, and his fun demeanour was a perfect match for me at the absolute right time. Love this guy. Thanks pard'ner!
Thank you, Don Kay for being on of the "The Good Ones". Feel free to like and share Don's positive story. Who is the subject of tomorrow's JJ-365 Salutes? As they say, stay tuned.
Jim JJ Johnston is the CEO, President and Chief Talent Coach for JJIMS INC. and works with talent in many different industries worldwide.