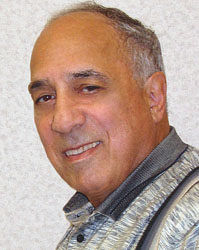 Very sorry to learn from the Northwest Broadcasters recent news page that former Vancouver/Victoria news broadcaster JJ Richards has died at age 88.  This according to a post on the C-FUN reunion group site.
The posting reads, "I will confirm that our wonderful JJ Richards passed away on Saturday June 30 about 2 p.m. at his home in Palm Springs.  An obituary will be placed in the Vancouver papers this weekend, and a celebration of life will be announced soon."
Richards had been News Director at CKDA/CFMS-FM Victoria from 1974-80; news reader and News Director at C-FUN Vancouver from 1980-98 and a talk show host there from 1998-2000, before retiring to Rancho Mirage CA, where he hosted and produced Palm Springs Street Talk for nine years.
According to the Vancouver Broadcasters site, which supplied JJ's photo above, his career began on CKUA Edmonton doing radio dramas, then where he became morning show host from 1950-57.  His later broadcasting credits include international reporting for CHUM Toronto (1957-64) and TV news with CFTO (1964-67.)   He was city hall reporter for CBC-TV Toronto (1967-70), and then a correspondent in Athens Greece (1970-74.)  In 1993 he was honoured with an RTNDA Distinguished Service Award, and the association's Lifetime Achievement Award in 2004.