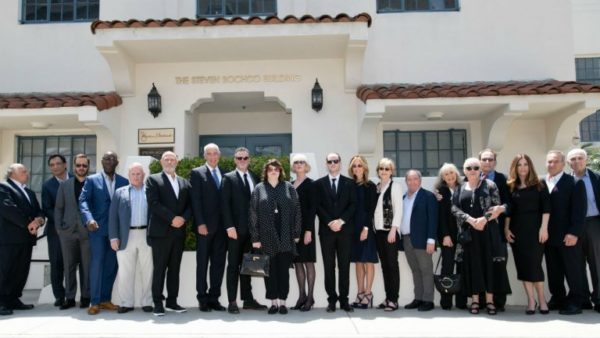 On a beautiful sunny Southern California spring day, the Steven Bochco players gathered to see the TV legend, who died April 1, honored on the 21st Century Fox studio lot. And oh, what a reunion it was: In one corner NYPD Blue alumni Jimmy Smits, Dennis Franz and Mark-Paul Gosselaar huddled together; in another stood anL.A. Law foursome of Corbin Bernsen, Susan Ruttan, Michael Tucker and Jill Eikenberry; there across the room was Doogie Howser's parents (James Sikking and Belinda Montgomery) and his boss Dr. Canfield (Lawrence Pressman).
.
Sprinkled in the crowd were Kim Delaney, Gordon Clapp, James McDaniel and other actors. Former writers, including David Milch and Bill Clark and Bochco's widow and children were also in attendance. Acting as master of ceremony for the event was Fox Television Group co-chairmen and CEOs Gary Newman and Dana Walden.
.
Before the ceremony, Gosselaar recalled to THR the unusual way he got his role on NYPD Blue. He auditioned for a role on Bochco's other show, the Kim Delaney-starrer Philly, and when the audition was over Bochco told him he was a great actor, wished him well on pilot season and said that he hoped they could work together some day. Gosselaar said it felt like a typical polite Hollywood brush off, but two weeks later Bochco called to offer him the role on NYPD Blue. At first, he thought it was a joke ("Didn't he realize that Rick Schroeder, who I was replacing, was also a former child star," laughed the actor who rose to fame as Zack Morris on Saved by the Bell), but Bochco told him he was perfect for the role he had in mind and convinced him to take it.
.
Smits got choked up telling THR about how Bochco created the company's end credits logo, which featured Bochco's father playing violin, by using then cutting-edge technology to turn a few pictures into a brief moving image as a way of honoring his old man. And Gordon Clapp, who played Detective Greg Medavoy, laughed about how he knew he had made it on NYPD Blue when Bochco offered him his first nude butt shot. "I'm going to give you a May-December romance," Bochco told him, "and you're going to be May" (i.e. the younger half of the couple). The episode was scheduled to air after the 2004 Super Bowl. But that was the year of the Janet Jackson nipple controversy and ABC cut his butt shot because of the controversy.
.
READ THE REST OF THE STORY  HERE  AT HollywoodReporter.com