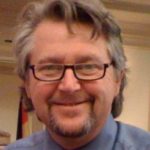 JJ Jim Johnston
April 29, 2018
Welcome to JJ-365 Salutes. Over 2018, we pay tribute daily to one of "The Good Ones". Today we are shining the light on Joe Aiello.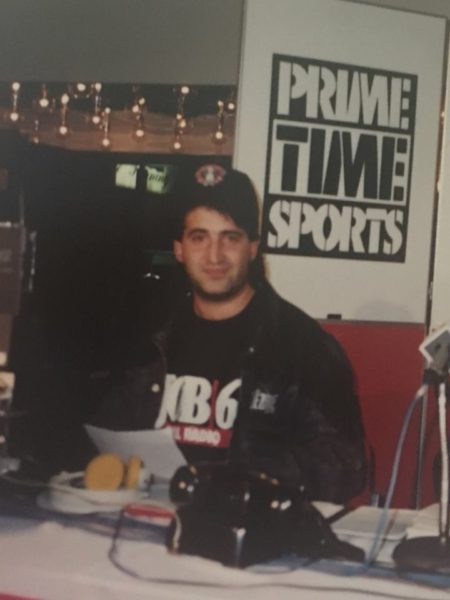 Winnipeg is one of my favourite places for a lot of reasons. The community is tight knit and very open to new people, even those people who come in from Toronto-
?. The social aspect of the town is something else and all the best schmoozers seem to come from there. I remember when they were trying to get me to join the team at CITI-FM I asked about the cold. They said, "it's a dry cold" and I bought it. It is one of the great radio markets then and now. Lots of major talent has come out of there including one Joe Aiello.
When Joe was attending the University of Winnipeg (and volunteering at CKUW on campus) he would go down to CKY/CITI's Polo Park studios every second day and sit in the lobby hoping to get an interview or hired for a part-time job at either station. Joe credits me with actually hiring him. I asked Terry at reception one day "who is this kid who is always hanging around" and she filled me in. I hired him and sent him over to see Charles Adler (who at that time was booking the part-timers on 58 CKY), because we had just filled the quota on 92 CITI.
After a couple of years of part-time work (opping & teching), Gary Russell, who took over as PD of KY offered him his first full-time job producing the morning show for the late and great Ron Able. Joe was also doing some part-time shifts on CITI FM. "I was learning a lot from people like Gary, Ron, Charles, Ford Gardner, Danny Kingsbury, Ross Winters and Don Kaye. At one point I was producing the Tom & Larry Show, and left after Tom did, for a great opportunity at 97.5FM (WIC). I went to produce the Tom McGouran and Terry Klassen morning show and also to work in promotions."
In 1992, he was offered a job as an announcer for the WWF, after working one night with former AWA World Champion, the late Nick Bockwinkel. He suggested Joe to Vince McMahon and the experience he had doing play-by-play and interviews on CKY-TV for a local wrestling promotion got him the gig.
After traveling back and forth on the road with the WWF for 6 months, Ralph Warrington (GM of WIC) asked him if he would fill in hosting mornings while he was waiting for his work visa. Around this time Tom left for CITI FM, and Bro Jake came back to 97.5. Joe says he was fortunate to work with the awesome Natalie Strecker who helped bring him along. The only on-air experience he had prior to this was some evening and weekend shifts over the years and whatever he did while producing shows. About a week before his work visa came in, Warrington had offered him his own afternoon drive show on 97.5FM and he couldn't say no. A bonus was getting a chance to work at the same place as Bro Jake, the guy he grew up listening to. Joe had spent his whole life wanting to be in radio, so he turned down the WWF job and started the "Joe Show." That show lasted for just under two years, as he was offered a chance to go do mornings with Tom McGouran at 92 CITI FM, an "offer he couldn't refuse."
The Tom and Joe Show lasted for an amazing 15 years and they were able to have a lot of fun with Kathy Kennedy most of the way and work with some great people in charge like Geoff Poulton, Craig Letawsky, Gayle Zarbatany and Darren Jopka. He says all were excellent with him and at the point when they were let go, Scott Armstrong the GM at Rogers was kind enough to move him over to the sister station KISS FM to do the morning show there for a few years. It was actually Scott who was instrumental in his most recent move.
"Army has been very good to me. A few years back Scott helped me make the move to CORUS at first doing mornings at BIG FM, now Power 97. I have been very lucky that I have spent most of my career doing a morning show in my hometown and never had to move away. I really have been blessed. I have also been very fortunate to have a lot of friends and contacts. I love being a Winnipegger and helping out in my community… I have started two different Aiello Endowment Funds for two hospitals in MB… I emcee about 125 events a year, plus run two golf tournaments and help out with other charitable events… I lost my wife to cancer 7 years ago, and thanks to Scott, the station put on a radio-thon called 'Songs for Alanna' and they raised over $150,000 in honour of my late wife. Giving back to my community is very important to me and my causes. I'm lucky to have a voice in town. As of today, I have gone literally full circle. I am back in those same Polo Park studios where it had all started. Tammy Cole, has been a great PD (now moving to Toronto) and Brad Phillips has been a big help to me. I'm on Power 97 and doing mornings with one of the most humble and talented guys I have ever had the pleasure of working with, Phil Aubrey. We are also lucky to have a future superstar with us. She is 23 and her name is Randy Parker. She's so much fun!
On the topic of full circle, I actually just got engaged to the same girl I dated 30-some years ago when I was at the U of Wpg and starting my radio career… full circle indeed! "
They say if you really like what you are doing, you will never work a day in your life. Joe still just loves what he does. He doesn't think he's ever worked a hard day in his life, just a lot of work. After all these years he is still going out and working for the community. In radio spending the time to get to meet and know everybody in the market and continuing to do so, is one of the characteristics of the great ones. Go Joe Go!
Joe is working on opening a restaurant in Winnipeg by the middle of next year and still having a blast. This is someone special. He is a natural talent who works his tail off, social activity is oxygen for him (the lad can dray!), friends and family are key, and all of Winnipeg is his Family.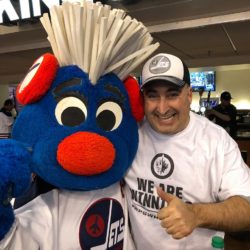 Thank you, Joe Aiello, the legend, on being one of the "The Good Ones". Feel free to like and share Joe's positive story. Who is the subject of tomorrow's JJ-365 Salutes? Stay tuned!
Jim Jj Johnston is the CEO, President and Chief Talent Coach for JJIMS INC. and works with talent in many different industries worldwide
J.J.'s bio, courtesy of VancouverBroadcasters.com
J.J. Johnston – Board operator CKLC Kingston ON 1974-75; midday host CJET Smiths Falls ON 1975; morning hostCKOB Renfrew ON 1975-76; nights CFCH North Bay ON 1976-77; evenings CFGO Ottawa and part time CKLW Windsor ON 1977-79; swing CFTR  Toronto 1979-81; p.m. drive/mornings/ssistant PD CITI-FM Winnipeg/Jet's hockey broadcaster at CKY Winnipeg 1981-86; PD CHAM Hamilton ON 1986-88; national PD Moffat Communications/PDCFOX-FM/CKLG Vancouver 1988-93; national rock PD WIC Communications/CFMI-FM Vancouver 1993-94; VP programming Standard Radio/CKFM-FM Toronto 1994-2000; GM Corus Radio cluster Toronto 2000-05; GM Corus Radio (CFMI-FM/CFOX-FM/CHMJ/CKNW) Vancouver 2005-10; regional GM then contract consultant Corus Radio East – Barrie/Collingwood/Peterborough/Kingston/Cornwall ON 2013-current; President/CEO, JJ international Media and Management Solutions Ontario 2013-current; Interim GM CJPE-FM Prince Edward County ON 2013-current.  LinkedIn profile